May is Mental Health Month
Mental health is essential to everyone's overall health and well-being.
May is Mental Health Month, and it has never been more important than this year.
Until now, there were still some people who believed that mental health wasn't everyone's concern. They thought that our annual mental health resources – even though they were shared with millions – were aimed at just a small group of people – the one in five who have a mental health concern in any given year.
That isn't the case today.
Just weeks ago, we had no idea that all our worlds were going to be turned upside down by the coronavirus. Or that the associated worry, isolation, loneliness, and anxiety would be something that literally everyone – all five in five – would experience. MHA's Mental Health Month toolkit this year focuses on resiliency, offering tools to thrive at any time. We now believe that these tools – even those that we all may have to adapt for the short term because of social distancing – will be more useful than ever.
But we're also offering something more. There is bonus material in the toolkit specifically focused on the coronavirus, and how we can all work together to support our mental health in the face of uncertainty.
Meanwhile, let's keep two things front and center.
First, mental health screening is essential during times of stress. We have set an ambitious goal of a million mental health screens in May. Take a screen. And tell your friends to take a screen, too. It is more important than ever to take care of our mental health.
Second, it is important to look forward and to focus on what we need to do to thrive in uncertain times. And the tools in this year's toolkit will also help us do just that.
May you stay safe and well!
---
Mental Health Month Toolkit
This year's #MentalHealthMonth explores practical tools that everyone can use to improve their #mentalhealth and increase resiliency regardless of the situations they are dealing with.
Download the FULL TOOLKIT here or read, download and share the individual fact sheets below!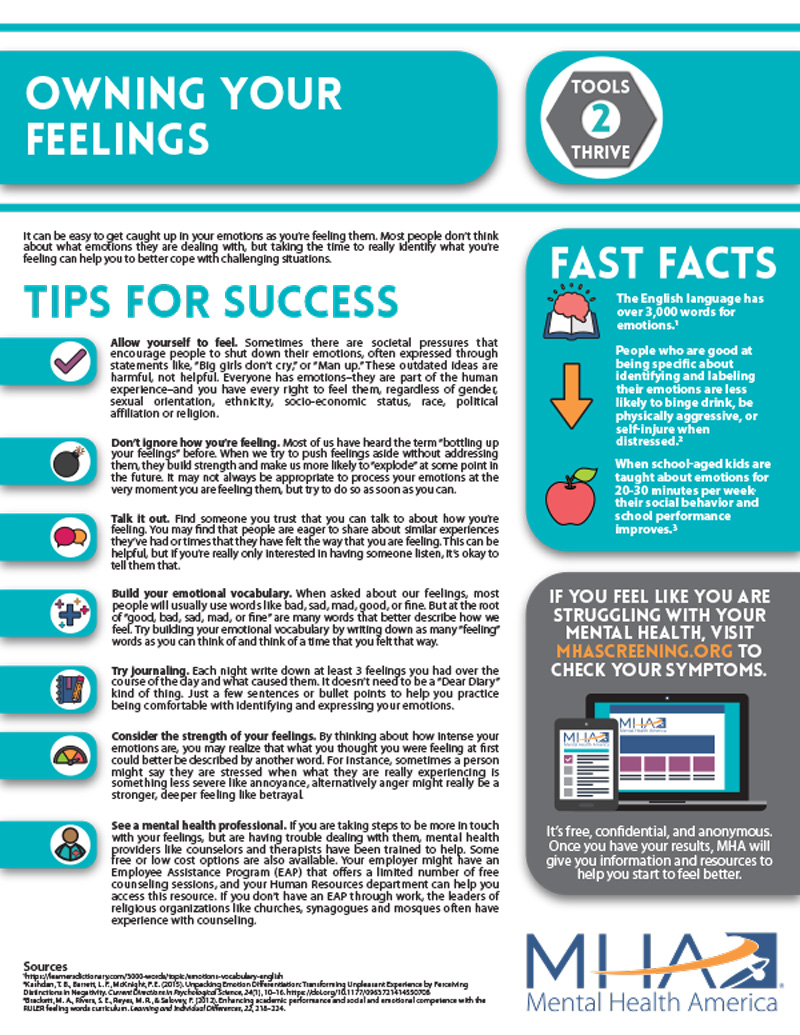 Owning Your Feelings It can be easy to get caught up in your emotions as you're feeling them. Most people don't think about what emotions they are dealing with, but taking the time to really identify what you're feeling can help you to better cope with challenging situations. Learn some great tips for success.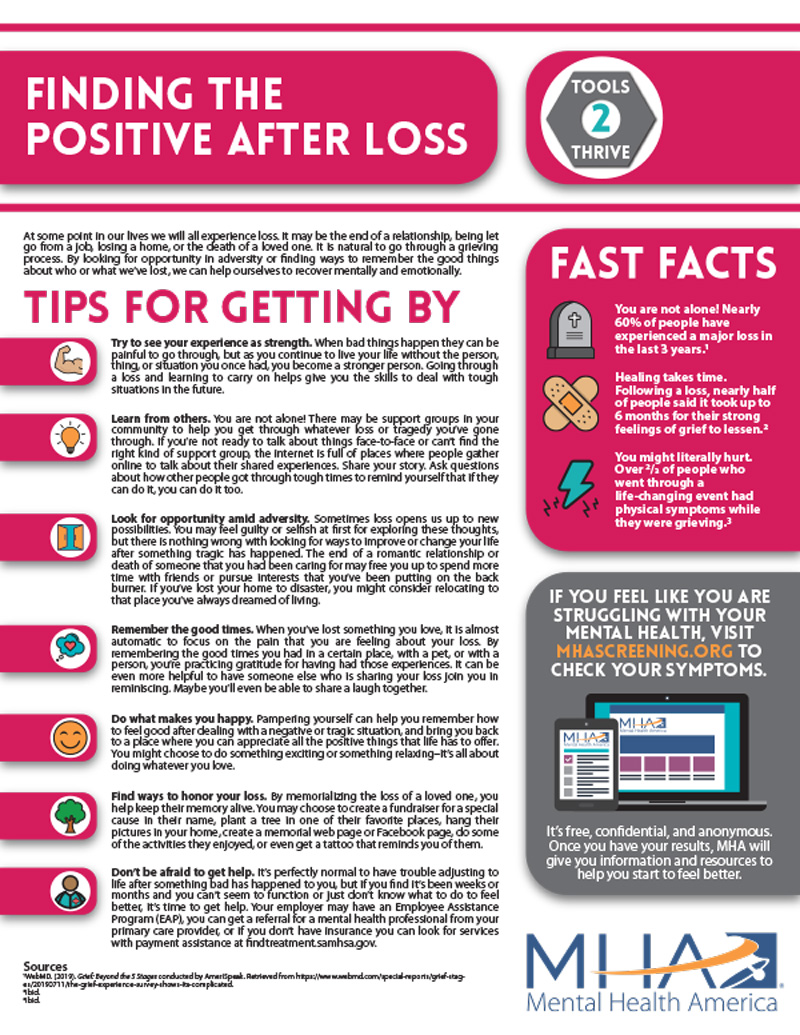 Finding the Positive After Loss At some point in our lives we will all experience loss. It may be the end of a relationship, being let go from a job, losing a home, or the death of a loved one. It is natural to go through a grieving process. By looking for opportunity in adversity or finding ways to remember the good things about who or what we've lost, we can help ourselves to recover mentally and emotionally. Learn more about tips for getting by.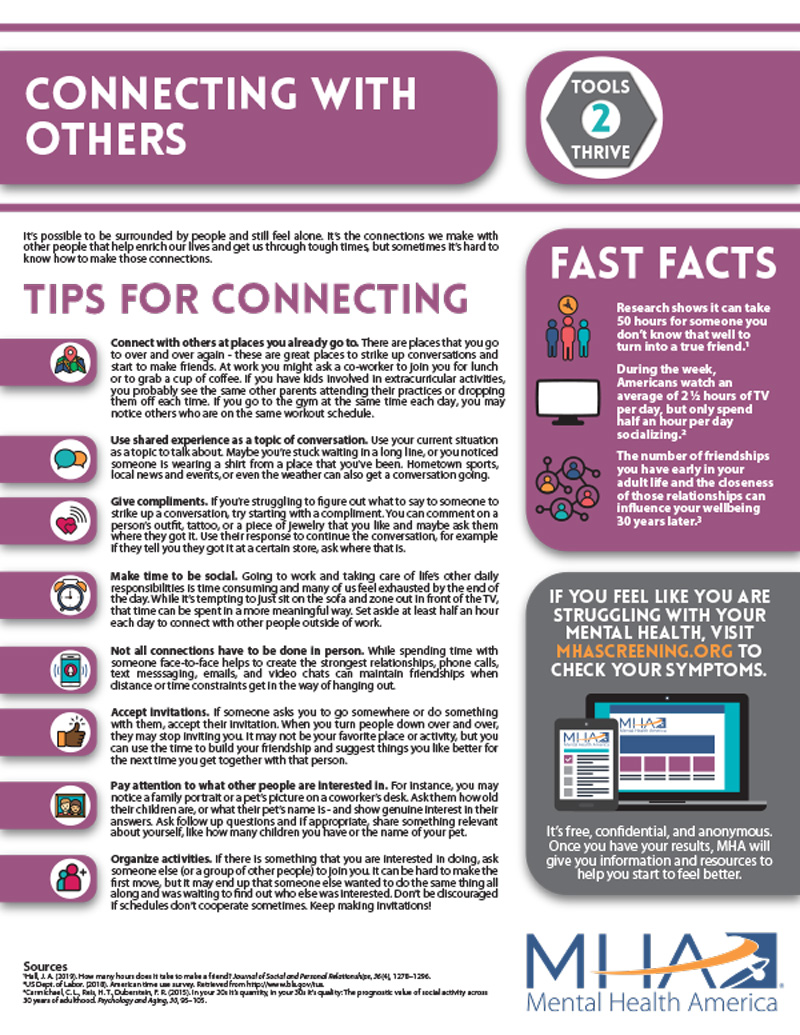 Connecting with Others It's possible to be surrounded by people and still feel alone. It's the connections we make with other people that help enrich our lives and get us through tough times, but sometimes it's hard to know how to make those connections. Learn some useful tips for connecting.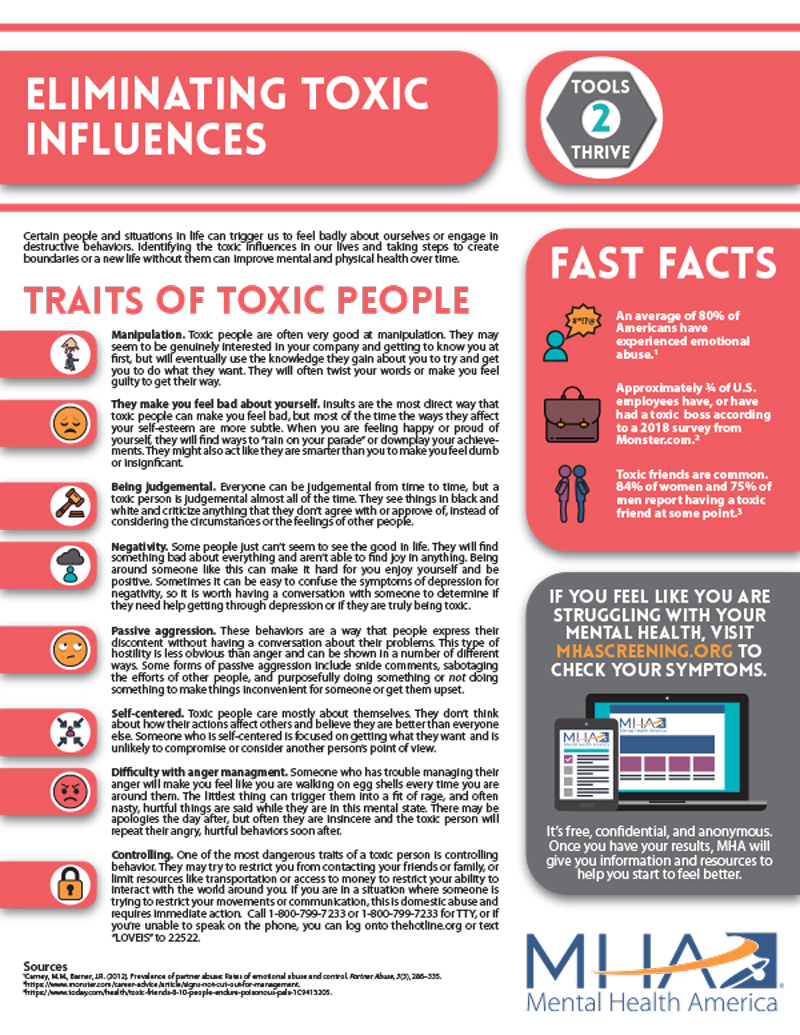 Eliminating Toxic Influences Certain people and situations in life can trigger us to feel badly about ourselves or engage in destructive behaviors. Identifying the toxic influences in our lives and taking steps to create boundaries or a new life without them can improve mental and physical health over time. Learn about Traits of toxic people.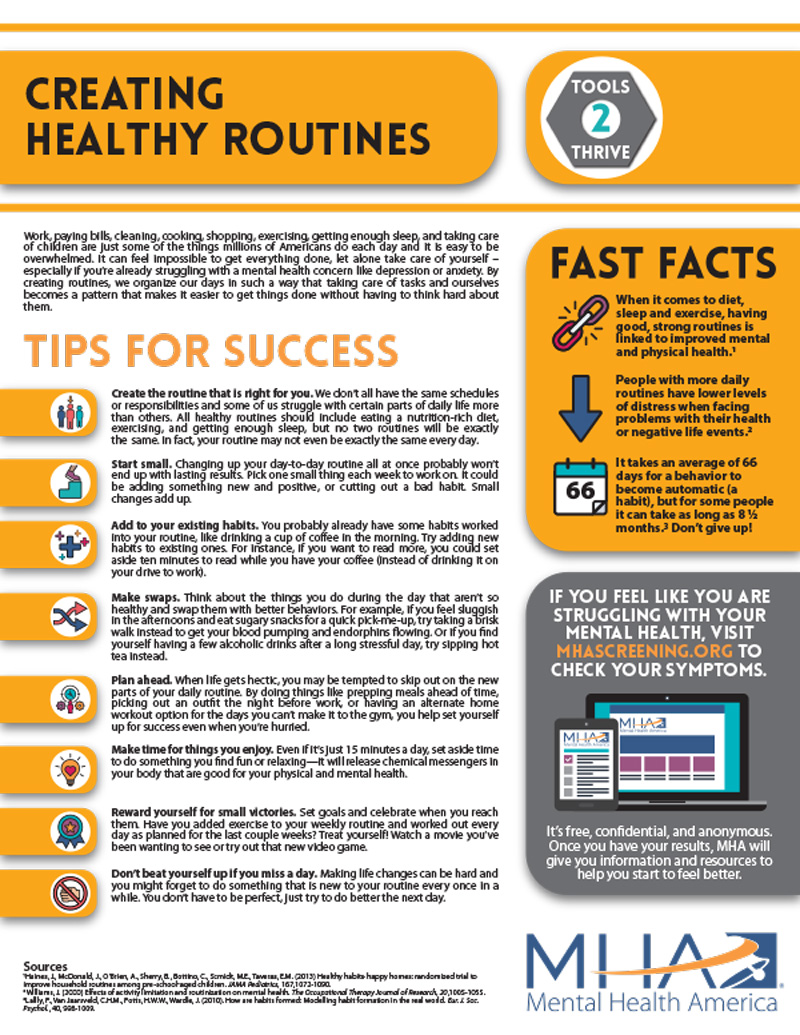 Creating Healthy Routines Work, paying bills, cleaning, cooking, shopping, exercising, getting enough sleep, and taking care of children are just some of the things millions of Americans do each day and it is easy to be overwhelmed. It can feel impossible to get everything done, let alone take care of yourself – especially if you're already struggling with a mental health concern like depression or anxiety. By creating routines, we organize our days in such a way that taking care of tasks and ourselves becomes a pattern that makes it easier to get things done without having to think hard about them. Learn abut tips for success.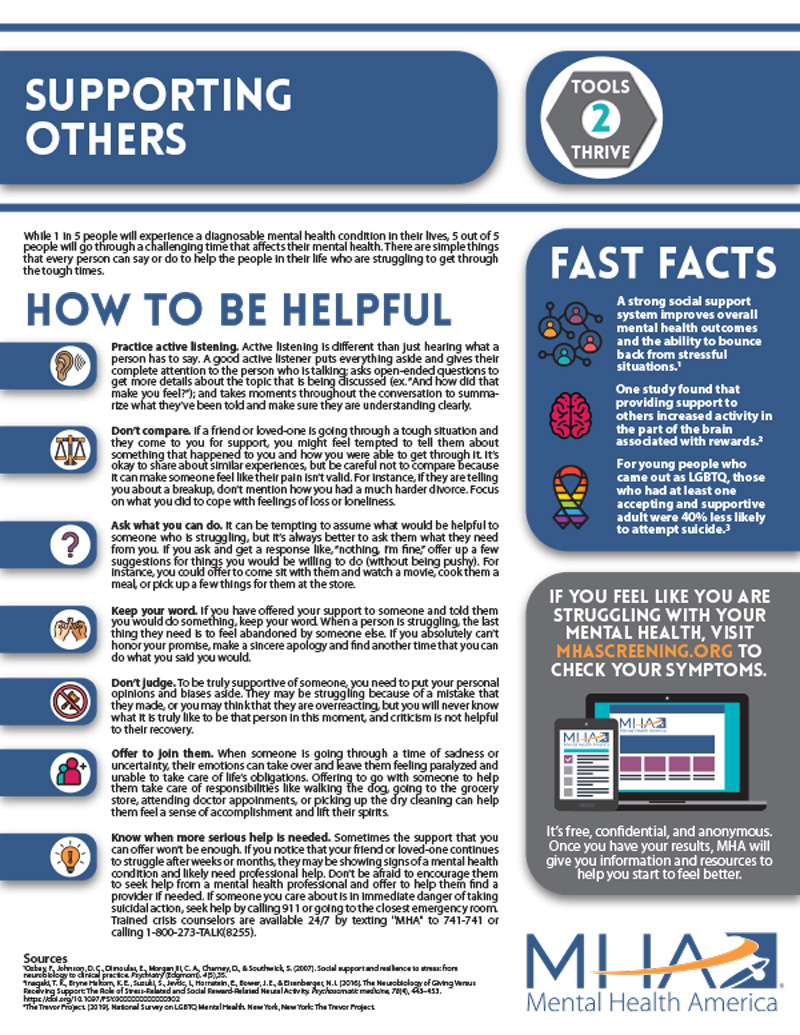 Supporting Others While 1 in 5 people will experience a diagnosable mental health condition in their lives, 5 out of 5 people will go through a challenging time that aspects their mental health. There are simple things that every person can say or do to help the people in their life who are struggling to get through the tough times. Learn how you can be helpful.

If you, or someone you care about, are feeling overwhelmed with emotions like sadness, depression, or anxiety, or feel like you want to harm yourself or others call:
- 911
- For residents in Marathon, Lincoln and Langlade Counties in WI, call the North Central Health Care Crisis Hotline 715.845.4326 or 800.799.0122
- Substance Abuse and Mental Health Services Administration's (SAMHSA's) Disaster Distress Helpline: 1-800-985-5990 or text TalkWithUs to 66746. (TTY 1-800-846-8517).
For more Covid-19 related mental health information and resources, please visit our Mental Health & Covid-19.