Mount View Care Center Celebrates 100 Years of Life with 100-Balloon Release!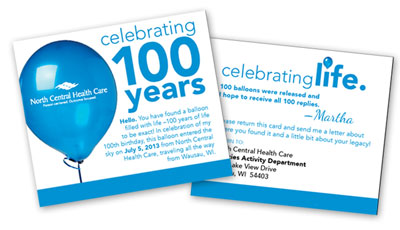 What's a great way to celebrate turning 100? Share it with the world with a balloon release! On July 5, 2013, North Central Health Care celebrated the life and legacy of a Mount View Care Center resident with a 100-balloon release. Each balloon was equipped with a tag that lets each recipient know they have found something special – not just an ordinary balloon – a balloon that carries a legacy.
Balloon TagsEach balloon began its journey entering the sky from Mount View Care Center in Wausau, Wisconsin. Each and every balloon waited for just the right time, just the right wind – and 100 years of life – to make it into the hands of just the right recipient. The tag attached instructs the recipient to send in a letter and share their own legacy.
At the Legacies by the Lake program at Mount View Care Center, we do our best to preserve those moments for each of our residents and their loved ones, offering a nationally-recognized program for dementia and Alzheimer's care. Each one of us has a legacy to fulfill.
If you have found a balloon and wish to share your legacy with us, please send your letter to:
North Central Health Care
Legacies Activity Department
1100 Lake View Drive
Wausau, WI 54403
First, a single balloon was released by our guest of honor in remembrance of her twin sister.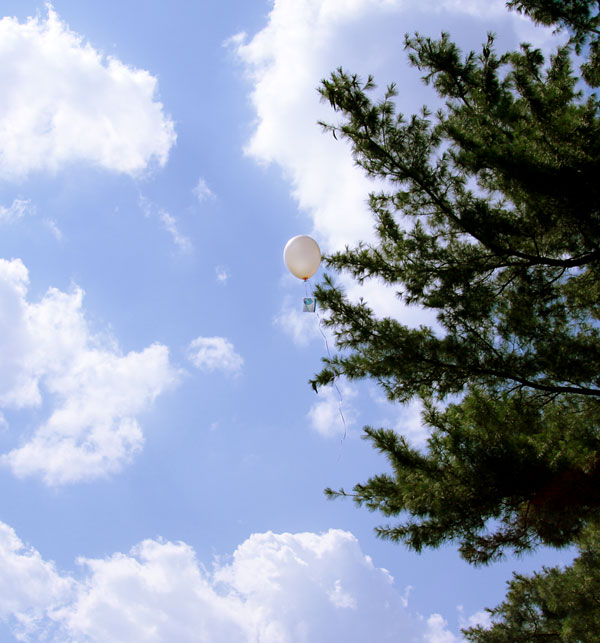 Next, 99 more balloons filled the air in celebration.