Mission, Vision & Core Values
Our Purpose & Belief Aren't Simply Words on a Page
Our mission, vision and core values are simple, but they clearly define who we are, what we stand for, how we interact with people, and why every one of us works at North Central Health Care — because we can make a difference in the lives of individuals in our community.
Our Mission: Langlade, Lincoln and Marathon Counties partnering together to provide compassionate and high-quality care for individuals and families with mental health, recovery and long-term care needs.
North Central Health Care has a deep history and relationship with our Central Wisconsin community. We are committed to our partnership with our three counties as we continually seek to provide the highest levels of accessible and specialized care for those we serve. Our person-centered service approach to the complex needs of those we serve and those we partner with are identical – we will meet you where you are at and walk with you on the journey together. Our programs and services provide compassionate and specialized care that is designed around each individual's abilities and challenges – creating a path to move forward together.
Our Vision: Lives Enriched and Fulfilled.
Each interaction we have with those we serve, our community partners and each other will lead to lives that are more enriched and fulfilled. We face the world with undeterred optimism and hope of possibility. Every day a new chance to make people's lives better. The vast potential to make a difference in each individual's life is our greatest inspiration and measure of success.
The NCHC Core Values will guide us in each interaction we have and allow us to carry out our Mission and Vision. Embodying our Core Values will allow North Central Health Care to:
…become the very best place for residents and clients to receive care,
…become the very best place for employees to work…A Career of Opportunity,
…continue to grow in our contributions to the communities we serve.
---
Our Core Values
Dignity: We are dedicated to providing excellent service with acceptance and respect to every individual, every day.

Integrity: We keep our promises and act in a way where doing the right things for the right reasons is standard.

Accountability: We commit to positive outcomes and each other's success.

Partnership: We are successful by building positive relationships in working towards a system of seamless care as a trusted community and county partner.

Continuous Improvement: We embrace change through purpose-driven data, creativity and feedback in pursuit of the advancement of excellence.
---
Our Commitment to Person-Centered Service
Every Employee. Every Day.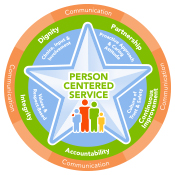 At NCHC, we provide Person-Centered Service every day with everyone we interact with. Person-Centered Service has a foundation in our Core Values and includes:
Serving with a proactive approach
Serving with a caring and compassionate attitude
Truly listening to understand
Creating a safe & healing environment
Doing no harm
Understanding all the dimensions of diversity
and identifying cultural influences
Understanding and respecting life experiences
Shared decision making
Recognizing and building on strengths
Involvement of others whenever possible
Person-Centered Service means we serve others through effective communication, listening to understand and building meaningful relationships.
North Central Health Care is defined by every interaction we have with our patients, clients, residents, families, community partners and each other.