Below you will find a list of events including information about upcoming events, meetings and presentations in addition to events that have already taken place.
Upcoming Events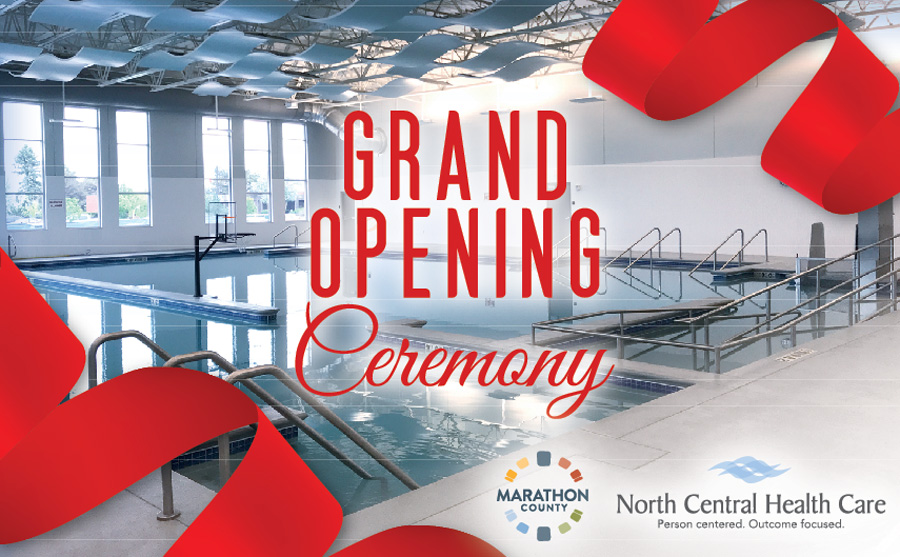 The Aquatic Therapy Center Grand Opening Ceremony
scheduled for July 16 has been canceled.
After thoughtful consideration and guidance from local health official recommendations, North Central Health (NCHC) has made the decision to cancel the Aquatic Therapy Pool Grand Opening and Ribbon-Cutting Ceremony scheduled for July 16.
"We are all excited to share the new Aquatic Therapy Center with our supporters and community, however we must place the safety of those in attendance above a grand opening celebration. Like many other events locally, we realize we need to postpone our grand opening to when large groups can safely gather. With close to 600 generous and passionate donors from the community, local foundations and businesses, we anticipated a large turnout for this event. We will continue to monitor the COVID-19 pandemic closely and explore opportunities for a future event for our community to visit the Center." – Jessica Meadows, Communications & Marketing Director.
NCHC is offering scheduled individual tours of the new Aquatic Therapy Center for donors. If you are interested in a scheduled tour, please contact 715.848.4405. Only pre-arranged/scheduled tours will be provided. Virtual tours are also available online at www.norcen.org/WarmWater.
THE POOL IS OPEN!
We have been waiting a long time to hear those words.
All of the hard work, determination, patience, and persistence has lent itself to a new Aquatic Therapy Center this community can be proud of. The journey has been long, but success would never have happened if it weren't for you, and others like you. You not only recognized the benefits of warm water therapy but then gave so generously so that others can receive the therapy that keeps them mobile, functioning in their home, and able to live a better quality of life. This pool is evidence of a very special, caring, and loving community. Thank you!
Due to the COVID-19 pandemic and while we get used to the facility, the new Aquatic
Therapy Center is going through a "soft" opening through the month of June. We will be opening the pool by appointment only, please call ahead. Our plan is to get to a full opening as quickly and as safely as possible.
Again, thank you. We've said it many times before and must say it again, we wouldn't be where we are today without your generous support! We look forward to celebrating this momentous event with you.
March 2022 Project Completion and Grand Opening during NCHC's 50th Anniversary
For questions or feedback, please email us at renovations@norcen.org or call 715.848.4600 and ask for the Administration Office.
---
Past Dates
August 5, 2019 Aquatic Therapy Pool Groundbreaking. If you missed the event you can check out the video online. (Link to Video)
March 12, 2019 FAA Approval for Mount View Care Center 4 story building
March 18, 2019 Neighborhood Meeting Held
March 19, 2019 City Plan Commission General Plan Presentation
March 21, 2019 NCHC Board Presentation of Preliminary Plans
March 21, 2019 County Board Presentation of Preliminary Plans (Link to Video)
April 4, 2019 Community Input Session (1 of 2)
April 11, 2019 Community Input Session Cancelled due to weather.
April 15, 2019 Community Input Session (2 of 2) Rescheduled from April 11 due to weather
April 16, 2019 City of Wausau Variance for 4 story building based on FAA approval
May 28, 2019 Public Review Session of Aquatic Therapy Pool Plans at the NCHC Wausau Campus Theatre 4-6pm
May 21, 2019 Amended General Plan and Precise Implementation Plan with the City of Wausau Planning Commission
May 28, 2019 Approved Unanimously: Approval of Amended General Plan and Precise Implementation Plan with Wausau City Council
June 2019 Bidding and Phasing Plans commence. If you are a contractor and interested in this project, please visit the Bids / RFP (Request for Proposal) page of the Marathon County website for up to date information and opportunities.