North Central Health Care provides paratransit services for those who qualify and live in Marathon County.
See Covid-19 Resources Page for updated hours and services.
The Marathon County Transportation Program (MCTP) Paratransit Service is public transportation for persons over 60 or persons with disabilities. Access to this service is limited to persons whose physical or mental disability prevents them from riding Metro Ride buses or the WATS Paratransit Service.
MCTP service was designed to meet the needs of clients that live outside of the WATS Paratransit service area or those that are in need of door-through-door services who do not have other resources for transportation. Due to other resources available, we do not provide transportation for Medical Assistance or Family Care clients. Our service area is outside the WATS Paratransit Program to the Marathon County Line. MCTP provides trips to medical, nutritional and employment destinations.
Door-Through-Door Service
MCTP is a door-through-door service, meaning that the van will pull up at the origin of your ride and assist you out of your residence and get you into the doors at your destination. The van driver will come to the door and will provide you assistance to get you in and out of the van. MCTP is a shared-ride service, meaning that you may be sharing your ride with other passengers. We try to combine passenger trips as much as possible to increase efficiency and appropriately utilize available funding. Please Note: Drivers are not allowed to accept tips or gratuities.
Service Hours/Area
MCTP days and hours are Monday through Friday 8:00 am-4:30 pm, with the last return pick-up at 4:00 pm. MCTP service is provided outside of the WATS Paratransit area and inside the Marathon County line for clients in need of door-through-door service.
Eligibility
MCTP determines eligibility for all applicants through an application process. Once you have been certified to use the MCTP, you will be able to use our services for as long as needed. One exception to this would be someone who has been certified with a temporary disability. Determination for temporary certification will be decided on a case-by-case basis.
Contact for Transportation Services
Phone: 715-841-5101 or 715-848-4555
Monday - Friday: 7:00 AM to 5:00 PM
Scheduling Your Ride
We ask that you call at least two working days in advance to schedule your ride. All rides are to be scheduled for specific times (including return rides). Be sure to allow plenty of time to finish your appointment in order to meet the vehicle at your scheduled pick-up time.
When scheduling a ride, be prepared to answer the following questions:
What is your name?
What is your pick-up address?
On what date do you wish to travel?
What time is your appointment time/what time do you need to be at your destination?
What is the street address of your destination?
Will you be traveling with a Personal Care Attendant (PCA)?
What time will you be done with your appointment?
MCTP tries to combine passenger rides whenever possible. You may be asked to schedule your ride up to one hour before your trip or one hour after your desired return trip. You will be informed of this the day before.
Please be ready fifteen minutes prior to your pick up time, because the driver will only be able to wait five minutes upon arrival. If the rider is not ready at the pick-up location within five minutes, the driver may leave.
You should be waiting at your front door at your residence or facility for your ride and the van driver will come to the door to provide assistance.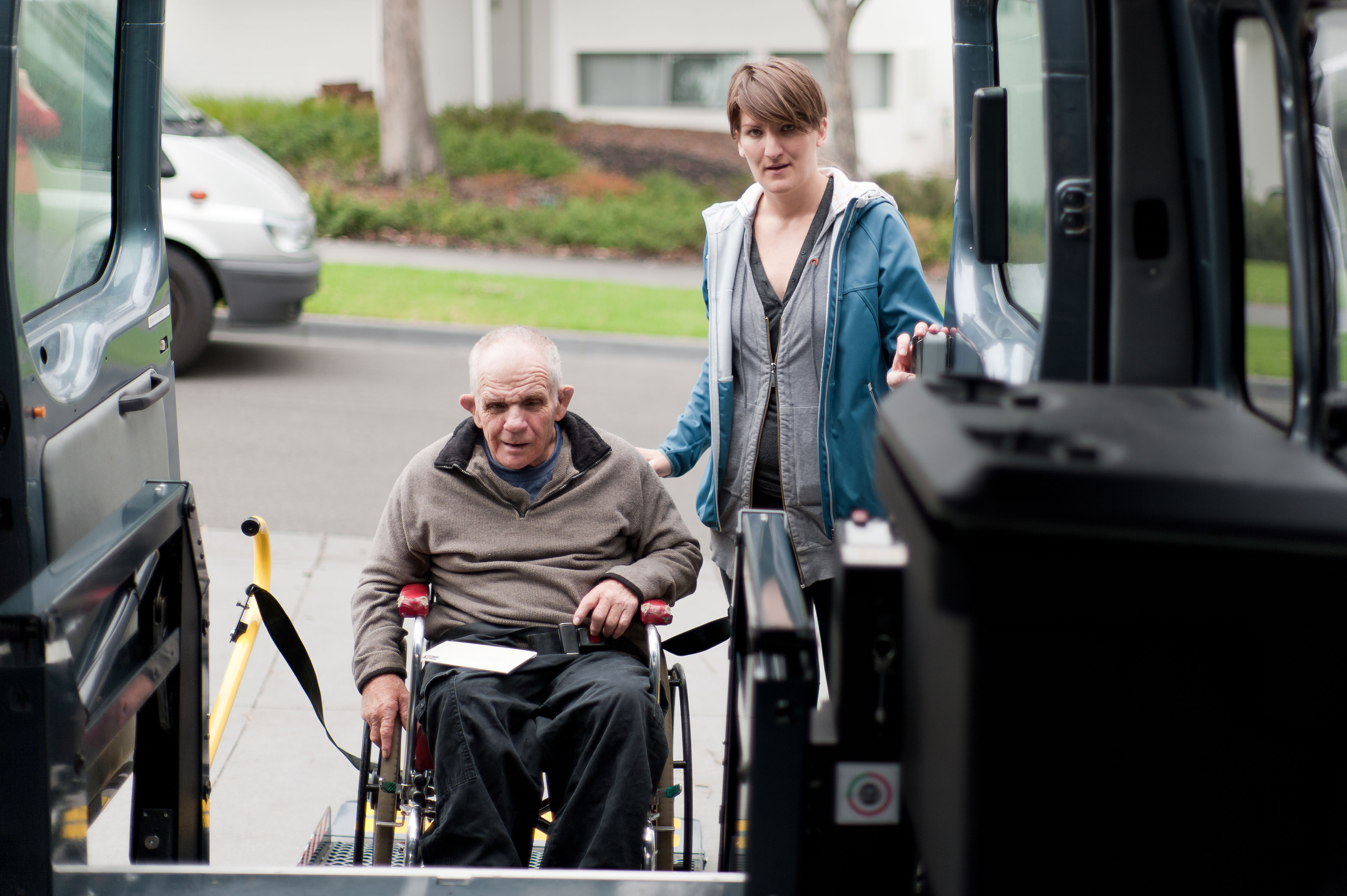 MCTP FARES
0-15 miles $6 (one way)
16-30 miles $12 (one way)
31-45 miles $15 (one way)
46-60 miles $20 (one way)
You will be billed the month following for your total rides. Drivers do not collect fares. Payment is due within thirty days of billing.
Subscription Service
Subscription Service is available for recurring rides. Reservations can be made in advance for periods of two to twelve months.
Wheelchairs and Other Mobility Devices
All mobility devices will be secured to the van. MCTP can accommodate standard wheelchairs, scooters and other mobility devices. Mobility devices cannot exceed 48" in length, 30" in width and 600 lbs. in total weight. If you have mobility devices that do not meet these standards, contact MCTP to see how we can accommodate your needs. MCTP does not provide wheelchairs or other mobility devices.
Changing Reservations
If you need to change your reservation, contact MCTP at least one hour prior to your scheduled pick-up time. Please note that changes made on the day of your scheduled ride will only be accommodated if space is available.
Personal Care Attendant and Service Animals
A Personal Care Attendant or service animal may accompany a rider at no additional charge. You must reserve space for your PCA or service animal when scheduling your ride. PCAs/service animal must be picked up and dropped off at the same location as the MCTP customer.
The driver will assist the rider out of the van and into the door at their destination. If the rider needs assistance after they are at the facility, a PCA must be available. MCTP does not provide personal care attendant services. If a personal care attendant is not available, the driver will wait five minutes and then return the rider to the origin of their trip.
Weather Cancellation Policy
Our vans will not run on days that the Wausau School District is called off due to inclement weather, except for dialysis appointments.
MCTP requires driveways and walkways to be clear of snow and ice before pick-up and drop-off times. Anytime a driver feels it is unsafe to enter or exit a driveway, or to load or unload a customer due to slippery conditions, the driver will not provide pick-up/drop-off at that location.
Download a copy of the MCTP Brochure by clicking here.
Notice of Nondiscrimination
North Central Health Care AKA NCHC is committed to ensuring that no person is excluded from, participation in, denied the benefits of, or otherwise subjected to discrimination on the basis of race, color, national origin, disability, sex, age, religion, income status or limited English proficiency (LEP) in any and all programs, activities or services administered by North Central Health Care in accordance with Title VI of the Civil Rights Act of 1964 and related nondiscrimination authorities.
Any person who believes they've been aggrieved by any unlawful discriminatory practice may file a complaint with NCHC. For more information on NCHC's civil rights program, and the procedures to file a complaint, contact 715-841-5101, (for hearing impaired, please use Wisconsin Relay 711 service); email jmckenzie@norcen.org or visit our office at 1100 Lake View Drive, Wausau, WI 54403.
A complainant may file a complaint directly with the Federal Transit Administration by filing a complaint with:
Office of Civil Rights
Attention: Title VI Program Coordinator
East Building, 5th Floor-TCR
1200 New Jersey Ave. SE
Washington, DC, 20590

If information is needed in another language, contact 715-841-5101.
Si se necesita informacion en otro idioma de contacto, 715-841-5101.
Yog muaj lus qhia ntxiv rau lwm hom lus, hu rau 715-841-5101.