What Matters to You Matters to Us
North Central Health Care is a multi-county provider of mental health, addiction, skilled nursing, developmental disability, warm water physical therapy and adult protective services for North Central Wisconsin. Our team is driven to continually assess the needs of Marathon, Lincoln and Langlade counties and adapt services so that we can provide the quality care people need most. Visit our services page for a full list of the services we currently provide.
Our Mission
Langlade, Lincoln and Marathon Counties partnering together to provide compassionate and high quality care for individuals and families with mental health, recovery and long-term care needs.
Our Vision: Lives Enriched and Fulfilled.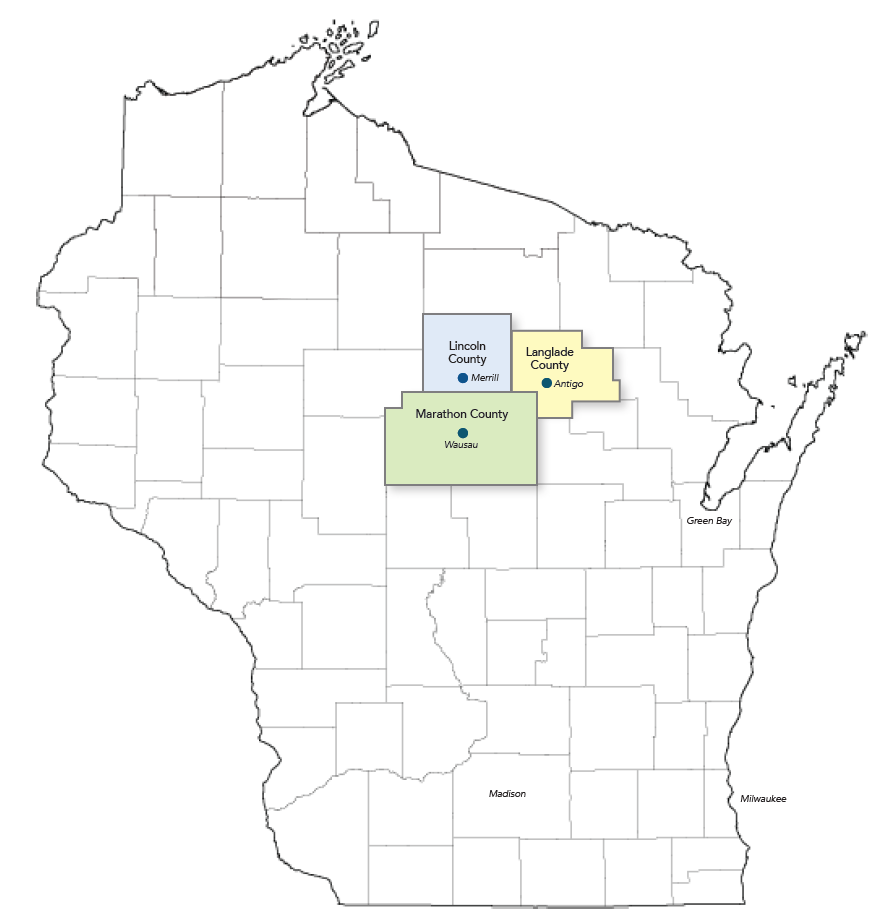 Nestled in the heart of Central Wisconsin, North Central Health Care (NCHC) is a healthcare organization formed fifty years ago as a partnership between three Central Wisconsin counties - Langlade, Lincoln and Marathon. NCHC employs approximately 950 people in diverse roles across a variety of care environments. NCHC is governed by a Board of Directors composed of both appointed and elected officials from the three counties.
Programs offered include mental and behavioral health services for people of all ages in a variety of settings including outpatient, day treatment, community treatment, inpatient hospitals and residential treatment, as well as detoxification services for alcohol and drug dependency and 24-hour crisis care. For individuals with developmental disability needs, programs are offered for vocational, life skill training, early intervention, housing and care management services.
In addition, NCHC operates two large skilled nursing facilities. Mount View Care Center is located at the main campus in Wausau and Pine Crest Nursing Home is located in Merrill. These facilities serve individuals in need of long-term care, short-term rehabilitation or post-acute care with complex physical needs including ventilator-dependent needs. Specialized nursing care for dementia, psychiatric and neurological diseases, or behavioral challenges is also provided.
Additional specialized programs are available for Adult Protective Services and specialized Aquatic Physical Therapy.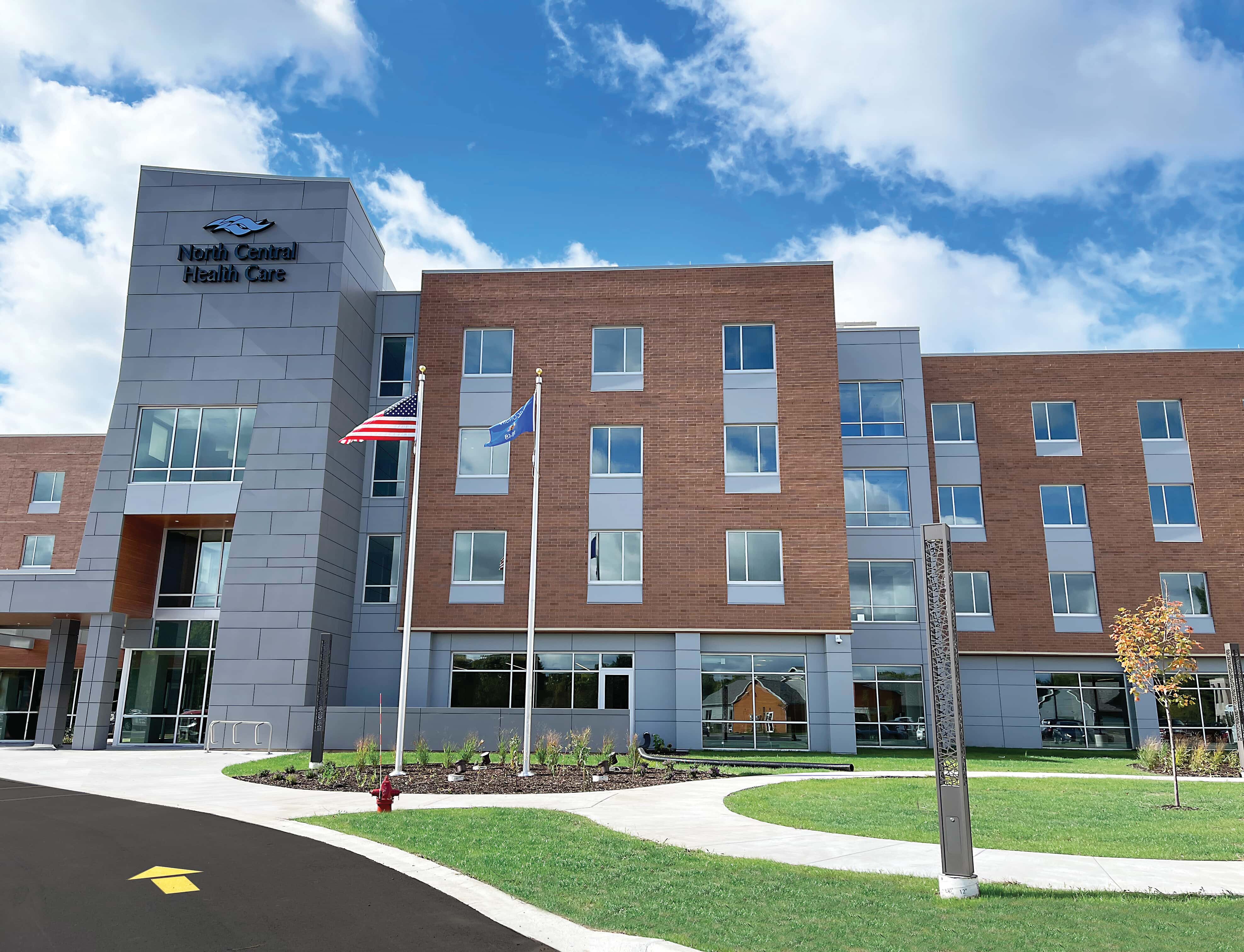 NCHC's main campus is located in Wausau, Wisconsin on 18 acres overlooking beautiful Lake Wausau on the Wisconsin River. In 2019, in partnership with Marathon County, NCHC broke ground on a $72M campus renovation project that is expected to finish in 2023. To date, a brand new Aquatic Therapy Center, Skilled Nursing Home, Youth and Adult Behavioral Health Hospitals and a Crisis Stabilization Facility have opened and are operational, serving people of all ages. www.norcen.org/Renovations
Additionally, two health care centers for outpatient mental and behavioral health and other programs are located in Merrill and Antigo, Wisconsin, both co-located with other community partner programs such as county health departments, resource centers and community partners. Multiple community-based programs are located throughout all three counties for a variety of services.
---
Historical Timeline of North Central Health Care
1893 – opening of the Marathon County Asylum for the Insane
1910 – the Marathon County Home and Hospital begins providing tuberculosis care
1916 – Rib View Sanitarium begins providing the first forms of nursing home care
1972 – North Central Health Care is formed as a multi-county care provider for Marathon, Lincoln, and Langlade Counties
2019 – NCHC breaks ground on $72M Wausau Campus renovation project.
---
Our Core Values at North Central Health Care
Dignity: We are dedicated to providing excellent service with acceptance and respect to every individual, every day.

Integrity: We keep our promises and act in a way where doing the right things for the right reasons is standard.

Accountability: We commit to positive outcomes and each other's success.

Partnership: We are successful by building positive relationships in working towards a system of seamless care as a trusted community and county partner.

Continuous Improvement: We embrace change through purpose-driven data, creativity and feedback in pursuit of the advancement of excellence.
At North Central Health Care, we are committed to providing care that is:
Safe: avoiding injuries
Effective: incorporates researched and proven practices
Person-Centered: provides care that is respectful of and responsive to individual needs
Timely: reduces harmful delays
Efficient: avoids waste
Equitable: provides care that does not vary in quality because of personal characteristics
Service-oriented: exceeds the expectations of those we provide service for
We measure success by our ability to provide individuals with customized care programs that suit their lifestyle and help them reach their personal goals. We work closely with patients, friends, family, and primary care providers to design a truly personalized care plan.
View a listing of our current Executive Management Team and Board of Directors.