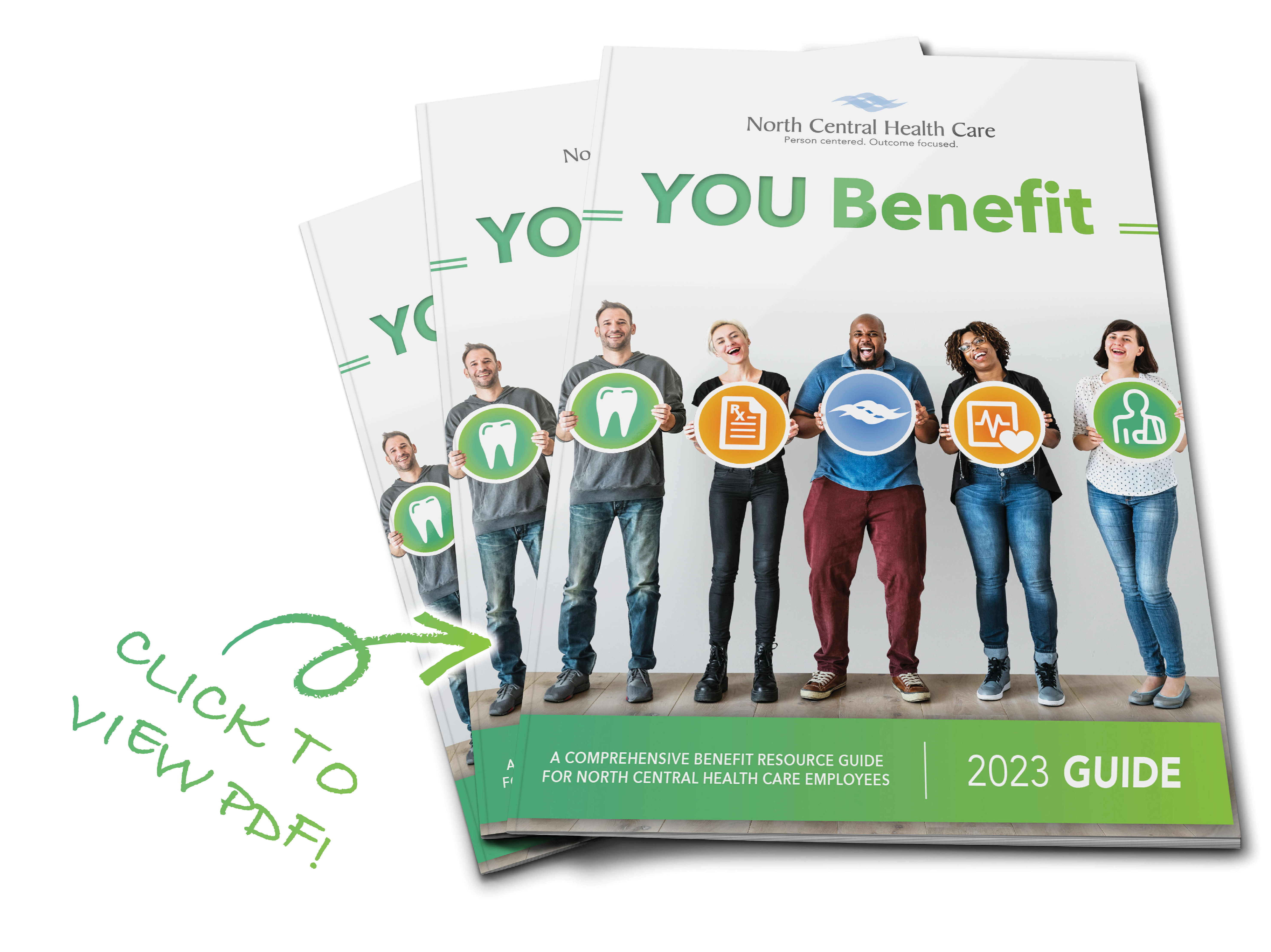 North Central Health Care offers a comprehensive benefit package that contains some of the most competitive benefits available in Central Wisconsin. NCHC's benefits package is an important part of your total compensation package, adding value and giving you peace of mind. Each of our employee benefits have been carefully researched and negotiated. You can enroll in your benefits with the assurance that your benefit needs are a priority at North Central Health Care.
The YOU Benefit 2023: A Comprehensive Benefit Resource Guide for North Central Health Care Employees is available electronically and contains detailed information about benefits available to employees. Please contact Human Resources if you would prefer a printed copy.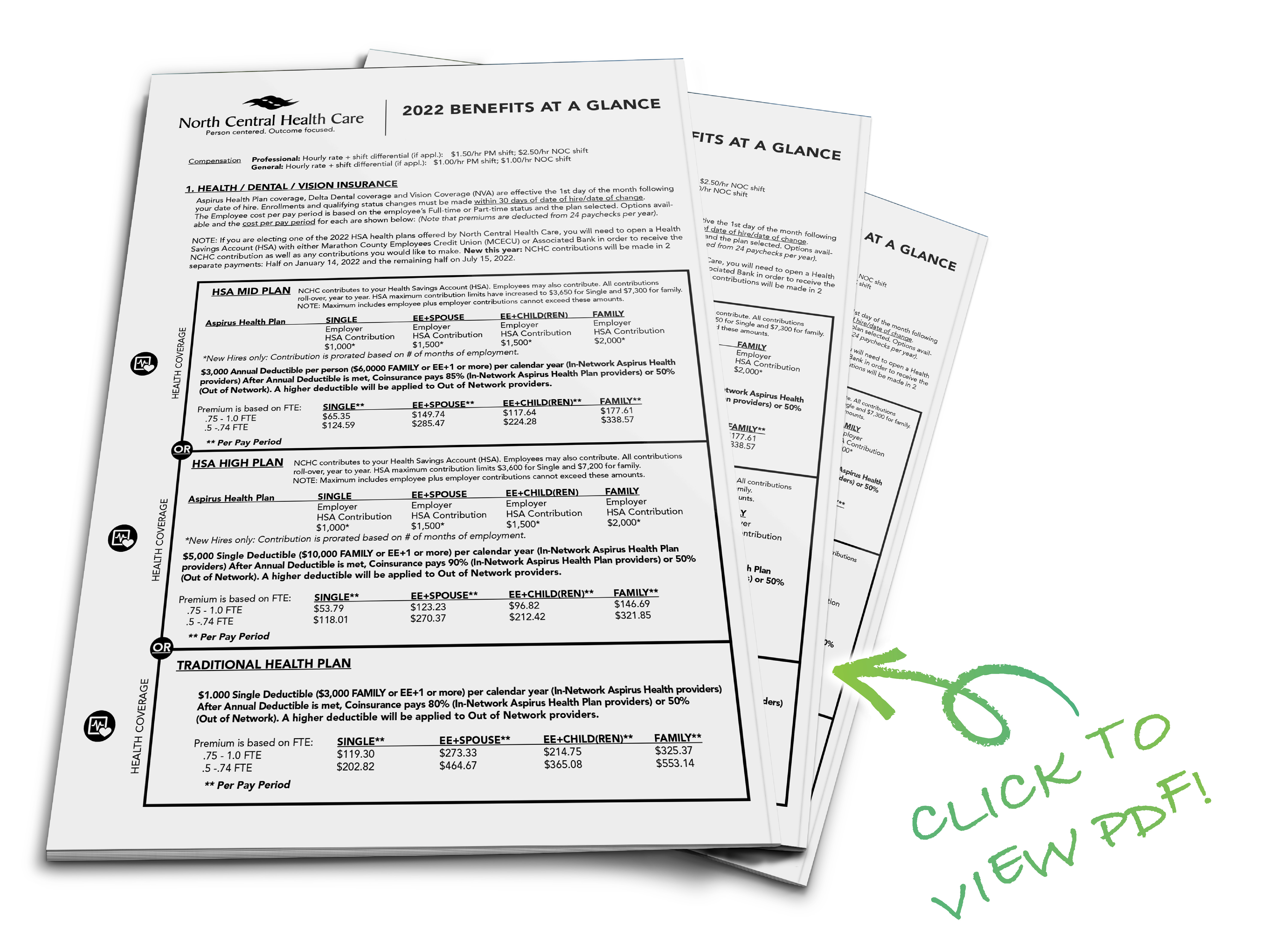 An abbreviated overview of employee benefits can be found here at Benefits at a Glance for 2023. Both publications will contain plan and coverage options for January 1, 2023 through December 31, 2023.
View or download the full YOU Benefit 2023 or the Benefits at a Glance.
Do You Have Questions About Benefits or Enrollment?
For employees in Wausau-based programs, please contact Lynn Wengelski,
Compensation/Benefits Analyst at 715.848.4438 or lwengelski@norcen.org.
For employees in Antigo or Merrill-based programs, please contact Jacque Krause, HR Generalist at 715.539.2514 or jkrause@norcen.org.
---
2023 Benefits Overview
The benefit information presented below describes only the highlights of the NCHC benefit plans for January 1, 2023 through December 31, 2023. Benefits for our employees include:
Paid Leave Time
Paid Holidays
Retirement Savings Plans
Health Plan Coverage
On-site Employee Health & Wellness Center Clinic


Prescription Drug Plan


Dental Plan
Vision Plan
Medical, Dependent Care or Limited Purpose Flexible Spending Accounts
Income Continuation Insurance
Short-Term Disability
Group Term Life Insurance
Critical Illness Insurance
Accident Insurance
Exercise Rewards Program


Pet Insurance Plan
Identity Guard
Employee Discount Program
Tuition Reimbursement Program
Employee-Assistance Program
Each year during open enrollment, employees are offered education sessions to learn more about their benefits and also have the opportunity to ask questions in-person to the NCHC Benefits Team. A YOU Benefit 2023: A Comprehensive Benefit Resource Guide for benefit plans and coverage is provided to all NCHC employees that provides a comprehensive resource for benefits.
PAID LEAVE TIME
North Central Health Care values you as an employee and also knows the importance of taking care of our employees, which is why paid leave time is offered to our employees based on an accrual system. From your hire date, each employee accrues PLT calculated by the number of hours worked.
PAID HOLIDAYS
North Central Health Care offers eight paid holidays per year to our staff that include:
New Years' Eve
New Years' Day
Memorial Day
July 4th,
Labor Day
Thanksgiving Day
Day After Thanksgiving
Christmas Eve
Christmas Day

ON-DEMAND PAY
Decide when and how you get paid! Earned Wage Access (EWA) gets you paid before payday. Work your shift, and we'll make a portion of that money available the following day*, giving you more control over when and how you want to use it. The funds you access simply get deducted from your next paycheck. No gimmicks, no hoops–just your money, in your hands. Visit www.norcen.org/UKGWallet for details.
RETIREMENT SAVINGS PLANS
North Central Health Care participates in the Wisconsin Retirement System (WRS). The WRS is a defined benefit retirement program that is commonly referred to as a pension plan. Combined with Social Security benefits (where applicable) and personal retirement savings accounts, WRS benefits can help provide financial security during retirement. Employee contributions are mandatory. WRS is a tax deferred defined benefit plan. In 2022, employees contribute 6.5% of their eligible wages and NCHC contributes a match of that same 6.5% for a total of 13%. Eligibility varies by hire date. If you meet requirements you will automatically be enrolled in the Wisconsin Retirement System. In addition to the Wisconsin Retirement System you may also participate in a 457(b) Deferred Compensation Plan. Specific details about WRS benefits, including benefit estimates, may be obtained at the Department of Employee Trust Funds Plan Website: www.etf.wi.gov 877.533-5020.
HEALTH PLAN COVERAGE
North Central Health Care offers three Health Plans that cover the same services but have different cost structures. Two plans are paired with a Health Savings Account (HSA). To be eligible for Health Insurance you will need to work a minimum of a 0.5 FTE (Full-Time Equivalent) status. A 0.5 FTE works 40 hours per 80-hour pay period. North Central Health Care has two different levels of premium contribution based on your FTE status. Aspirus Health Plan's Transparency in Coverage link:
https://www.aspirushealthplan.com/group-individual/mrf/
ON-SITE EMPLOYEE HEALTH & WELLNESS CENTER
The Employee Health & Wellness Center Clinic operated by Aspirus provides easy access to convenient health care right where you work. Located on the Wausau Campus, the on-site clinic is available for employees and family members covered by the NCHC Health Plans. Operated by Aspirus and available at full time hours Monday through Friday, the clinic offer the following services:
Annual Physicals: women's health, men's health.
Chronic Condition Support: hypertension, diabetes, asthma, anxiety, depression, thyroid disorders and prescriptions.
Health Monitoring: blood pressure, cholesterol, blood sugar, weight management, routine lab test and gynecological concerns.
Common Health Issues: colds, sore throat, earaches, influenza, sinus infection, stomach disorders, nausea, skin problems: rashes, bug bites,
Minor wounds, suturing, strains, sprains, urinary tract infections.
Wellness Care: Health screening, prevention education, general fitness assessment, goal setting and routine wellness advice.
Lab Services and Procedures: Rapid strep test, urine dip stick, flu screens, pregnancy test and procedures such as mole and skin tag removal are provided at the onsite clinic.
Aspirus Employee Health & Wellness Center Clinic – Contact and Hours
1100 Lake View Drive, Wausau, WI
North Central Health Care Campus Door 25
Schedule an Appointment: 715.843.1256
Clinic Hours:
Monday - Wednesday - Friday: 8:00 am - 4:30 pm
Tuesday: 6:30 am – 3:00 pm
Thursday: 9:30 am – 6:00 pm
*Ages 18 months and up
Video Visits Available! Call 715.843.1256 or visit MyAspirus.org to schedule a video or in person visit. Must be registered with MyAspirus to utilize Video Visits.
MDLIVE
For employees enrolled in North Central Health Care's Health Plans, MDLIVE offers 24-7 access to physician consultations. Consultations are provided via phone, video and the internet. Employees will have access to a national network of U.S. board-certified physicians who use electronic health records, telephone consultations and online video consultations to diagnose, recommend treatment and write short-term, non-DEA-controlled prescriptions, when appropriate. Physicians are available 24 hours a day, 365 days a year. Members of any age can conveniently access quality care from their home, work or on-the-go as opposed to more expensive and time-consuming alternatives like the doctor's office or emergency room. After the you request a medical consultation, the average time for a return call from a MDLIVE physician is less than one hour – oftentimes in fewer than 30 minutes. MDLIVE guarantees a return call within one hour or the medical consultation is free. For more information about MDLIVE visit mdlive.com or (800) 400 MDLIVE (1.800.400.6354).
PRESCRIPTION DRUG PLAN
If you are enrolled in North Central Health Care's health plan, you are automatically enrolled in the Prescription Drug Plan. All employees, regardless of whether they're enrolled in NCHC health coverage, also have access to North Central Health Care's in-house pharmacy services.
TRIA HEALTH CONFIDENTIAL PHARMACY ADVOCATE PROGRAM
Tria Health's pharmacists are your personal medication experts, working with you and your doctor(s) to make sure your conditions are properly controlled without the risk of medication-related problems. Tria Health's pharmacists work one-on-one to develop a personalized plan to help improve your health! Learn More
Tria Health is Your Resource for Medication Guidance
Experiencing uncomfortable side effects?
Looking for less expensive alternatives?
Need medication recommendations?
Have a new prescription?
DENTAL PLAN
North Central Health Care provides dental coverage that is administered by Delta Dental for eligible North Central Health Care employees. Delta Dental's national preferred provider organization program gives you access to two of the nation's largest networks of participating dentists–the Delta Dental PPO network and the Delta Dental Premier network. Although you can go to any licensed dentist anywhere, your out-of-pocket costs are likely to be lower if you go to a dentist who participates in one of these networks.
VISION PLAN
North Central Health Care provides vision benefits administered through National Vision Administrators (NVA) and offers a comprehensive vision care plan to you and your eligible family members. Each enrolled person may receive frames once every 24 months and lenses once every 12 months. Contact lenses every 12 months.
FLEXIBLE SPENDING ACCOUNTS
Flexible Spending Accounts (FSAs) allow you to pay for out-of-pocket dependent care expenses with pre-tax dollars. Your contributions are subtracted from your paycheck before federal, state, and FICA taxes are calculated on your pay, so you save money on taxes. Contributions for FSAs do not reduce your pay for purposes of determining your life insurance or retirement benefits provided by North Central Health Care.
North Central Health Care offers Medical, Dependent Care and Limited Purpose Flexible Spending Accounts that allow you to pay certain allowable expenses with tax-free money. If you are on the HSA Plan you can deduct pre-tax dollars directly into your HSA account to pay for out of pocket expenses up to the maximum limits.
INCOME CONTINUATION INSURANCE
The Income Continuation Insurance (ICI) benefit is an "income replacement" benefit payable if you become disabled. This insurance is available to all NCHC employees who are eligible in the Wisconsin Retirement System. ICI provides replacement income for disabilities which are short- and long-term. The benefit usually lasts until you are no longer disabled or you reach age 65 (with some exceptions), whichever is sooner.
Note: ICI Standard Coverage is FREE to all eligible NCHC employees who participate in the WI Retirement System. You must enroll during the open enrollment period by submitting a paper form to receive this benefit.
The benefit provides up to 75% of your average monthly earnings based on your previous calendar year earnings rounded to the next highest $1,000 and divided by 12 (for newly hired employees, your projected annual salary is rounded to the next highest $1,000 and divided by 12).
SHORT-TERM DISABILITY - Learn More
Short-Term Disability (STD) is an optional coverage that protects your income. You can elect up to 66% of your salary to be paid to you in the event that you cannot work due to a disability. This policy has a 90 day elimination period, if you are still disabled after 90 days you may be eligible to receive Income Continuation Insurance benefits. You can access instructions on how to log in to the Standard Benefits Portal to enroll or waive benefits.
CRITICAL ILLNESS INSURANCE - Learn More
Critical illness with cancer insurance coverage helps with the financial burden that can come along when cancer, heart attack, stroke and multiple other diseases strike a family unexpectedly. This coverage pays a lump sum if one of the covered diseases happens to your family. The money comes to you and can be used any way you choose. You can access instructions on how to log in to the Standard Benefits Portal to enroll or waive benefits.
ACCIDENT INSURANCE - Learn More
This plan protects you and your family against the unexpected costs associated with an accident. This plan pays you cash that can be used to help with your house payment, car payment, groceries, and cell phone payment or even help with out of pocket medical expenses like your deductible. It's your money, you choose where it goes. This plan includes a $200 wellness benefit paid once a year when you complete a covered wellness exam. View the list of 20 exams that qualify. You can access instructions on how to log in to the Standard Benefits Portal to enroll or waive benefits.
EMPLOYEE ASSISTANCE PROGRAM
North Central Health Care's Employee Assistance Program (EAP) is available to all employees and their family members. Employee Assistance Program counselors can aid you and your family in assessment, problem solving and support to assist you in working through a number of work-life issues and concerns. 1.800.540.3758 or 715.344.6379.
OTHER GREAT BENEFITS
North Central Health Care has many other benefits that you will have the option of enrolling in such as Retirement Savings Accounts, Pet Insurance, Exercise Rewards Plan and Identity Guard. In addition to these, North Central Health Care provides employees discounts from local and national businesses and retailers including restaurants, cell phone carriers, car rental, massage and wellness, gym memberships, moving and miscellaneous discounts. You can also shop online for NCHC-branded apparel at the SwagShop.
North Central Health Care offers several programs and resources just for our employees like Connections Guide, News You Can Use, Tuition Reimbursement and Employee Referral Bonus Programs. Our Talent Development Team is available to help employees access these resources.
Eligibility
Your eligibility for benefits at North Central Health Care is based on your designated Full-time Equivalent (FTE) and hours worked. Generally the minimum status an employee can work and be eligible for benefits is 0.5 FTE which is at least 40 hours per pay period. Eligibility for health insurance is based on the number of hours worked in the last year.
NEW HIRE OR NEWLY ELIGIBLE
If you are a new hire or newly eligible for benefits, your benefits will take effect the first day of the month following your date of hire. Exceptions to this will be designated by eligible Qualifying Events.
MARRIED SAME-SEX COUPLES
Effective January 1, 2015, coverage on our benefit plans was extended to provide benefits eligibility to same-sex couples.
For More Information
For current employees, you may review your complete benefit plan information, including eligibility and monthly rates by visiting the North Central Health Care's Intranet page at http://intranet/NCHC/Departments/HumanResources/BenefitInformation.aspx
Copies of North Central Health Care's YOU Benefit Guide may be requested in-person at the Human Resources Office at the Wausau Campus at 1100 Lake View Drive in Wausau from 8:00 a.m. – 4:30 p.m. Monday – Friday, or by contacting hresources@norcen.org or 715.848.4419.
The benefit information presented here describes only the highlights of the NCHC benefit plans and does not constitute official plan documents. Additional terms and conditions may apply. If there are any discrepancies between the information contained herein and the official plan documents, the plan documents will govern. This benefit overview is not intended to give rise to any right to employment, continued employment, or any benefit with or from North Central Health Care. To view official plan documents, go to http://intranet/nchc.aspx or contact the Human Resources Office at the information provided above.
Let's Launch Your Career! Connect with Bo to get started! Email hresources@norcen.org with subject line Career Question.