Take a Virtual Tour of the New Aquatic Therapy Center - Now Open!
We are excited to show you the new facility, however the new Aquatic Therapy Center is not open for tours or visitors at this time due to Covid-19. You must have a scheduled physical therapy appointment or scheduled community FITT appointment. Due to Covid-19 restrictions, all pool use must be scheduled to maintain social distancing in pool and locker room areas.
Aquatic Physical Therapy individual appointments are opening for scheduling. All patients will need a physician referral. You can download the Referral Form here. Classes are still closed. Community FITT is now available for those that wish to work independently on their water therapy and is by-appointment.
One additional adult may accompany each patient. Please enter from the Lake View Drive entrance and follow signage to the main entrance and parking.
The pool is limited so all pool use at this time is by appointment only. Face masks or face coverings are required at all times and will be provided to all patients and accompanying adult. Please visit our Covid-19 Resources page for additional information.
You must have a referral from your doctor to use the pool. Physicians can download the referral form on our make a referral page.
---
Warm Water Therapy Can Work Wonders
For people who have physical disabilities, are recovering from surgeries, or have musculoskeletal conditions such as fibromyalgia, arthritis and lower back pain, warm water therapy can bring relief from pain, spur recovery and improve range of motion, balance, strength and coordination. At North Central Health Care we have a warm water pool specifically designed for aquatic therapy. Here we offer aquatic physical therapy, water exercise programs and community and family swim programs that help individuals manage pain and maintain or reclaim their independence.
Water is heated to an average of 90 degrees year round. The depth varies from three feet to five-and a-half feet. You do not need to know how to swim to take advantage of warm water therapy and a life guard is always on duty whenever the pool is providing services.
For the latest information about the pool schedule, fees and rules visit here: Aquatic Schedule, Fees & Rules
All programs do require the referral of a physician. The warm water therapeutic pool is located at 1100 Lake View Drive in Wausau and is available to any patients, regardless of their county of residence or age.
North Central Health Care's Warm Water Aquatic Services:
Include handicapped-accessible locker rooms and a pool with a wheelchair ramp, stairwells and deck handrails.
Have separate male and female locker rooms. Rooms have grab bars for safety. Toilets are higher and handicap accessible. The showers are hand held with shower chairs.
Have unisex dressing rooms and shower areas, allowing caregivers to aid with dressing and showering. Rooms have grab bars for safety. Toilets are higher and handicap accessible. The showers are hand held with shower chairs.
Offers lockers that are accessible.
Have wheelchairs for patients that can be used to enter the pool or for showering.
Provide poolside seating for caregivers.
Provide patients access to both doctor-referred aquatic physical therapy programs with licensed physical therapists, as well as community swim.
Are available to those who cannot swim.
Offer a pool with a depth that ranges from three feet to six feet, and a water temperature of 90 degrees.
Provide patients with self-directed exercise programs for pool and home (land) use.
Allow patients who leave the aquatic therapy program to continue using the pool by enrolling in water exercise programs or joining the community and family swim.
Are overseen by a credentialed Licensed Pool Operator.
Provide a Certified Lifeguard at all times.
Are directed by a Licensed Physical Therapist and a Physical Therapy Assistant who oversee all aquatic physical therapy clients and transitional program clients.
Meets all State and County regulations.
For comprehensive overview of all the North Central Health Care Aquatic Services, please watch this video.
Meet Our Management Team at North Central Health Care Aquatic Services
The care and safety of our patients, clients and residents is always our top concern. Our management team is here to serve you and answer any questions you may have.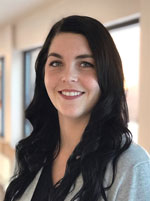 Olivia Smola
Aquatic Services Interim Manager
715.848.4390
osmola@norcen.org