For Our Families and Loved Ones
The safety and health of your loved one is our top priority, along with making sure you have the information you need in a timely manner. Our goal is be able to quickly provide our residents' families and representatives with up to date information and news regarding operations within our nursing homes.
Covid-19 Updates:
* Active cases are residents who are currently under the care of NCHC's skilled nursing facilities and tested positive. Residents or staff who are recovered or discharged are removed from the active case count above.
---
Nursing Home Visitation Policy and Safety Guidelines
Please note:
All visitation is decided per unit, based on the unit's precaution level and in collaboration with local health officials, the Director of Nursing for each nursing home, NCHC's Chief Medical Officer and Chief Nursing Officer. Decisions regarding visitation are made in the best interest of those we serve, our residents and visitors.
Current Visitation Status:
Mount View Care Center:
In-Person visitation is CURRENTLY OPEN for ALL units. New visiting hours are M-F: 7am - 7pm and Weekends: 10 am - 6pm. See case details here. (updated October 22, 2021)
Pine Crest Nursing Home:
In-Person visitation to Pine Crest is OPEN for ALL units. Visiting hours are M-F: 9 am - 6 pm and Weekends: 9 am - 3 pm. See case details here. (updated October 23, 2021)
Please see all visitation regulations below.
DELIVERIES FOR RESIDENTS: Deliveries of non-perishables can be made during designated visiting hours only.
---
What You Need To Know BEFORE Your Indoor Visit
Indoor Visitation Information & Guidelines
Prior to Your Indoor, In-Room Visit
Scheduling is not required*. You may visit as many times as you wish during open visiting hours.
No more than two (2) visitors may be with any one resident at a time. One (1) child is welcome to visit but must be under the supervision of the adult at all times, this counts as person number two (2).
If the resident or the unit the resident lives on in on outbreak status or enhanced precautions, the visits will be put on hold until they are removed from precautions.
Pets are temporarily not allowed at Mount View. Pets are allowed at Pine Crest.
Upon Arrival
Visitors should park in the main parking lot and enter through the main entrance at each facility. Mount View is located at 2400 Marshall Street: Enter at Door#1. Pine Crest is located at 2100 E 6th Street: Enter through main entrance. Handicap-designated spots should be used only for those who require use.
All visitors will be screened upon arrival. Please ring the doorbell and someone will greet you to ask you a few COVID symptom questions, take your temperature and provide you with a face mask and face shield.
Upon arrival, Covid-19 screening is required including questions about your Covid-19 vaccination status, signs of illness, exposure to Covid-19 in last 14 days and completing a temperature check.
After the required screening, you may proceed to the resident's room for your visit. Visits do not have a time limit however must be completed by the end of visiting hours each day (noted above).
Alcohol-based hand sanitizer will be required before proceeding into facility and after your visit and will be provided.
During Your Visit
Masks will be provided and must be worn at all times and fully cover your nose and mouth.
Visitors will maintain 6-foot social distancing from those in hallways and other areas on way to resident room.
Visitors are not allowed to access other parts of building other than designated visiting space or the resident's room. You must immediately exit the facility after your visit.
Visiting With Pets at Any NCHC Facility
To provide safe and therapeutic contact with animals and to promote the emotional well-being of the patients, residents, and clients, NCHC requires owners and pets to follow the Animal Visitation Policy when visitin any NCHC facility, including Mount View Care Center and Pine Crest Nursing home. Please visit our Visiting NCHC with Pets for full details.
---
Virtual Visits
Virtual Visits use various electronic devices to visit with residents.
iPads and phones will be available to residents for use. Staff will assist with communication and/or holding the phone as needed. Stands are also available to support the iPads for independent hands free conversations.
iPads and phones will be sanitized per organization guidelines between use.
To Schedule A Virtual Visit
Mount View Care Center
Contact the unit social worker or call unit directly to make arrangements. Contact phone numbers listed below.
Pine Crest
715.539.2549 Life Enrichment
---
Outdoor Visitation
Outdoor visits include all forms of patio, window and visits that take place outside the nursing home buildings and follow all visitation guidelines listed above including screening and use of masks and alcohol-based hand sanitizer.
To Schedule An Outdoor or Patio Visit
Mount View Care Center
Scheduling not required if visitation is open.
Pine Crest
715.539.2549 Life Enrichment
Questions? Call Us!
If you have any questions, please contact the Mount View or Pine Crest social work team. They are here for you and your families!
Mount View Care Center Social Services
Social Services Coord 715.848.4373
Southshore 715.848.4412
Northwinds Vent 715.848.4345
Northern Reflections 715.848.4578
Legacies by the Lake 715.848.4593
Life Enrichment/Visitation Scheduling 715.370.9179
Pine Crest Social Services
Social Services 715.539.2544 or715.539.2545
Life Enrichment 715.539.2549
Main Line:715.536.0355
Sign Up for General NCHC Email Notifications
You will find all the latest information regarding the Covid-19 vaccination for residents. Factual, reliable information, links and videos.
---
Covid-19 Testing of Residents and Nursing Home Employees
You and your loved ones may have questions about Covid-19 testing, so we will continue to provide the information shared previously in May on this Question/Answer Sheet available below, or you may contact the social work team with any questions. We have also provided a copy of the resident consent form that is used for Covid-19 testing that you can review.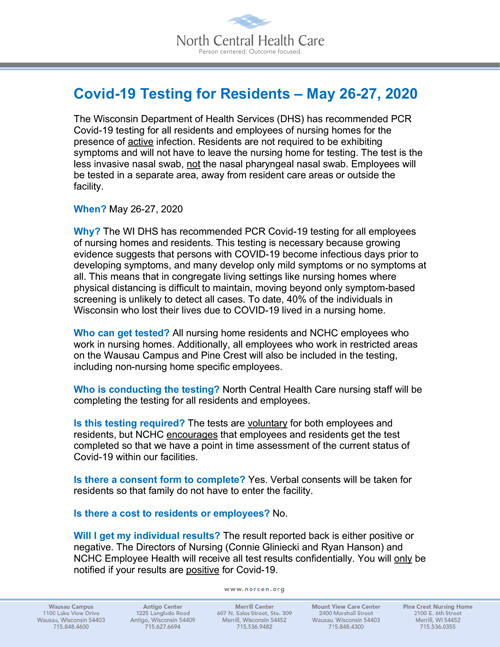 View or print: Question/Answer Sheet Regarding Covid-19 Testing for Residents
View or print: Consent Form for Covid-19 Testing for Residents
---
Phone Notification System
The primary contact for each nursing home resident will be receiving a recorded phone call as needed to update you with Covid-19 related announcements and news. These notifications are part of our efforts to keep you informed and meet the new requirements by CMS.
As of Monday, May 11, 2020 all nursing homes in the US are required by CMS to inform our residents, their representatives and families of any confirmed or suspected COVID-19 cases in their facility. The communication must occur by 5 p.m. the next calendar day following each occurrence. That may be a single case; or three or more residents or staff with new respiratory symptoms occurring within 72 hours of one other. Additionally, NCHC reports information weekly to the CDC.
If you have any questions, you can always call the social work team or email info@norcen.org.
---
Quick Links for Covid-19 Resources
Visit these pages for additional information regarding our efforts to keep you safe and informed.
Covid-19 Resources & Information