For Our Families and Loved Ones
Information and News Regarding Operations Within Our Nursing Homes
The safety and health of your loved one is our top priority, along with making sure you have the information you need in a timely manner. Our goal is be able to quickly provide our residents' families and representatives with up to date information and news regarding operations within our nursing homes.
Covid-19 Updates
CURRENT COVID-19 CASES:
Mount View Care Center Residents - 0 Staff - 0
Pine Crest Nursing Home Residents - 0 Staff - 0
Latest Message From North Central Health Care
Sent on June 3rd, 2020 at 8:00 AM
Play
DialMyCalls.com
Phone Message | June 3, 2020 Greetings from Mount View Care Center and Pine Crest Nursing Homes! Today is Wednesday June 3. Over the last week and half, residents and employees have participated in voluntary covid-19 testing. This is to provide us with a point in time assessment of our current situation. With 465 total staff tested and 257 residents from MVCC and Pine Crest, we have no covid-19 positive residents or staff at this time. Even though these results are hopeful, we will continue to restrict all visitors to our nursing home facilities at this time. We are working on plans for the what visitation may look like at both nursing homes and we encourage you to keep sending cards, making calls and using technology to talk with residents.
Media Release: May 23, 2020 | Testing at North Central Health Care Nursing Home Results in No Positive Covid-19 Cases in Employees Read Full Release
---
New Phone Notification System
Above is the latest phone message sent to nursing home primary contacts through our new communication tool. Please click below to listen to the latest message:
The primary contact for each nursing home resident will be receiving a recorded phone call as needed to update you with Covid-19 related announcements and news. These notifications are part of our efforts to keep you informed and meet the new requirements by CMS.
As of Monday, May 11, all nursing homes in the US are required by CMS to inform our residents, their representatives and families of any confirmed or suspected COVID-19 cases in their facility. The communication must occur by 5 p.m. the next calendar day following each occurrence. That may be a single case; or three or more residents or staff with new respiratory symptoms occurring within 72 hours of one other. Additionally, NCHC reports information weekly to the CDC.
If you have any questions, you can always call the social work team (phone numbers are at the bottom of this page) or email info@norcen.org.
---
Current Nursing Home Visitor Restrictions Updated 5/20/20
We are currently still restricting all visitors to our nursing home facilities. Given the critical importance in limiting COVID-19 exposure in nursing homes, decisions on relaxing these restrictions are being made with careful review of a number of facility-level, community, and State factors, and in collaboration with State and local health officials. We will continue to operate in the best interest of our residents.
We invite you bookmark and share this page with your family and friends who may not be on this call list. You can also visit our pages on Facebook and Twitter.
---
Covid-19 Testing of All Residents and Nursing Home Employees on May 26-27, 2020
On May 26 and 27, all nursing home residents and staff will be participated in Covid-19 testing. This testing was recommended by state of WI DHS and will be conducted by our nursing home staff. While all testing is voluntary and conducted at no cost to our residents, we encouraged employees and residents to participate.
With 465 total staff tested and 257 residents from MVCC and Pine Crest, we have no covid-19 positive residents or staff at this time.
This testing was a point in time assessment of our current of staff and residents and we will continue with our diligent screening and precautions as we move forward.As always to protect resident privacy, individual names and information will not be shared publicly and families will be notified directly if their loved one has tested positive in the future.
You and your loved ones may have questions, so we have provided all the information in a Question/Answer Sheet available below, or you may contact the social work team with any questions. We have also provided a copy of the resident consent form that you can review.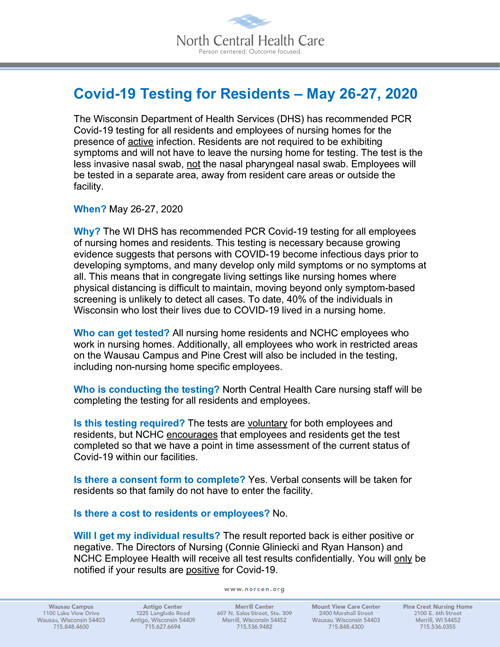 Question/Answer Sheet Regarding Covid-19 Testing for Residents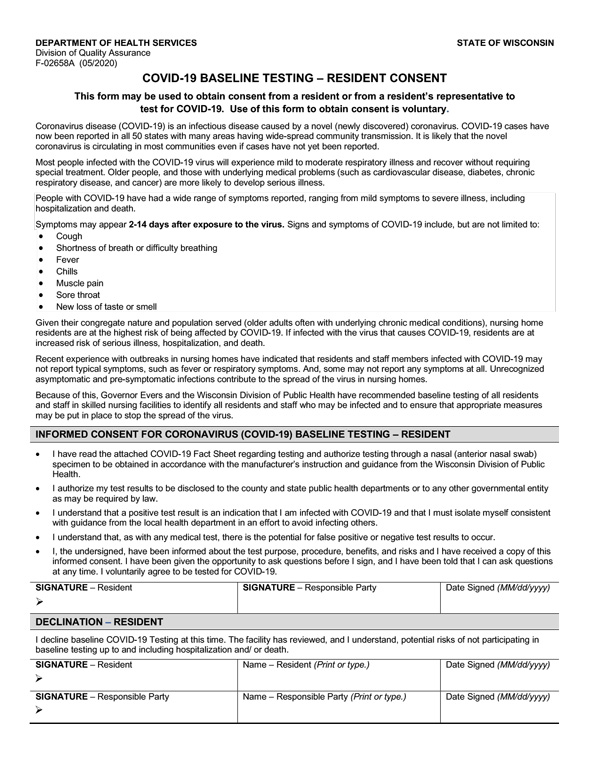 Consent Form for Covid-19 Testing for Residents
---
Quick Links for Covid-19 Resources
Visit these pages for additional information regarding our efforts to keep you safe and informed.
Covid-19 Resources & Information
Sign Up for General NCHC Email Notifications
---
Nursing Home Social Services
If you have any questions, please contact the Mount View or Pine Crest social work team. They are here for you and your families!
Mount View Care Center Social Services
Social Services Coord 715.848.4373
Southshore 715.848.4412
Northwinds Vent 715.848.4578 or 715.848.4412
Northern Reflections 715.848.4578
Garden Side Crossing/ Evergreen Place/Lakeview Heights 715.848.4593
Pine Crest Social Services
Main Line:715.536.0355
Social Services Director x2544
Social Services Assistant x1420
Social Services Office x2545