Ventilator Dependent Care
Advanced Respiratory Rehabilitation in Wisconsin
Yes, individuals with advanced chronic respiratory needs can — and should — have a high quality of life. The Ventilator Dependent Care Community at Mount View Care Center provides that.
During the recent COVID-19 pandemic we have implemented several safety measures and changes to our visitation policy to ensure residents and staff are protected from infection. Learn more about what we are doing to protect your health. You can also sign-up for email notifications to stay up-to-date on changes related to COVID-19.
Our ventilator dependent care community is the only ventilator therapy nursing facility of its kind in central, and northern Wisconsin. Our highly trained staff provide personalized care and short-term, long-term, and weaning respiratory therapies using the latest onsite respiratory technologies.
Personal care. 24-hour on site respiratory therapy and nursing services.
Secure care. Integrated nurse call system that incorporates the ventilator system.
Rooms with a view. Private suites overlook landscaped grounds and some of the most beautiful views of Lake Wausau and Rib Mount that our area has to offer.
Mobility. Residents can visit one another, the grounds and the community using portable ventilators.
Rehabilitation. We help residents adjust to ventilator therapy by providing physical, occupational and speech therapy.
Goals. Staff work one-on-one with residents to develop and reach rehabilitation goals, including ventilator management and ventilator weaning.
Social time. The Community is structured to provide residents as much privacy or sociability as they desire. Learn more about the Amenities and Activities at Mount View Care Center.
Complex Medical Care
Mount View Care Center is experienced with a wide variety of complex medical care needs. Uniquely trained, our dedicated, interdisciplinary team includes ventilator dependent care specialists, certified wound care nurses, nurse practitioners and a medical director.
Our complex medical care capabilities include:
Wound management
Feeding tubes
Tracheotomy care
Intravenous medication and treatment
Ventilator dependent care and weaning
Sleep disorders
Pain management
Person-Centered Care
Mount View Care Center takes a person-centered approach to your care. We view each resident in a holistic manner, factoring in medical needs, mental health care and activity levels to offer each resident opportunities to heal according to their needs and preferences.
Learn more about what makes Mount View Care Center unique.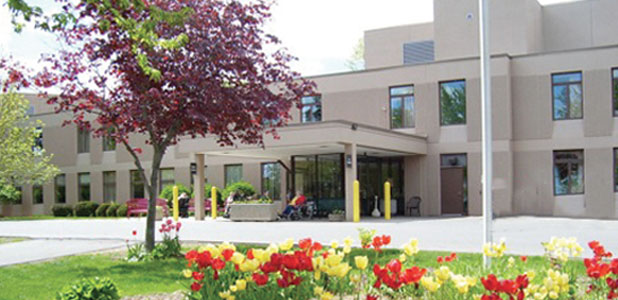 Keeping You Connected
Stay in touch with your loved one by sending an encouraging eCard to a resident or patient at Mount View Care Center or Pine Crest Nursing Home and we will print and hand-deliver your personal message free of charge.