Your Health & Safety is Our Top Priority
We want you to be reassured that we are continuing to take steps to ensure the health and safety of all of our residents, clients and patients. We have outlined some of the safety measures we have implemented at North Central Health Care.
What is Covid-19?
COVID-19 is a new coronavirus that emerged in December 2019. Symptoms include cough, fever, shortness of breath sore throat, muscle aches and tiredness. Symptoms may be mild to severe, and some people may not have symptoms at all. Transmission is between people who are in close contact with one another (within about 6 feet) through respiratory droplets produced when an infected person coughs or sneezes.
What are some of the symptoms of COVID-19?
Fever
Cough
Shortness of breath
Sore throat
Muscle Aches
Tiredness
Who is at higher risk if they become sick?
Older adults and people who have severe underlying chronic medical conditions like heart or lung disease or diabetes seem to be at higher risk for developing more serious complications from COVID-19 illness. In rare cases, COVID-19 can lead to severe respiratory problems, kidney failure or death. There is currently no vaccine to prevent the spread of COVID-19 so we are taking aggressive measures to prohibit the exposure of our residents and staff to COVID-19.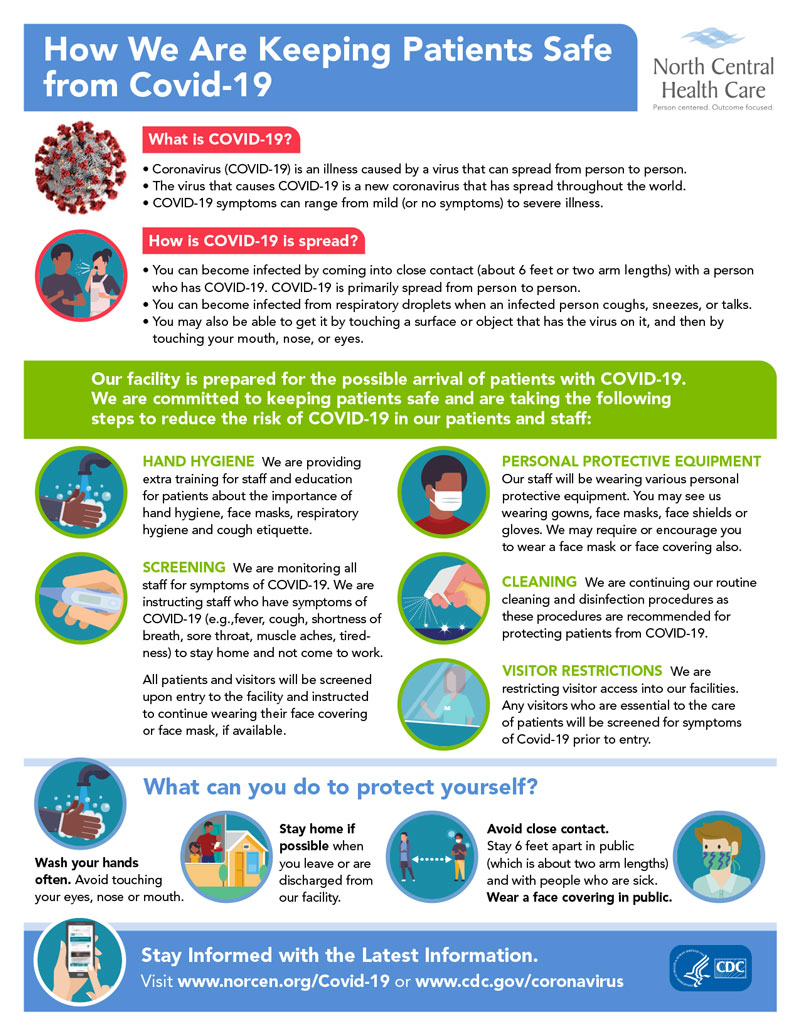 Click the graphic above to view larger or download a printable version.
How can you protect your health while you are here?
Hand Hygiene – Wash your hands often with soap and water for at least 20 seconds especially after you have been in a public place, or after blowing your nose, coughing, or sneezing.
Wear a face mask or face covering if you have been exposed to anyone who may be sick
Report Any Symptoms Right Away - Symptoms may appear 2-14 days after exposure.
Please leave the facility if you are experiencing any signs of illness.
Hours of Operation as well as local, state and federal resources are available for you on our Covid-19 Resources and Information Page.
You can sign up to receive email notifications on changing COVID-19 policies that may affect your care on our Sign Up Page.