North Central Health Care Collects Holiday Lights to Support Local Habitat for Humanity Efforts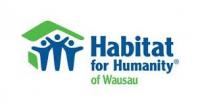 North Central Health Care employees collected over 238 pounds of junk holiday lights this holiday season to benefit Habitat for Humanity of Wausau. Those lights will be recycled by Habitat for Humanity and the funds used to by materials that will build homes in our area.
"Employees had fun with this project. We were not sure how many lights to expect, but the boxes kept filling up," says Jessica Meadows, Communications & Marketing Coordinator for North Central Health Care. "We were guessing how much the pile weighed, but in the end we had 25 boxes of lights weighing in at over 238 pounds. We were all pleasantly surprised. North Central Health Care is happy to be able to help our community and local families by supporting Habitat for Humanity. Every little bit helps."
238 pounds
Habitat for Humanity is in their second year of holiday lights recycling. "Every year tons of holiday lights are thrown away and end up in landfills across the country," said Chuck Strek, chairman of HFH of Wausau electronics recycling program. "Don't throw those old strings of lights away; donate them the HFH of Wausau's Recycled Building Materials facility."
It is estimated that with all the generous donations, once the lights are recycled there will be enough money to pay for all the interior 2x4's in one 3-bedroom Habitat for Humanity home this year. Thank you to everyone who donated lights this year.
Holiday lights can still be dropped off at Habitat for Humanity of Wausau's Recycled Building Materials facility at 500 S 38th Avenue, Wausau on Saturday mornings.