North Central Health Care Awarded $370,771 Grant to Establish New Graduate Medical Education Program for Psychiatry in Central Wisconsin
WAUSAU, WI—Continuing a mission to provide more physicians to rural and underserved areas of Wisconsin, Department of Health Services (DHS) Secretary Kitty Rhoades has announced May 28, 2014 that over $3.3 million in grants have been awarded to six health organizations to establish new Graduate Medical Education programs (GME) over the next three years. North Central Health Care in Wausau, was awarded a $370,771 grant for development of a specialty residency program targeting psychiatry. North Central Health Care will be working in partnership with several Central Wisconsin organizations including Wood County Mental Health, Portage County Mental Health, Aspirus Health, VA Health, Medical College of Wisconsin, Medical College of Wisconsin Affiliated Hospitals, Inc., Marshfield Clinic, and Ministry Health.
"This is a win-win for future physicians and the patients they will serve via this diverse group of health care providers," Secretary Rhoades said. "Clinical training in underserved areas significantly increases the likelihood that resident physicians will remain to continue their practices, which in turn will increase access to quality health care."
Throughout the state, the new resident physicians will provide health care services to Wisconsin citizens at hospitals and clinics in rural and underserved areas in over 20 counties that have agreed to serve as clinical training sites. When fully implemented, the entire GME initiative for the state will create 51 new training positions for medical residents.
Funding to support the new GME programs was authorized in the state's 2013-2015 biennial budget. It allows for up to $1.75 million per year to be used to develop new programs, and $750,000 annually to expand existing accredited GME programs. The initiative targets five specialties: family medicine, general internal medicine, general surgery, pediatrics, and psychiatry. Additional funding opportunities will be announced this summer.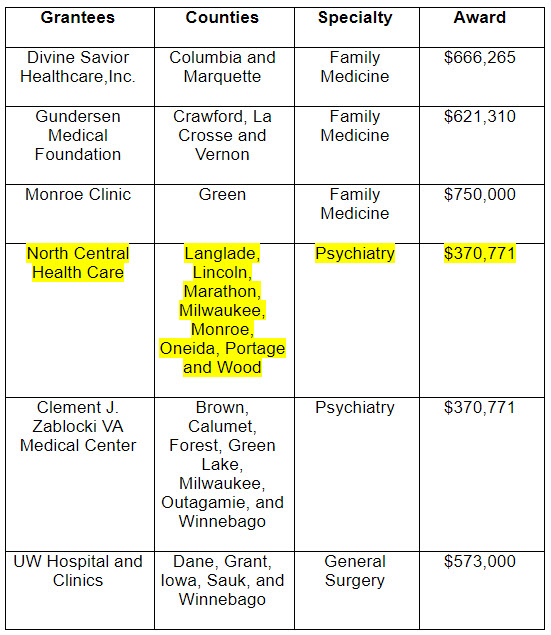 Press Conference Announcement
Central Wisconsin Psychiatry Residency Program
Thursday, June 19 at 10:00 am
North Central Health Care Wausau Campus Board Room
1100 Lake View Drive, Wausau, WI 54403
Featured Speaker:
Mr. Gary Bezucha, CEO of North Central Health Care
North Central Health Care will be holding a press conference on June 19 at 10:00 am at the North Central Health Care Wausau Campus Board Room located at 1100 Lake View Drive in Wausau.
The press conference will outline the psychiatric residency program as well why the psychiatry specialty was selected, how our rural areas will benefit and be served, and the impact on mental health care and psychiatry services in Central Wisconsin. Mr. Gary Bezucha, CEO of North Central Health Care, will be the featured speaker. There will be a question and answer session available for attending members of the media and public.
North Central Health Care compassionately serves our communities in the counties of Marathon, Langlade and Lincoln through an accessible, specialized continuum of care. Services are provided for mental health, substance abuse, crisis, developmental disabilities, adult protection, aquatic physical therapy and skilled nursing care.