St. Anne Parish Donates $2,500 to Mount View Care Center's Music & Memory Program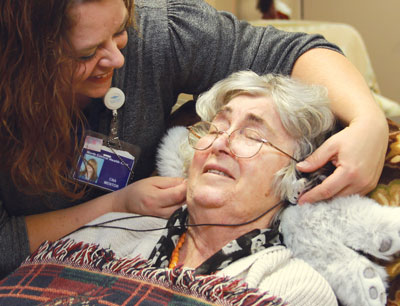 North Central Health Care would like to thank St. Anne Parish in Wausau for the generous donation of $2,500 in support of Mount View Care Center's participation in the Wisconsin Music & Memory Program. With funds raised through the St. Anne Parish Advent fundraiser, 30 new iPods, 30 headsets, 1 iPad, and 300 iTunes songs will be purchased to give residents with Alzheimer's and dementia the gift of music.
Listening to MusicMount View Care Center was selected along with 99 other nursing facilities in the state of Wisconsin to participate in the Music & Memory Program. This innovative program is rooted in extensive neuroscience research designed to help people with Alzheimer's and related dementia find renewed meaning and connection through the gift of personalized music. Music can reconnect and restore a sense of self often lost when memory fails. Over 130 residents at Mount View Care Center are diagnosed with Alzheimer's or a related dementia.
After undergoing certification that included professional training, instruction based on neuroscience research regarding the brain's response to music, the Mount View Care Center team has the capacity to transform the quality of life for people struggling with a wide range of physical and cognitive impairments.
Using personalized digital music technology has allowed Alzheimer's and dementia residents to receive benefits such as: iPod
Reduced reliance on anti-psychotic and anti-anxiety medications
Enhanced engagement and socialization, fostering a calmer social environment
Increased cooperation and attention
Reduced resistance to care
Increase fulfilling interactions with staff, family, friends and community.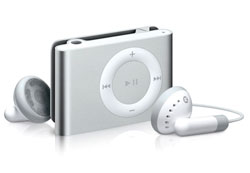 Thank you to St. Anne Parish and your parishioners for your gracious and generous support to enhance memories and enrich the lives of so many at Mount View Care Center.
Read more in this news article from the Wausau Daily Herald.
If you would like more information about how the Music & Memory Initiative will enhance the lives of our residents at Mount View Care Center, please visit http://www.MusicandMemory.org.
To make a donation to support the Mount View Care Center Music & Memory program, please visit the North Central Health Foundation page and dedicate your donation to "Music & Memory". Thank you for your generosity.