Veteran's Pinning Ceremony: Sept. 11, 2017
Mount View Care Center and Asera Care Hospice Recognize Our Veterans on Monday, September 11 with Veteran's Pinning Ceremony
Wausau Mayor Robert Mielke will speak and Veterans will be honored with a 21-gun salute beginning at 2:00 pm
(Wausau, WI) North Central Health Care's Mount View Care Center along with Asera Care Hospice will be presenting a special ceremony to recognize veterans at Mount View Care Center. As part of the ceremony, all veterans will receive a special patriotic pin and certificate for their service. There will be a special 21-gun salute and a speech given by Mayor Robert Mielke. Families, friends and our media partners are welcome to join our residents and share in this day of appreciation and honor.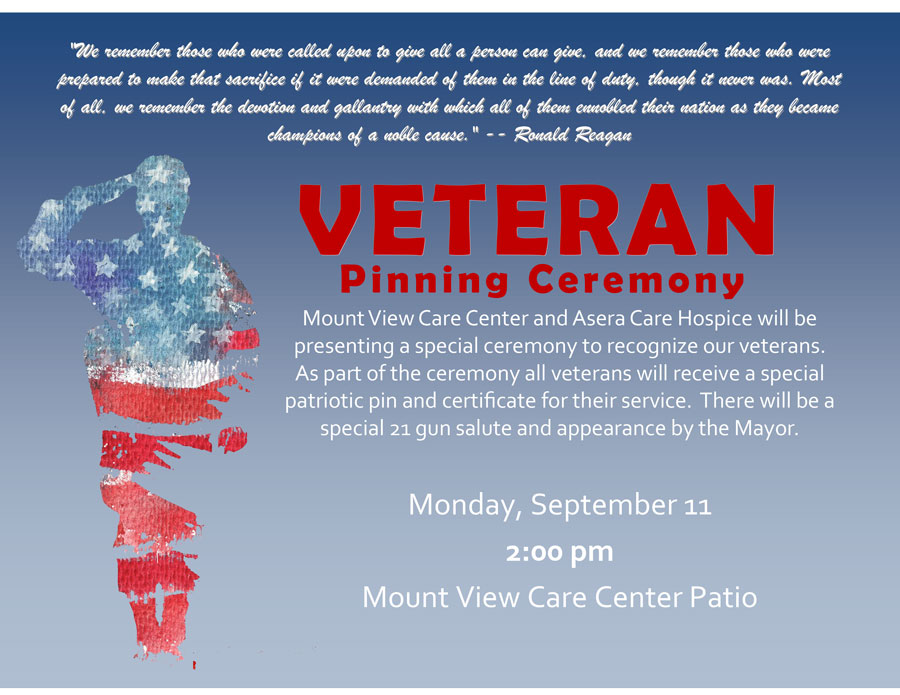 North Central Health Care's Mount View Care Center is located along the shores of Lake Wausau and offers services for those in need of skilled nursing. http://www.norcen.org/skilled-nursing Designed around the specific needs and abilities of its long- and short-term residents, it is operated 24 hours a day by professional staff specially trained in respiratory, music, occupational, post-acute, rehabilitation, respite, long-term, aquatic, speech and dementia therapies.
North Central Health Care is a partnership of Langlade, Lincoln and Marathon Counties providing compassionate and specialized care for people with complex behavioral and skilled nursing needs. Comprehensive health and wellness therapy, rehabilitation and skilled nursing are provided for people of any age, allowing them to live a life that is enriched and fulfilled.
For more information, please contact:
North Central Health Care
Jessica Meadows, Marketing & Communications
1100 Lake View Drive - Wausau, WI 54403
715.848.4309 jmeadows@norcen.org