North Central Health Care Announces Retirement of Alvin, NCHC Therapy Dog
North Central Health Care (NCHC) would like to announce the retirement of Alvin, NCHC Therapy Dog. Alvin has served the Central Wisconsin community as a therapy dog since 2019 and has touched countless lives during his time on the NCHC team. NCHC would like to invite the public to join us for a retirement celebration on Friday, July 21 at Mount View Care Center Community Room at 2400 Marshall Street, Suite B from 11:15 am to 1 pm. We will walk down memory lane with Alvin and extend our appreciation for his unwavering support. Attendees will have one last formal meet and greet with Alvin and can interact and wish him well. In attendance will be several of Alvin's dogs in service, including his brother Theo who currently serves as a therapy dog with the Wausau Police Department.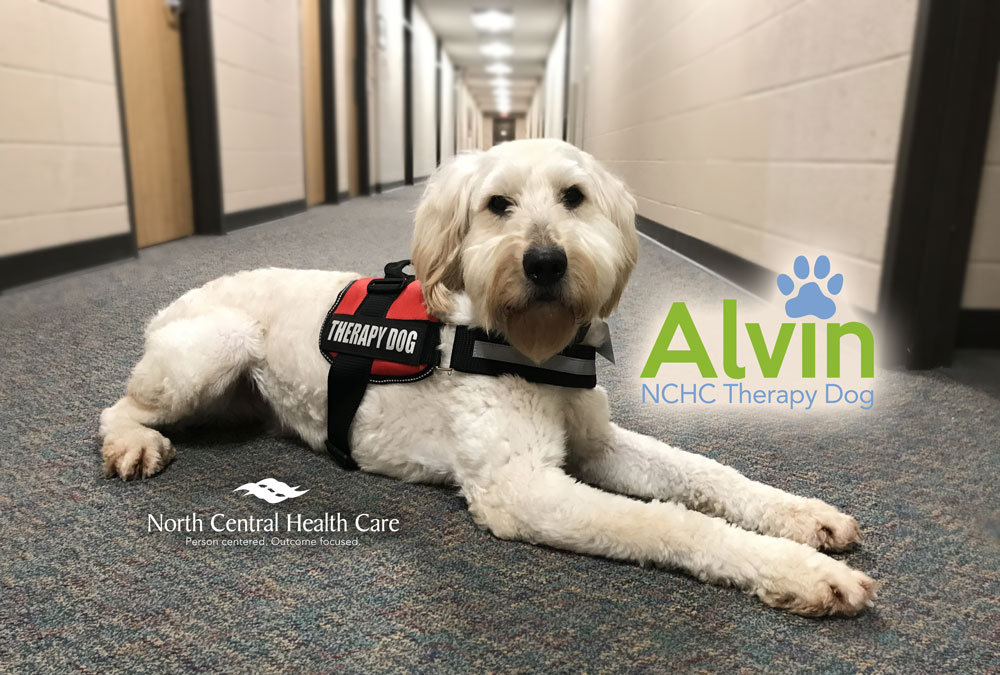 Alvin joined NCHC in February of 2019 after receiving his training as a therapy dog with a K9 training facility in Anniston, Alabama. NCHC staff spent two weeks in Alabama learning commands and Alvin's training routines before returning and welcoming Alvin to Central Wisconsin.
Since 2019, Alvin has provided countless individuals and families with emotional support and comfort in various settings, such as NCHC's hospitals, nursing homes, schools, and out in the community. Most recently, Alvin has served as a Therapy Dog on the Crisis Assessment Response Team (C.A.R.T.) providing support out in the community with a Crisis Professional and law enforcement officer by his side.
Alvin has offered countless hours of affection, providing a sense of security to reduce anxiety and stress in those he interacts with. Through his gentle interactions and unconditional love, Alvin has helped people improve their moods, boost morale, and promote relaxation. His presence often encourages communication and socialization, benefiting people of all ages, particularly those facing emotional or physical challenges. Alvin's therapeutic abilities have made him an invaluable contributor to enhancing human well-being in our community and in the NCHC workplace.
Alvin will officially retire from his therapy dog duties, effective July 22, 2023. Alvin has truly enjoyed NCHC and all the humans he has encountered over the years. We know he is looking forward to naps all day, every day, and will miss the hugs and treats he receives from his coworkers and friends.
NCHC would like to extend our appreciation to all those who have contributed to Alvin's upkeep over the years and followed him on his Facebook page. NCHC, Alvin, and his team of behavioral health professionals are grateful for your support and encouragement.
Alvin's Retirement Celebration 
Event Open to Public and All Media Partners
July 21, 2023 • 11:15 am – 1 pm
Location: 2400 Marshall Street, Suite B – Community Room at Mount View Care Center
11:15 – 11:30 am.   Meet & Greet with Alvin
11:30 – 11:45 am.    Formal Message from Gary Olsen, NCHC Executive Director, Certificate Presentation
11:45 – 1:00 pm.    Celebratory Cake, Alvin Meet & Greet