Executive Director Recruitment Profile
NCHC is seeking an experienced, collaborative and community-driven leader to serve as the Executive Director.
Position Summary
The Executive Director role requires a visionary who can lead a complex organization, build strong relations, and exhibit a passion for working with those less fortunate while serving as the highest administrative position for NCHC.
The key responsibilities of the Executive Director include administering the policies and directives of the NCHC Board of Directors, while holding a key reporting relationship to the Executive Committee of the Board. Key accountabilities include informing these bodies of progress in the coordination of major organizational activities and in the development and maintenance of effective service delivery systems for the communities NCHC serves. The Executive Director assists these groups in their policy deliberations with data, information and advice. This Executive Director serves as an influential community leader in matters of behavioral and mental health initiatives, interacting with other community leaders, non-profit groups, and the business community.
How to Apply Applications will only be accepted electronically on the North Central Health Care website through July 8, 2022.
Education & Experience
The ideal candidate has experience supporting policymakers and elected leaders in their governance role as well as experience in building collaborative relationships with other organizations and community leaders. A successful candidate will also have experience overseeing large capital projects.
A Master's Degree in Human Services, Health Care, Business Administration, Public Administration or related field earned from an accredited college or university.
Ten or more years of Human Services Management, Health Care Management, Business or Public Administration, and/or Behavioral Health/Mental Health services with five or more years in executive management.
Any combination of education and experience that provides equivalent knowledge, skills and abilities may be considered.
Leadership Competencies
A successful candidate will possess the following leadership competencies:
Manages change through alignment of Mission, Vision, Core Values and organizational goals
Uses team-based leadership to inspire and foster commitment, cooperation, pride, trust and outcomes
Uses performance coaching and development to attract, motivate, manage and retain high performing employees
Creates a culture of safety for employees, clients, residents and the community
Is fiscally responsible
Participates in NCHC sponsored events and is a community ambassador representing NCHC
Continuously engages in professional development activities:
B

y

fostering a culture of trust and safety.

That is values and respect-based.
That offers choice, input and involvement.
Adheres to professional boundaries, ethics, confidentiality and privacy practices, policies and procedures.
Takes responsibility for individual actions in order to achieve consistent results
Identifies problems and uses logical analysis to find information, understand causes, and evaluate and select best possible courses of action
Essential Expectations of the Executive Director
Maintains direct operational authority over all North Central Health Care programs through delegation of authority as deemed appropriate to Executives, Directors, and Managers
Participates as a member of various teams, committees, and taskforces to create innovative solutions associated with the provision of NCHC services
Plans, directs and reviews services and outcomes rendered by all programs for continuous improvement in meeting business priorities and community expectations
Responsible for keeping the Board apprised as to how overall operations and services are meeting the Board's expectations
Monitors ongoing monthly performance and makes appropriate adjustments to ensure budgetary and operational success
Maintains regular communication with the administrative officers and county boards of Langlade, Lincoln and Marathon counties to develop effective working relationships in supporting NCHC's Mission
Directs the preparation of monthly and annual reports to report results to the Board of Directors. Ensures that all applicable legislation and government regulations are enforced and in compliance
Directs the preparation and submission of an annual budget showing current financial status and anticipated overall revenue for Board approval
Develops, for Board approval, long-range strategic plans and targeted service improvements. Recommends changes in Board policies for approval by the Board of Directors
Models and carries out the organization's Mission, Vision and Core Values
The Selection Procedure The selection of the successful candidate may be made by assessment of experience and education, oral interview, reference check, written management assessment, criminal background check, and other appropriate job-related selection procedures. All applicants will be notified as to the status of their application. Please contact Nic Lotzer with questions at nlotzer@norcen.org or 715.848.4360.
Compensation & Benefits
The expected annual starting salary range for this role is $177,000 – 197,000, with additional room for wage advancement. A competitive total compensation package will consider the candidate's experience and expertise. North Central Health Care offers a comprehensive benefit package that contains some of the most competitive benefits available in Central Wisconsin. NCHC's benefits package is an important part of your total compensation package, adding value and giving you and your family peace of mind.
For a comprehensive look at the NCHC Benefits Package,
please visit NCHC Employee Benefits.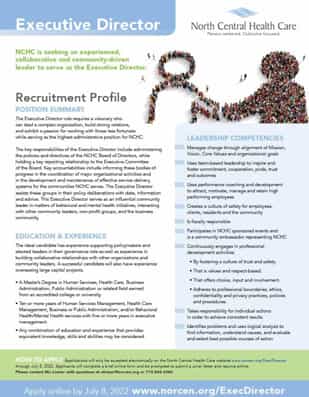 Download, print or share the Full Executive Director Profile, which include details on the role of the Executive Director at NCHC, information about our community and more about our organization and those we serve.

Want to Learn more about our community
and what Central Wisconsin has to offer?