Life during a pandemic is complicated. Along with new safety protocols and restrictions, kids and teens are dealing with changes to routines, school, and socializing. It's normal for kids and teens to have some difficulty getting used to a "new normal." Loneliness and isolation are mentioned by young people as the main things contributing to their struggles.
If your kid or teen still seems to be struggling, something more might be going on. We are here to help you, your child and your family.
Signs & Symptoms to Look Out For
Symptoms that happen across multiple conditions:
Problems with concentration, memory, or ability to think clearly
Changes in appetite
Feeling sad, empty, hopeless, or worthless
Loss of interest in things that they used to enjoy
Excessive worry
Irritability or restlessness
Changes in sleep
Angry outbursts
Not wanting to be around people or take part in activities
Other things to look out for:
Hearing or seeing things that other people don't
Extreme panic
Onset of new behaviors or rituals that are repeated
Mood swings or frequent shifts in energy
Changes in how they dress –if your child is wearing long pants and sleeves in hot weather, or hats all of a sudden, they could be hiding signs of self-injury like cutting or hair pulling
Where Can You Get More Help?
If you notice these symptoms in your child, you may want to consider a mental health screening. A screening is a free, anonymous, and confidential way to see if a person is showing signs of a mental health condition. Trusted screening tools for young people and parents are available at MHAScreening.org. Once completed, screeners are given information about the next steps to take based on results. Screening results can be a helpful tool for starting a conversation with your child's primary health care provider.
Seeking Mental Health Care
You can also contact North Central Health Care Outpatient Services at 715.848.4356 to speak with a referral coordinator. Outpatient mental health care helps people of all ages, both children and adults, providing care and treatment in a manner that is most appropriate for each person's individual situation.
---
Mental Health Emergency and Crisis Services
If you notice the following signs in your child, take immediate action as they may be thinking about suicide:
Giving away possessions for no logical reason
Risky or self-destructive actions
Increased drug or alcohol use
Obsession with death • Withdrawing from life
Indirect or direct threats of suicide
Drastic personality change
Lack of interest in future plans
If you think a child or teen is in immediate danger of taking suicidal action, please contact the North Central Health Care Crisis Center at 1.800.799.0122
Our NCHC Crisis Team is available 24/7/365 for youth and families in crisis living in Lincoln, Langlade, and Marathon Counties. We also provide a Youth Crisis Care that provides short-term, in-house monitoring and support.
Contact NCHC Emergency/Crisis:
800.799.0122: Toll-Free Call connecting you to Crisis Support in the Marathon, Langlade and Lincoln Counties.
715.845.4326: Connecting you to Crisis Support in Marathon, Langlade and Lincoln Counties.
988 - National Suicide & Crisis Hotline connecting you to assistance in U.S. This number is not a direct dial to NCHC Crisis Services.
For those with hearing or speech difficulties, please dial 711 to connect with the WI Relay Service.
When you dial 711, a communications assistant will connect you with the NCHC Crisis Hotline. Please provide the operator with the number 715.845.4326. English and Spanish translation is available through 711. For more information about 711, please visit WI Relay 711.
---
NCHC Has Expanded Mental Health Services for Youth
The NCHC Youth Behavioral Health Hospital opened in fall 2020 and provides stabilization to youth experiencing a mental health crisis and provide an opportunity to recover in a local calming environment on our Wausau Campus. A network of onsite licensed clinicians and psychiatrists provide 24/7 trauma informed care to address each adolescent's unique challenges and provide resources for a safe return home. They also provide individual, group and family counseling through a multidisciplinary team of care providers.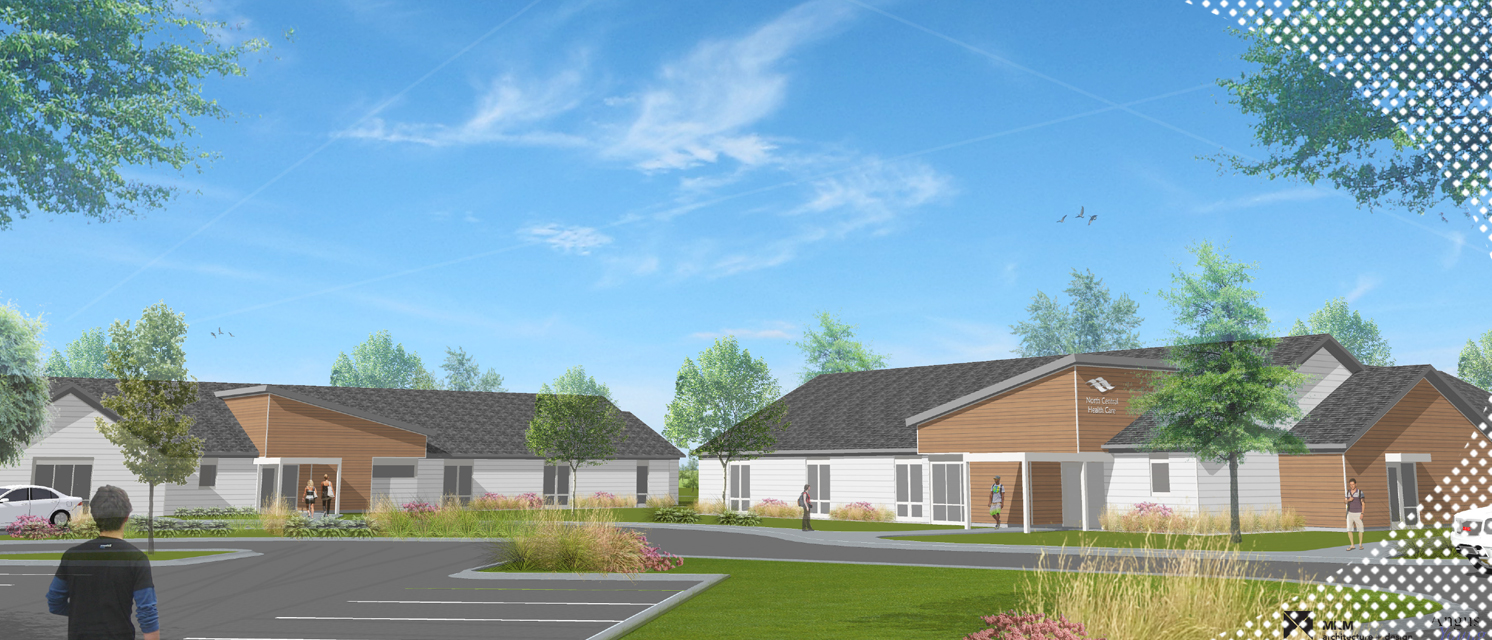 Read More About the NCHC Youth Behavioral Health Hospital!
ADDITIONAL RESOURCES
FOR EVERYONE
MHA Screening: Online screening is one of the quickest and easiest ways to determine if you're experiencing symptoms of a mental health condition. Our screens are free, confidential, and scientifically-validated – they're the same questions you would get in a doctor's office.
2019 Back to School Toolkit - Stress & Loneliness: The content in last year's Back to School toolkit is still relevant, especially during COVID times.
NotOK App: It can be really hard to ask for help, especially in our toughest moments. The NotOK app allows you to pre-select up to five contacts, and when you press a button in the app, it will text those contacts with your location and a message that says "Hey, I'm not OK. Please call me, text me, or come find me." It's a great way to let your support system know that you need some help, even if you can't put it into words.
National Suicide Prevention Lifeline: The Lifeline provides 24/7, free, and confidential support to people in distress – you don't need to be suicidal to reach out. Call 1-800-273-8255 to be connected with a crisis counselor.
Crisis Text Line: If you prefer texting to talking on the phone, text MHA to 741-741 to be connected with a crisis counselor who will help you get through your big emotions.
Domestic Violence Hotline: The stressors of COVID have the potential to increase violence between partners and in homes. If you're experiencing domestic violence, looking for resources or information, or are question unhealthy aspects of your relationship, call 1-800-799-7233 or go to their site to virtually chat with an advocate.
Childhelp National Child Abuse Hotline: If you or a child you know is being hurt or doesn't feel safe at home, you can call or text 1-800-4-A-CHILD (1-800-422-4453) or start an online chat to reach a crisis counselor. They can help you figure out next steps to work through what is happening and stay safe.
---
FOR TEACHERS & SCHOOL ADMINISTRATORS
CREATE - Creating Resilience for Educators, Administrators, and Teachers: The goal of CREATE is to nurture healthy, caring school communities that support social and emotional learning and teacher and principal wellness. They offer webinars, mindfulness practices, and workshops.
Supporting Safety and Well-being of Children and Families During COVID-19: Some children are at higher risk for child abuse and neglect during this time of crisis. People who work with children play an important role in making sure they are safe at home, but it's hard to know how they are truly doing when you only have virtual contact. This guide has tips to help you check in on your students and families.
The Collaborative for Academic, Social, and Emotional Learning (CASEL): CASEL defined social and emotional learning (SEL) over two decades ago and continues to advocate for making it a priority in all schools. Their site has information on how to integrate SEL into classrooms and they recently released Reunite, Renew and Thrive: SEL Roadmap for Reopening School, a guide to support students during the transition back to school (in whatever form that is for your district).
Classroom Mental Health: This site has information on mental health in the classroom, helping students manage their emotions and behaviors, and how to support students who open up to you about their feelings.
Tips for Teachers: Ways to Help Students Who Struggle with Emotions or Behavior
Youth Mental Health: Emotions Matter (infographic)
---
FOR PARENTS
Back to School Planning: Checklists to Guide Parents, Guardians, and Caregivers: This guide from the CDC can help you and your children prepare for in-person classes or distance learning. It also includes resources on navigating stress and uncertainty.
Families in Schools – Coronavirus Learning Resources for Families: If you're looking to supplement your child's schoolwork, this site has online educational resources categorized by subject (from core subjects to nutrition to arts & culture) and age as well as guides on topics like supporting your child's reading and creating a new routine.
Child Mind Institute: The "For Families" tab has information on children's mental health and how to navigate those challenges as a parent. It includes concerns like attention, bullying, sleep, and grief as well as diagnosable disorders like anxiety disorders, eating disorders, and learning/development disorders.
Psychology Today: Psychology Today has articles on a number of psychology and mental health related topics as well as a "Find a Therapist" feature. If you or your child needs some professional support, you can use this tool to find therapists in your area and can even filter by insurance, concern, age they work with, and more.
MHA Screening – Parent Test: The Parent Test if from parents of young people to help you determine if you child's emotions, attention, or behaviors might be signs of a mental health concern.
Talking to Adolescents and Teens: Starting the Conversation
Helping at Home: Tips for Parents
6 Things to Know About Self-Injury
---
FOR STUDENTS
KidsHealth: We all have feelings and sometimes they can be hard to deal with. This site can help you figure out how to make it through tricky situations like fighting with your parents, not liking school, or feeling really sad.
Teen Mental Health: This site will help you learn more about mental health, the challenges that many teenagers face, and how to get through them. You can also find resources to help you help a friend if someone close to you is struggling.
Self-Care in Middle School: We all face tough situations like schoolwork or arguing with friends. It's important to take care of yourself so that you can deal with the stress. In this video, middle schoolers share their tips for self-care and overcoming challenges.
Guide of Things To Do at Home to Combat Loneliness & Boredom: If you're feeling trapped at home and missing your friends, check out this list for ideas of ways to add something fun to each day.
MHA Screening – Youth Test: This questionnaire can help you determine if you're having emotional, attentional, or behavioral difficulties.
Helpful vs. Harmful: Ways to Manage Emotions
Ideas for Building a Healthy Self-Image and Improving Self-Esteem