North Central Health Care Announces Open House for Expanded Lakeside Recovery on June 7, 2018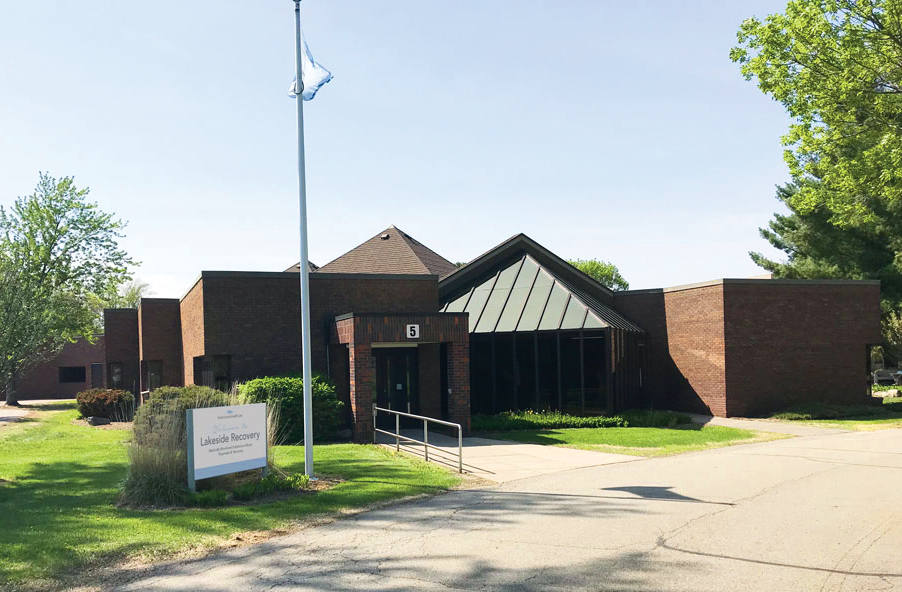 Lakeside Recovery expands medically monitored substance abuse treatment and recovery to 15 beds on the Wausau Campus.
WAUSAU, WI—North Central Health Care (NCHC) will be holding an open house to celebrate the expansion of Lakeside Recovery on Thursday, June 7 from 4:00 to 7:00 pm at the North Central Health Care Wausau Campus at 1100 Lake View Drive. Lakeside Recovery http://www.norcen.org/LakesideRecovery is a 21-day medically monitored treatment program that supports individuals through substance abuse and addiction recovery in a safe, sober environment. Initially opened in 2015 as a 6-bed unit with shared programming space, the newly expanded Lakeside Recovery will have space for 15 individuals along with additional group meeting rooms, updated technology and a separate entrance on the front of the NCHC Wausau Campus. NCHC anticipates the official opening of the expanded Lakeside Recovery will take place in mid-June 2018 after the finalization of the certification process from the State of Wisconsin.
"Our philosophy at Lakeside Recovery is that each person is treated as an individual, and through their participation in the program, we hope to empower them and their family to manage their disease and achieve better balance in their lives through healthy, sober living. With the expansion of Lakeside Recovery, we will be able to serve more people every year, positively impacting more families and making our communities stronger and healthier," states Daniel Shine, Lakeside Recovery Manager at NCHC.
The Open House is open to the public to attend, along with a ribbon-cutting ceremony at 4:30 pm with the Wausau Region Chamber of Commerce. Guests will be able to meet staff, ask questions, take a tour and enjoy refreshments during the open house. Parking is available off of 1100 Lake View Drive at the yellow flag entrance. Guests can enter through the new Lakeside Recovery entrance, marked with a light blue flag, which is just to the right (North) of the NCHC Main Entrance. More information can be found on the NCHC Website http://www.norcen.org/LakesideRecoveryOpenHouse and Facebook page https://www.facebook.com/events/154743452046755/.
Lakeside Recovery is a state-certified, medically monitored substance abuse treatment and recovery program operated 24 hours a day in a community-based setting. This 21-day program provides observation, monitoring and treatment for substance abuse by a multi-disciplinary team under the supervision of a physician. Lakeside Recovery is available to residents of Marathon, Lincoln and Langlade counties. Since opening in the fall of 2015, Lakeside Recovery has provided substance abuse recovery for over 300 individuals. Currently, 70 people are on the wait list for Lakeside Recovery. These individuals are connected with additional services and community resources such as counseling, support groups and recovery coaches to assist them until they can enter Lakeside Recovery. With the additional beds, North Central Health Care hopes to be able to reduce this wait time and provide the appropriate level of care needed for substance abuse recovery at the time patients are ready to enter the program.
Participants may be referred to Lakeside Recovery MMT from a physician, therapist, or self-referral. The treatment program includes a multi-disciplinary approach to recovery including techniques such as interactive journaling, group therapy, individual therapy, substance abuse education, co-occurring education, guest speakers, dietitians, music therapy, art therapy, and an introduction to community-based recovery groups.
North Central Health Care compassionately serves our communities in the counties of Marathon, Langlade and Lincoln through an accessible, specialized continuum of care for those with complex behavioral health and skilled nursing needs. Services are provided for mental health, substance abuse, crisis, developmental disabilities, adult protection, aquatic physical therapy and skilled nursing care.
For more information, please contact:
North Central Health Care, Jessica Meadows, Marketing & Communications
1100 Lake View Drive - Wausau, WI 54403
715.848.4309 jmeadows@norcen.org