Employee Celebration Week
Thank YOU for all YOU do!
Be sure to Visit the NCHC Team Communication Facebook Page for lots of photos, recognition and fun!
August 17-21, 2020 is our Employee Celebration Week!
Like nearly everything in 2020, COVID is changing the way we are celebrating you, our Superheroes! Check out this week's News You Can Use for information about all of the activities we have planned. I will miss our Employee Picnic, the Employee Recognition Dinner, and all the other group activities we usually offer. Most of all I will miss seeing you during the week. Despite this current reality, our Superhero celebration will be a memorable one!
Life for me has been in a corona-bubble of videoconferencing and written communications. If I could see each of you in-person next week, I would look each of you in the eyes and with a big smile, I would thank you for all that you're doing. Our NCHC team has been simply incredible this year.
I'm proud to be part of our team that is striving to do something special every day, Lives Enriched and Fulfilled. Our organization is a special place because of the people who dedicate themselves to our Mission. I appreciate all that you do here to further our impact. Each day I hear incredible stories from our clients, patients, and residents, as well as their families and guardians, about how big of a difference you're making in the lives of others.
I look forward to celebrating each of you!
Make it a great day!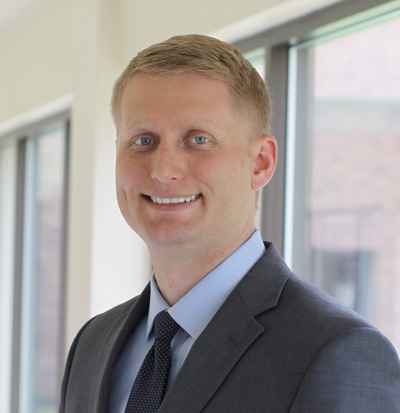 Michael Loy
Chief Executive Officer
Video Message of the Day
Friday, August 21
Thursday, August 20
Wednesday, August 19, 2020
Tuesday, August 18:
Monday, August 17:
Monday: Are You a Super Sleuth?
Below is your SuperSleuthing Gamecard for the Week! Throughout the week, be on the look out for hints and clues to complete your sleuthing card. Watch in videos, posts and in your departments for answers to the questions below.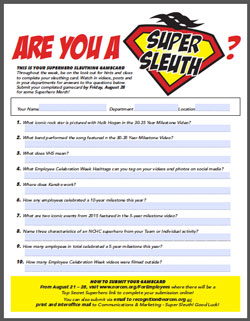 SuperSleuthing Gamecard Submission
Submit your completed gamecard by Friday, August 28 for some Superhero Merch! Here's how you can submit your answers:
Send through interoffice mail.
Submit via email to recognition@norcen.org.
Fun prizes will be sent to participants!
---
Tuesday: Qualities of an NCHC Superhero!
Individual or Group Activity
Can you identify what it takes to be an NCHC Superhero in your program? Work together with your team, or complete it solo, you can download the Qualities of an NCHC Superhero below or find the posters in your program area and jot down your ideas!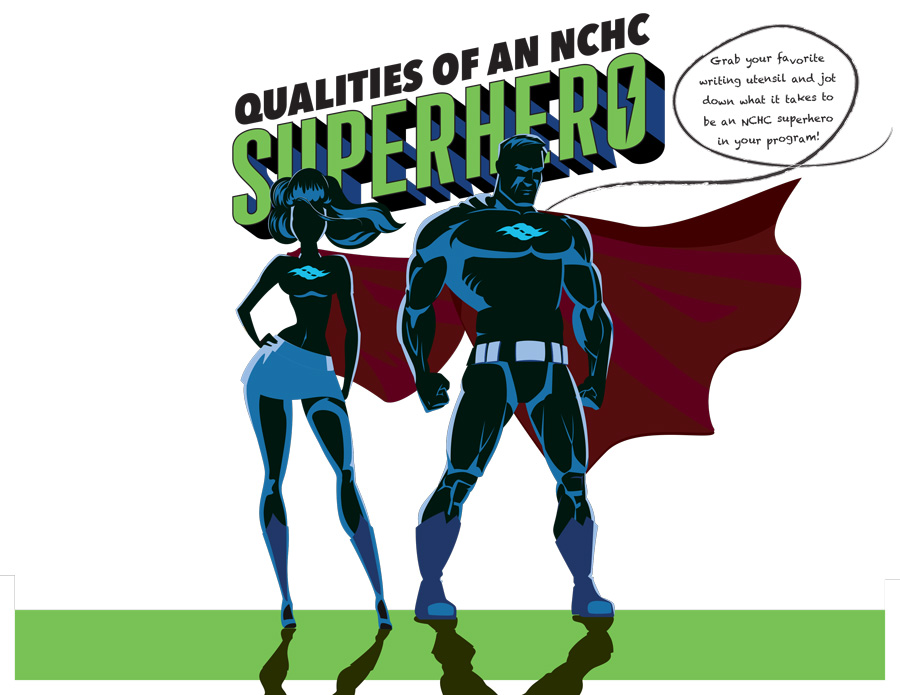 ---
Wednesday: NCHC Superhero Crossword Puzzle!
Individual Activity
Test your superhero knowledge and complete today's fun activity!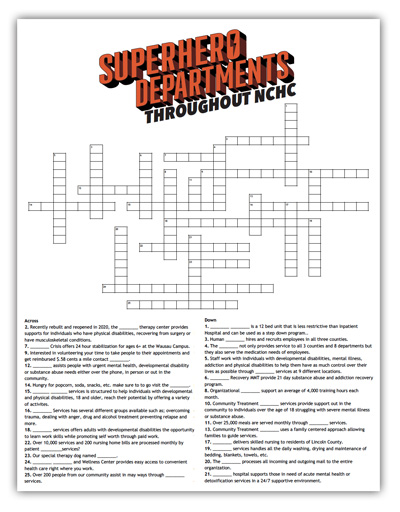 ---
Thursday: NCHC Superhero Trivia!
Team Activity
Uncover the super-abilities of your coworkers with this fun trivia game!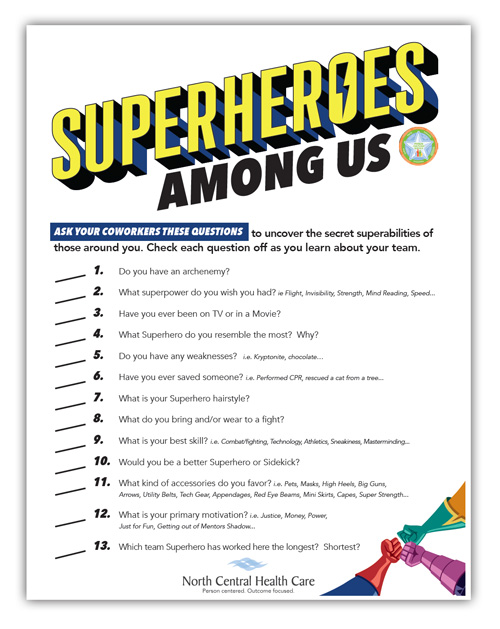 ---
Friday: Submit Your SuperSleuthing Gamecard!
Click here to submit your answers!
Be sure to stop and pick up your Sweet Treat to End the Week at a screening table at our facility locations or talk with your manager if you work at an off-Campus/Center location. Enjoy!
---
Other Ways to Participate:
Post Pictures Online! Remember to take pictures and share on Social Media with HASHTAG #NCHCsuperstaff #iamNCHC. Visit our Facebook Team Communications Page
Send Pictures for Sharing!
Email to recognition@norcen.org or Text 715.370.1547
Check Your Email Fun messages will be sent throughout the week!
Be sure to Visit the NCHC Team Communication Facebook Page for lots of photos, recognition and fun!
A Full Week of Fun and Appreciation!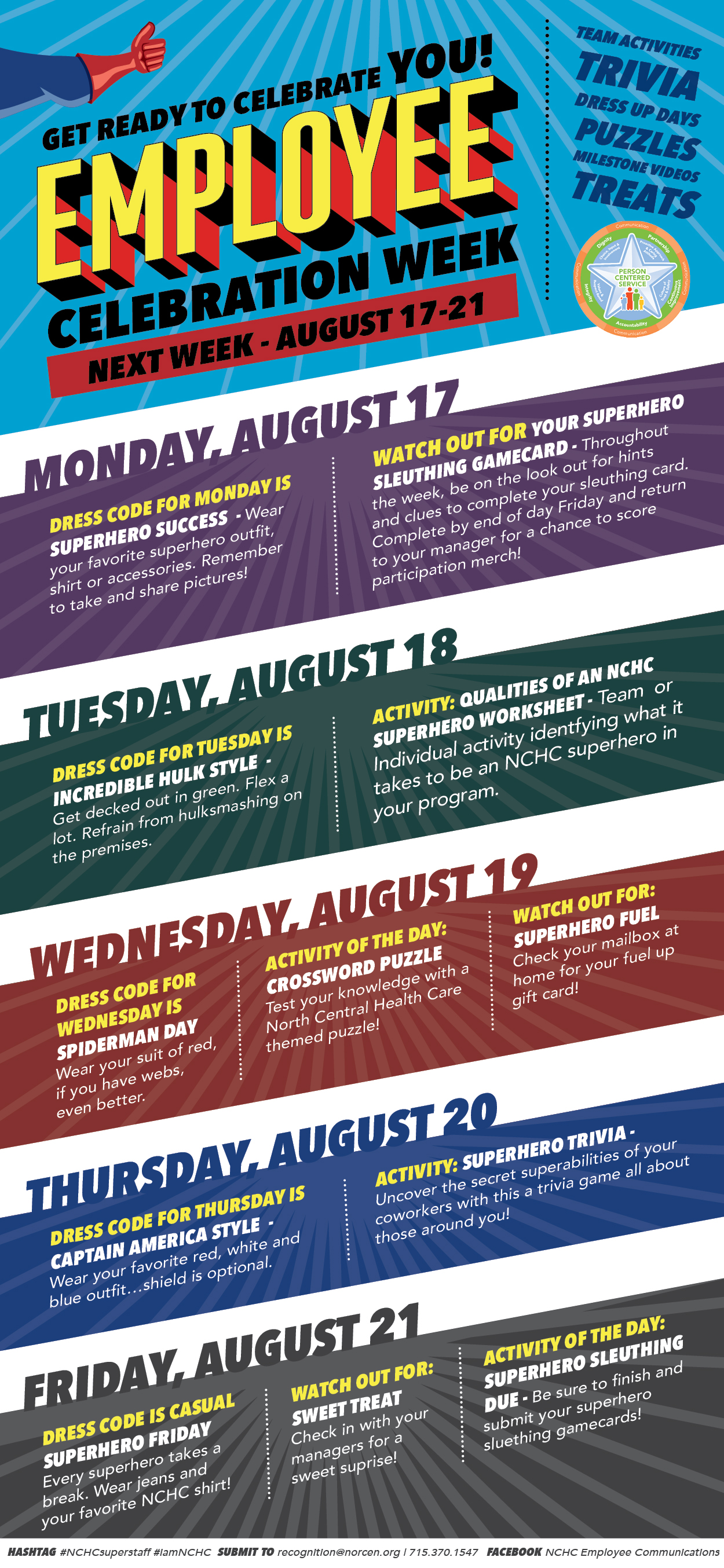 Thank YOU for all YOU do!