Mount View to be Recognized in Madison For Completion of the Wisconsin Challenge Profile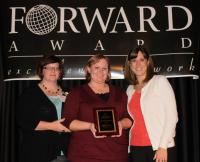 North Central Health Care's Nursing Home, Mount View Care Center, will be recognized in Madison, WI on Dec. 5, 2012 for the completion of the Wisconsin Challenge Profile for the Wisconsin Forward Award, administered by the Wisconsin Center for Performance Excellence. Mount View Care Center completed the Challenge Profile in preparation for the Wisconsin Forward Award, an award that promotes excellence in organizational management, recognizes the achievements and results of Wisconsin organizations implementing performance excellence systems, and publicizes successful performance excellence management strategies.
The completion process represents another step in Mount View Care Center's commitment to excellence, learning enhancement and continuous improvement. It is also testament to North Central Health Care's continued vision to be the leading provider of a fully integrated continuum of care while delivering quality, innovative services in a fiscally responsible manner. "Completion of the Challenge Profile will enable our organization to receive valuable feedback and comparative benchmarks from organizations throughout the country who also are also striving to perform at a level of highest quality, integrity and leadership", Lori Koeppel, Senior Executive Inpatient Services.
Earlier in 2012, US News and World Report ranked North Central Health Care's nursing home operation 6th in the state of Wisconsin and in the top 10% in the entire nation. This continued pride in quality, service and innovation has motivated the entire organization toward achieving performance excellence that will continue to provide the Central Wisconsin community with a world-class offering of health care services.
North Central Health Care's Mount View Care Center is located along the shores of Lake Wausau and offers services for those in need of skilled nursing. Designed around the specific needs and abilities of its long- and short-term residents, it is operated 24 hours a day by professional staff specially trained in respiratory, music, occupational, post-acute, rehabilitation, respite, long-term, aquatic, speech and dementia therapies.