North Central Health Care Welcomes Gretchen Brown as Senior Executive of Inpatient Services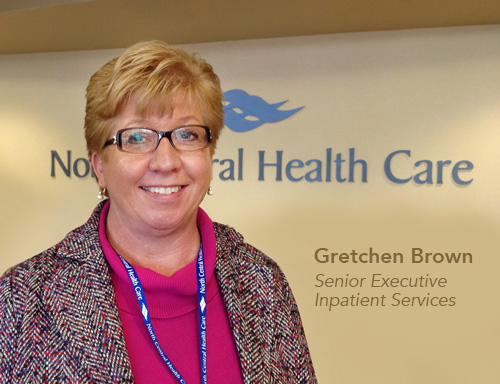 North Central Health Care would like to introduce and welcome Gretchen Brown as the Senior Executive of Inpatient Services. Gretchen brings over 30 years of healthcare management experience to North Central Health Care with leadership experience in both acute care and long-term care.
Gretchen most recently served as Regional Administrator of Senior Services at Lutheran Life Communities in Arlington Heights, IL, which operates 5 campuses located throughout Illinois and northern Indiana. Gretchen received her Masters in Healthcare Administration from College of St. Francis in Peoria, IL as well as her BSN Nursing degree from the University of Iowa.
"We are very fortunate to have Gretchen Brown joining our team at North Central Health Care. She brings a wealth of long-term care experience and a fresh new perspective," states Gary Bezucha, CEO of North Central Health Care. As an integral part of the North Central Health Care team, Gretchen will oversee operations of Inpatient Services, including Inpatient Behavioral Health and Mount View Care Center.