We've Still Got Spirit, Yes We Do! Dementia Awareness Basketball Game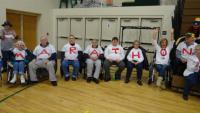 Mount View Nursing Home residents showed their spirit at the Marathon/Edgar Girls Basketball game in February by cheering on the teams, singing the National Anthem and shaking hands with starters. Fully equipped with shirts specially made for the big game, a great time was had by all who attended.
We've Still Got Spirit, Yes We Do! Dementia Awareness Game & Fundraiser was organized by Legacies by the Lake Dementia Care Program at North Central Health Care. Cagney Martin, Life Enrichment Coordinator, states "We are trying to change the perception the community may have [about dementia]. People in nursing homes with dementia, still do get out and have fun. They have a lot of living to do!"
Mount View Care Center's Legacies by the Lake Community offers a variety of services designed exclusively for each resident based on their past experiences and current condition. Varied levels of care, treatment, rehabilitation and therapy are available for the specific needs of those with Alzheimer's disease.
Photo courtesy of Margie Hackbarth, Aspirus Senior Health