Veterans Honored at Mount View Care Center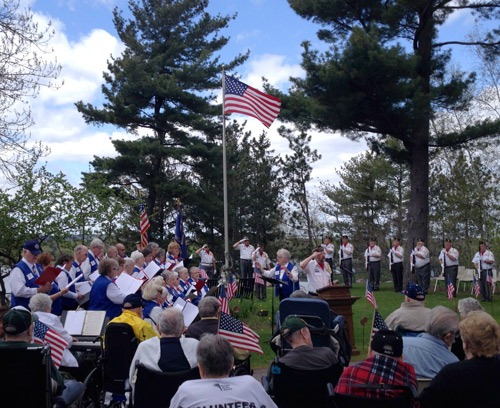 On May 22, 2014, a Memorial Program at Mount View Care Center was beautifully presented to residents by the Wausau American Legion and the Wausau Senior Chorus. John Pijon from the American Legion and Vietnam Veteran of 2 tours, had a vision 5 years ago to visit various nursing homes in the area and have a Memorial Program for the residents. Residents are not always able to attend the Memorial Day ceremonies and parades where they are held because of health, transportation or other reasons, so John's vision included bringing this honor to the veterans where they are. Thursday, it was Mount View Care Center. Mr. Pijon began 5 years ago with this very event in Mount View Care Center and was back here again this year for this wonderful tribute. There were close to 50 veterans that were honored during the ceremony.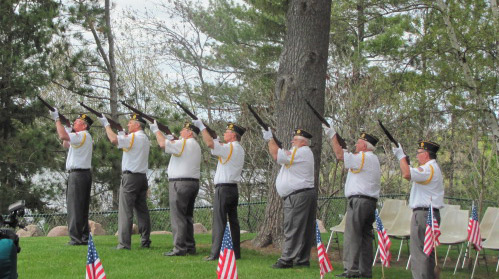 Along with the Wausau American Legion, the ceremony had an invocation by Father Grevach, several songs by the Wausau Senior Chorus, raising of the U.S. Flag, Taps, a 21-gun salute and a personal presentation to each veteran with a certificate thanking them for their service. The Senior Chorus was comprised of retired individuals, the eldest being in her middle 90's. Residents, family and staff enjoyed a glorious ceremony on the patio overlooking Lake Wausau.
Thank you to the Mount View Care Center staff for their dedication and organization of this event that was so special for all who attended. A special thank you also goes out to the American Legion, Wausau Senior Chorus, Father Grevach and all the men and women who were honored that day.