May is Mental Health Awareness Month
NORTH CENTRAL HEALTH CARE ANNOUNCES PRESS CONFERENCE ON MAY 10, 2016 TO RAISE AWARENESS FOR MENTAL HEALTH
Centrla Wisconsin Welcomes a Group that is Raising Awareness for Mental Health by Running 300 Miles Across the State of Wisconsin
(Wausau, WI) May is Mental Health Awareness Month. North Central Health Care has announced a variety of community events on Facebook and Twitter to raise awareness of mental health and Defeat the Stigma. NCHC will be holding a press conference on Tuesday May 10, 2016 to welcome a group of runners who are making a journey across the entire state of Wisconsin to raise awareness of mental health.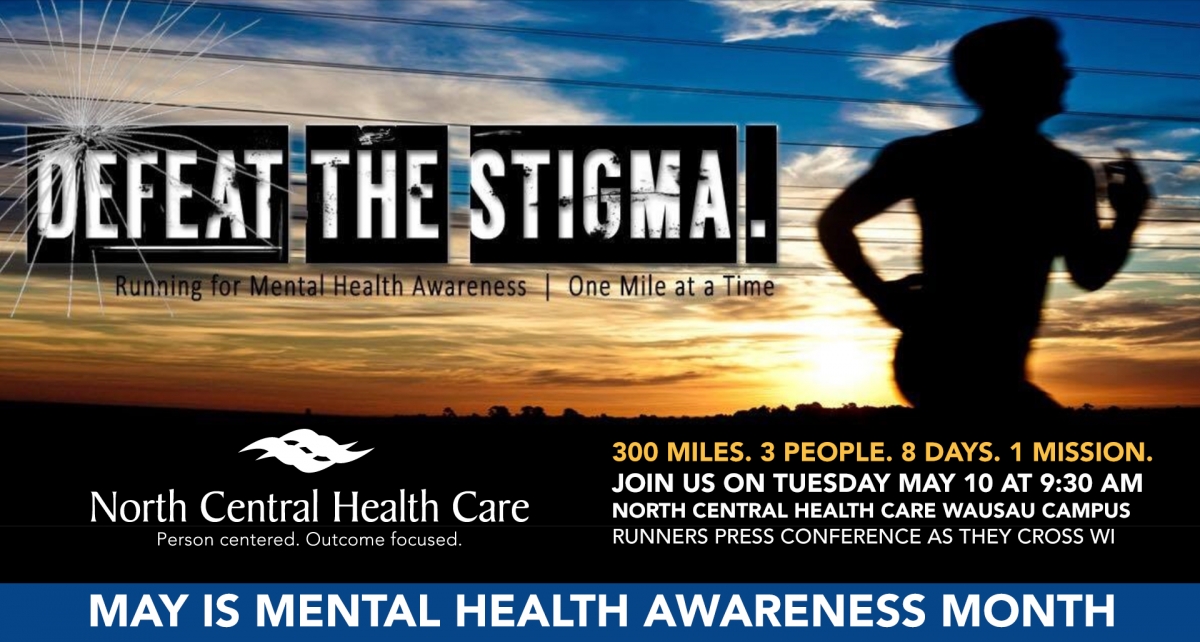 Defeat the Stigma PRESS CONFERENCE – 9:30 am, Tuesday, May 10, 2016
North Central Health Care Wausau Campus, 1100 Lake View Drive, Wausau, WI
300 MILES. 3 PEOPLE. 8 DAYS. 1 MISSION.
https://www.facebook.com/events/1731362970479299/
The Defeat the Stigma Run was founded by Julio Salazar to break the stereotypes associated with mental illness. Last year Julio ran across Minnesota, this year he chose Wisconsin! Julio and a team of three runners will be running 300 miles across northern Wisconsin to bring awareness to mental illness and suicide prevention. The eight day run starts in Algoma, WI on May 7 and finishes in Hudson, WI May 14. Throughout the eight-day journey they will run on average 42 miles per day, their route will include stops at local schools and community organizations. You can find more information about the route at www.defeatthestigmaproject.org.
Tuesday, May 10 the runners will be beginning in Ringle then running through Weston, Schofield, Wausau, Rib Falls and Milan, on their way to Hudson, WI. We encourage all local businesses, schools and community organizations to join us in walking, running and cheering on the runners to show your support.
1 in 4 people around the world suffer from mental disorders – that is more than cancer, diabetes or heart disease. By 2020, behavioral health disorders will be the #1 cause of disability worldwide surpassing all other illnesses. Half of those with mental disorders show signs of the disease by age 14, but it often takes more than 10 years to get treatment. Mental illness accounts for 20% of the global burden of disease, however on 3% of the world's healthcare budgets goes to mental health needs.
Other North Central Health Care Mental Health Awareness Events in the Central Wisconsin area include: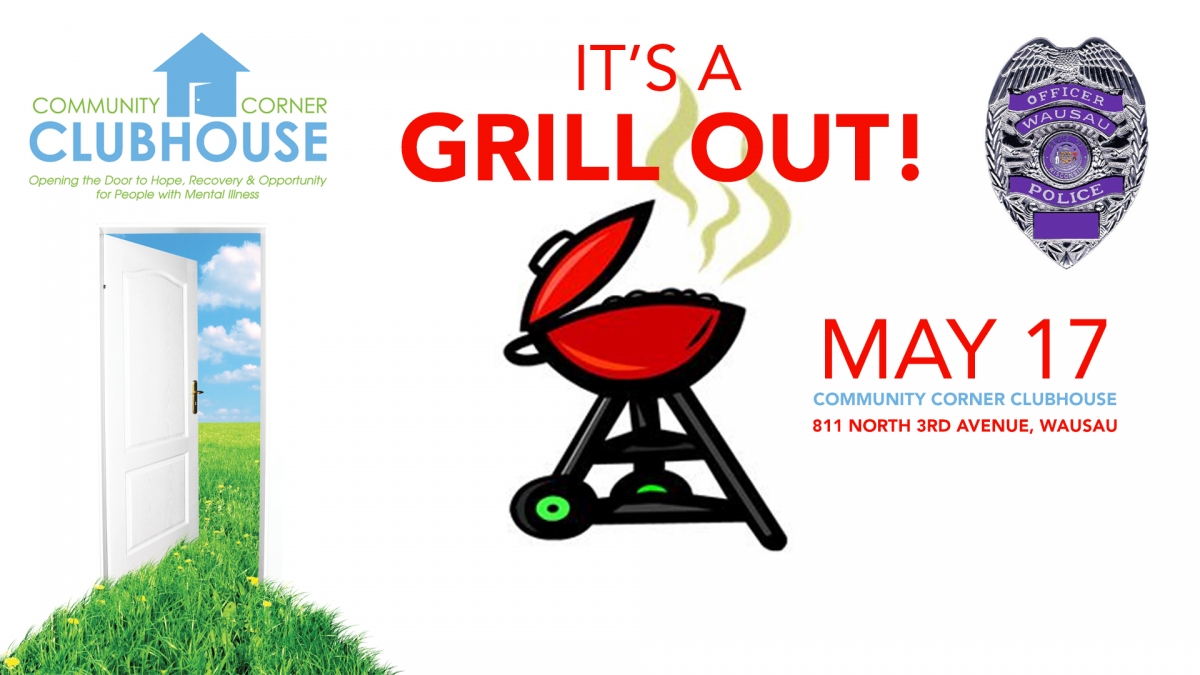 Grill Out at Community Corner Clubhouse
https://www.facebook.com/events/993188810737012/
Tuesday, May 17, 2016 • 811 North Third Avenue, Wausau
11:30 am – 1:00 pm
In collaboration with the Wausau Police Department, officers, North Central Health Care staff, and Community Clubhouse members will be serving up some tasty grilled delicacies, giving tours and socializing with our community. Our communities can learn more about mental illness, collaboration efforts with local law enforcement and enjoy a great social activity together.
Just Like Us – Empowering Others. Empowering Us.
https://www.facebook.com/events/1177870222226452/
Friday, May 20, 2016 • Jefferson Street Inn
5:00 pm – 9:00 pm
The North Central Health Foundation along with several generous community business sponsors present, Just Like Us, an evening out to benefit North Central Health Foundation. The evening at the Jefferson Street Inn includes hors d'oeuvres, dinner, raffles, silent auctions, and a performance by Handicap This! Prepare for a performance that will deliver an honest message of inclusion and tolerance and make minds handicap accessible! The North Central Health Foundation is proud to welcome Mike Berkson and Tim Wambach to central Wisconsin to deliver empowering messages of spirit and hope from a very unique perspective.
Just Like Us is presented by Friends of North Central Health Foundation, WAOW TV 9, City Grill, Jefferson Street Inn, RuderWare, Midwest Communications along with sponsorships by Altmann Construction, Associated Bank, Cloverbelt Credit Union, Marathon County Employees Credit Union, WIPLFLI, Cornerstone Advisors, Systems Technologies, Intercity State bank, Greenheck Fan Corporation and Domtar.
North Central Health Care compassionately serves our communities in the counties of Marathon, Langlade and Lincoln through an accessible, specialized continuum of care. Services are provided for mental health, substance abuse, crisis, developmental disabilities, adult protection, aquatic physical therapy and skilled nursing care.
For more information, please contact:
North Central Health Care, Jessica Meadows, Marketing & Communications
1100 Lake View Drive - Wausau, WI 54403
715.848.4309 jmeadows@norcen.org