NCHC Observes World Elder Abuse Awareness Day - June 15, 2019
For Immediate Release: June 5, 2019
North Central Health Care acknowledges World Elder Abuse Awareness Day by Asking Community to Wear Purple on Saturday, June 15
1 in 10 older Americans face abuse of some kind –but only 1 in 14 cases are reported to authorities.
WAUSAU, WI—North Central Health Care Adult Protective Services is observing World Elder Abuse Awareness Day (WEAAD) on Saturday, June 15, 2019 and asks that all area organizations, including media outlets, government offices and general public to wear purple. Wearing purple will raise awareness to the fact that an estimated 1 in 10 older Americans are victims of elder abuse, neglect or exploitation each year. Everyone can protect seniors – no act is too small, and it starts with one person and one action. https://www.norcen.org/StopElderAbuse
In 2018, North Central Health Care Adult Protective Services (APS) received and investigated 380 reports of suspected elder abuse cases, along with an additional 152 more reports for non-elder adults. APS has been recognizing and promoting WEAAD initiatives since 2011. The past several years, NCHC has been partnering with The Women's Community, Avail, Haven, The ADRC-CW, and Marathon County DSS to promote WEAAD and provide opportunities through-out our communities to increase awareness.
Schedule of FREE Activities and Education for 2019
Schemes and Scams – 3 Free Educational Events for Any Age!!
1. Marathon County Planning Department
212 River Drive, Room #1 - Wausau
Thursday, June 6th, 1:30-2:30pm
2. Marathon County Public Library - Wausau Branch
Thursday, June 13th, 4:30-5:30pm
3. Goodwill Store - Antigo
Tuesday, June 18th, 6:00-7:00pm
"Kickoff at the Courthouse" – World Elder Abuse Awareness Kick-Off
Wausau – Monday, June 10th, 12:00pm
Antigo – Monday, June 10th, 9:00am
Dementia Friendly Training Course
Free for Banking and Financial Services Personnel
Wednesday, June 12th, 1:00-3:00pm
North Central Health Care - Wausau Campus Theater
Please Register Online: bit.ly/DFTC2019
World Elder Abuse Awareness Day – June 15th, 2019
Wear purple on June 15th to raise awareness of World Elder Abuse Awareness Day and show your support in ending elder abuse in our community and around the world.
For a full list of events visit North Central Health Care's website at https://www.norcen.org/StopElderAbuse and learn more about the warning signs of elder abuse. It is our hope to lead the way in increasing awareness!
In 2018, Wisconsin came in number 1 of all states for the number of WEAAD Events held- let's keep the record in 2019!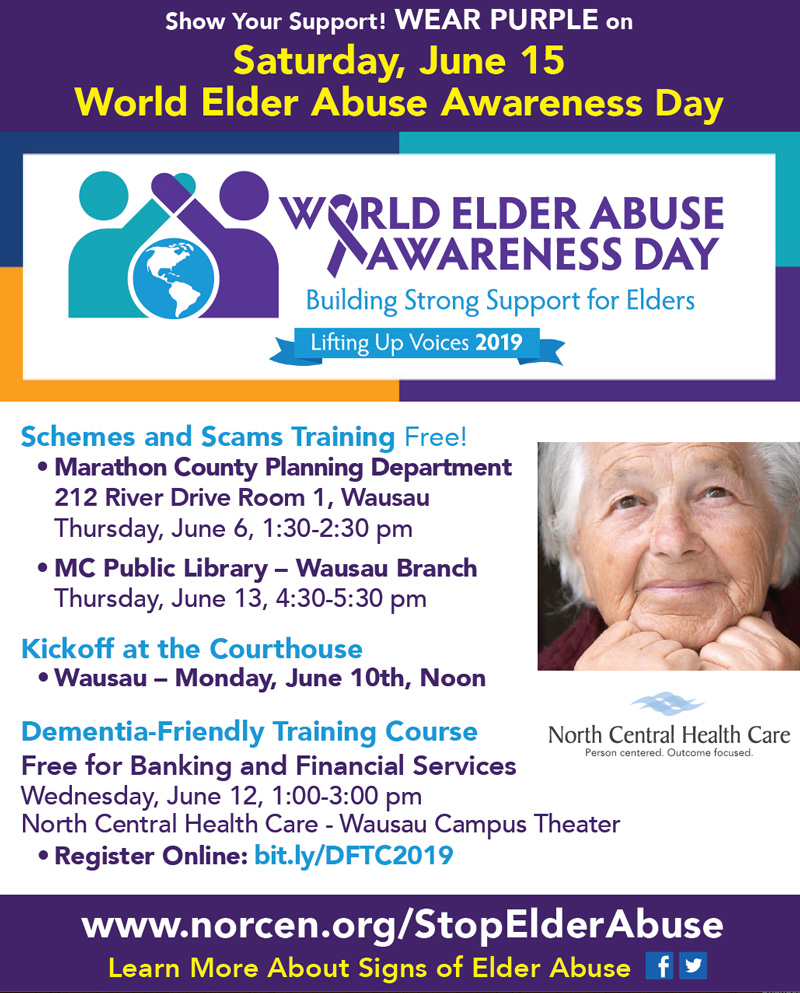 The Facts About Elder Abuse
What is elder abuse?
Elder abuse refers to intentional or neglectful acts by a caregiver or "trusted" individual that lead to, or may lead to, harm of a vulnerable elder or disabled adult. Physical abuse, neglect or self-neglect, emotional or psychological abuse, financial abuse and exploitation, sexual abuse and abandonment are considered forms of adult or elder abuse.
Who is at risk?
Adult or elder abuse can occur anywhere – in the home, in nursing homes, or other care facilities. It affects people across all socio-economic groups, cultures and races. Women and "older" elders are more likely to be victimized. Dementia is a significant risk factor. Mental health and substance abuse issues – of both abusers and victims – are risk factors. Isolation can also contribute to risk.
What should I do if I suspect abuse?
REPORT YOUR CONCERNS. Most cases of elder abuse go undetected. Don't assume that someone has already reported a suspicious situation. Adult Protective Services will ask what you observed, who was involved and who they can contact to learn more. YOU DO NOT NEED TO PROVE THAT ABUSE IS OCCURRING – IT IS UP TO THE PROFESSIONALS TO INVESTIGATE THE SUSPICIONS.
If you know of someone who may be at risk of abuse, neglect or exploitation by another or is at risk due to self-neglect, call North Central Health Care Adult Protective Services at 715-841-5160 or 1-855-487-3338. For more information go online to http://www.norcen.org/adult-protective-services/elder-risk-program
For more information, please contact info@norcen.org