Spirituality and Religion: Mental Health Month

Regardless of whether you rely on meditation, yoga or religion, caring for your soul is an important part of taking care of yourself that can improve physical and mental health along the way.
DEFINING SPIRITUAL AND RELIGIOUS

RELIGIOUS AND SPIRITUAL ACTIVITIES CAN AFFECT BODY CHEMISTRY AND BRAIN ACTIVITY
Spiritual practices like meditation are linked to increased levels of feel-good chemicals like serotonin, dopamine, and endorphins; and decreased levels of cortisol and noradrenaline, which are associated with stress. [2]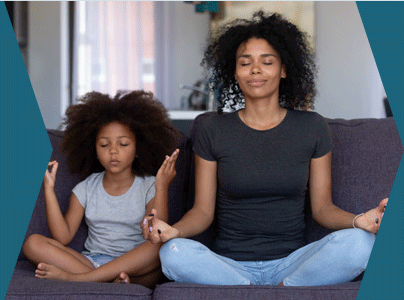 Research has found that the areas of the brain associated with reward and positive feelings are activated when devout followers of a religion read scripture. [3]
MENTAL HEALTH CAN BENEFIT FROM BEING SPIRITUAL OR RELIGIOUS
One study found that people who attended religious services monthly showed a 22% lower risk of depression. [4]
U.S. military veterans who identified themselves as being highly religious or spiritual showed high levels of gratitude, purpose in life, and post-traumatic growth, and lower risk of depression, suicidal thinking, and alcohol abuse than their lesser or non-spiritual/religious peers. [5]
In a study of people receiving treatment at a mental health facility, more than 80% used religious beliefs or activities to cope with daily difficulties or frustrations; 65% reported that religion helped them to cope with symptom severity, and 30% indicated that religion gave them purpose to keep living. [6]
CONSIDERATIONS FOR PEOPLE WITH CHRONIC HEALTH CONDITIONS
In people born with heart diseases, being religious or spiritual led to healthier behaviors, better quality of life, and a higher life satisfaction. [7]
Spiritual and religious beliefs related to meaning, peace, and faith were associated with reduced suicide risk and better mental health in people getting dialysis treatments. [8]
Having a sense of meaning, purpose, or connection to a something larger than oneself is associated with positive mental health outcomes in people receiving cancer treatment. [9]
Faith communities can provide social connections and support to individuals living with chronic illnesses and those who care for them. Some religious organizations have respite programs available to assist with caregiving.
SOURCES  http://www.mentalhealthamerica.net/conditions/4mind4body-spirituality-and-religion
1 Raney P, Cox D, & Jones RP (2017). Searching for Spirituality in the U.S.: A New Look at the Spiritual but Not Religious. Retrieved from https://www.prri.org/research/religiosity-and-spirituality-in-america.2 Mohandas, E. (2008). Neurobiology of spirituality. Mens Sana Monographs. 6(1):63-80. 3 Ferguson MA, Nielsen JA, King JB, Dai L, Giangrasso DM, Holman R, Korenberg JR & Anderson JS. (2018). Reward, salience, and attentional networks are activated by religious experience in devout Mormons. Social Neuroscience. 13(1): 104-116.4 Balbuena, L., Baetz, M., & Bowen, R. (2013). Religious attendance, spirituality, and major depression in Canada: a 14-year follow-up study. The Canadian Journal of Psychiatry. 58(4): 225-232. 5 Sharma, V. et al. (2017). Religion, spirituality, and mental health of U.S. military veterans: Results from the National Health and Resilience in Veterans study. Journal of Affective Disorders. 217:197-204. 6 Tepper, L., Rogers, S., Coleman, E. & Malony H.N. (2001). The prevalence of religious coping among persons with persistent mental illness. Psychiatric Services. 52(5):660-665. 7 Moons, P. et al. (2019). Religion and spirituality as predictors of patient-reported outcomes in adults with congenital heart disease around the globe. International Journal of Cardiology. 274:93-99. 8 Loureiro, A.C.T. et al. (2018). The influence of spirituality and religiousness on suicide risk and mental health of patients undergoing hemo-dialysis. Comprehensive Psychiatry. 80:39-45.9 Park, C.L. et al. (2017). Adva