Mount View Care Center Opens Doors for a Week of Youthful Adventure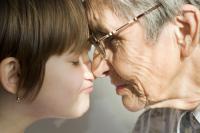 Mount View Care Center opened its doors this week to a whole new kind of adventure...children ages 3-12 had the opportunity to spend an entire week with our residents at the 4th Annual Mount View Care Center Adventure Camp. Children from around Central Wisconsin were given the opportunity to experience a day camp like no other. A camp where age poses no boundaries. A camp where children and adults are taught to appreciate one's life experiences, and share in the joy and happiness of living life – at any age.
Children were invited for a week of adventure with Mount View Care Center's residents, sharing in activities, stories, games and even a dunk tank and bouncy house. These experiences are great learning tools for our youth and provide uplifting experiences and allow our residents to be kids once again. The relationships that have developed between our campers and residents will last long beyond their week at Adventure Camp.