Mount View Care Center Celebrates Homecoming for "Mount View High"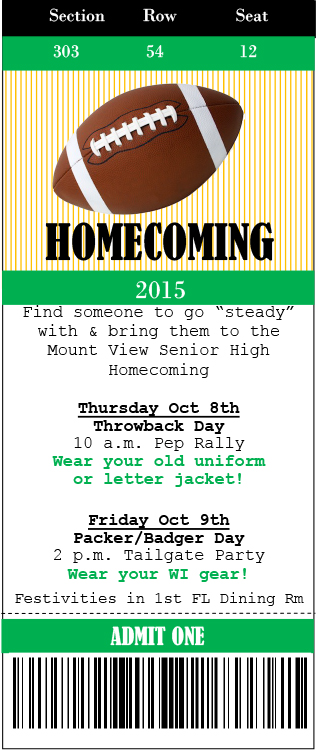 North Central Health Care's Nursing Home, Mount View Care Center, is celebrating Homecoming 2015 for "Mount View Senior High". During the week of October 5-9, Mount View Care Center will be transformed into Mount View Senior High. Residents will be experiencing the first-ever Mount View Senior High homecoming including pep rallies, high school bands, school color days, inspirational high school movies, football players running through banners, tailgating and a punt pass & kick competition! North Central Health Care and Mount View Care Center staff have even been invited to "Throw-Back Thursday" to wear their old uniforms or letter jackets to work! Residents will enjoy tours of local schools this week as well as welcoming pep bands and teams into Mount View Care Center for visits. As we reminisce back to our high school homecoming days, we are creating new memories here at Mount View Care Center.
The 2015 Mount View High School
HOMECOMING Schedule of Events
Monday, Oct 5: Homecoming Kick-off Crafts
Hallways will be decorated with banners, pennants, and high school homecoming décor spirit! Residents will participate in making crafts and art for the hallways.
Tuesday, Oct 6: Red & White Day – Wausau East High School Tour
Nursing home residents, including former Wausau East grads, will tour Wausau East High School and eat lunch with students. Residents have even planned on bringing bring their year books, some dating back to 1915 to share with students!
Wednesday, Oct 7: Remember the Titans!
Football cookies and inspirational movies are never missed during homecoming week. Residents will enjoy football themed treats and enjoy some classic movies.
Thursday, Oct 8: Throwback Thursday
Join us for a pep rally on the Wausau Campus including a local high school pep band, dance team, and football players. Residents will have the opportunity to check out football gear from 2015 and even "bust through" the homecoming banner!
Friday, Oct 9: Tailgate Party
Residents will enjoy a tailgate party including food, a "punt-pass & kick" competition, name the mascot trivia game and much more!
North Central Health Care and Mount View Care Center are proud to be a part of such an exciting event for our residents and also involve our local high schools and teens in creating memories that will be cherished for a lifetime.
Special thanks to Wausau East High School Student Council, Key Club, School officials and teachers including Dr. Peck, Rob Perkins, Elissa Steinke, along with their sporting teams, bands and volunteers who have made this collaboration and experience possible!! Go Team!