Community Corner Clubhouse Celebrates 20th Birthday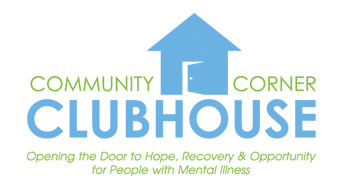 In April of 1996, Community Corner Clubhouse first opened its doors. This week, "Clubhouse" is celebrating its 20th birthday with a party open to the public on Wednesday, April 27 from 4:00 to 6:00 PM. Clubhouse is a special place for those with mental illness to feel welcomed, learn, grow and belong. Now operating for less than one year at their new location at 811 North 3rd Avenue in Wausau, Clubhouse has not only expanded to a 7,000 square foot facility, but expanded their reach and opportunity for those with mental illness in the Wausau area. In 2015, Clubhouse served over 175 members with mental illness.
Clubhouse EntranceCommunity Corner Clubhouse is a voluntary program operated by North Central Health Care that helps adults with persistent mental illness and drug or alcohol addiction issues realize their potential by providing them a Clubhouse atmosphere where they can meet friends, build self confidence and gain vocational and educational skills to support their recovery and become productive members of society. Clubhouse is an internationally-certified, psychosocial rehabilitation community that provides low cost services in a supportive environment. Membership helps empower each individual by allowing them to access vocational support, training, transitional employment opportunities, supported employment and assistance in sustaining long-term employment.
"I can relate to other members because we have similar experiences and they don't laugh or put you down. I have been successful in maintaining employment for the past 10 years because of the support I receive at Clubhouse." – Katherine, Clubhouse Member
Members also have the opportunity to receive educational opportunities through partnership with community adult educators offering a variety of classes. In addition, members may also receive assistance in finding safe, affordable housing. Clubhouse will be celebrating 20th years with a Birthday Party on Wednesday, April 27 from 4:00 to 6:00 pm. Open to the public, guests will share 20 years of memories, hope and opportunity. The Clubhouse 20th Birthday Party is a FREE event and all are welcome!
Community Corner Clubhouse is located at 811 North 3rd Avenue in Wausau. Click here for more Birthday Party information!