Covid-19 Resources for NCHC Employees
NCHC Employees: If you are experiencing any signs of illness, please DO NOT come to work. Contact your manager and NCHC Employee Health at 715.848.4396. You will receive instructions on the course of action to take based on your individual circumstances as they align with our current policies.
Covid-19 Vaccination Mandate Information
All NCHC employees and contract staff members need to be vaccinated against COVID-19 by specific dates below or receive a valid medical or religious exemption. The Incident Command Team has established a new policy specific to Covid-19 Vaccination Program that meets these federal requirements. The policy and religious or medical exemption forms are attached to this email.
The COVID-19 vaccines are safe and effective at preventing infection and severe illness from COVID-19. Vaccination is encouraged as the best option for mandate compliance.
UPDATE: 11/24/21
Incident Command has approved extending the deadline for vaccine exemption forms to November 30th at 11:55pm, this will be the final extension due to compliance requirements on December 5th.If you have not or do not plan on receiving your 1st dose of Covid-19 vaccine by December 5th an exemption form must be completed. Exemption forms are preferred to be submitted to NCHCVaccineExemptions@norcen.org If email is not possible they can also be submitted to Human Resources in-person. If you intend to, or have already received the 1st dose of vaccine but have not notified Employee Health please do so immediately by calling 715.848.4396. If you have any questions or need further information please email NCHCVaccineExemptions@norcen.org and we will be glad to assist.
Timelines
Below you will find the timelines for receiving the vaccine OR completing a religious or medical exemption. If you have previously completed a declination form, you ARE REQUIRED to complete the new applicable exemption form attached to meet the new federal requirements. Your previous declination form will not serve as an exemption form under this new policy.
Policy & Exemption Forms
Covid-19 Vaccination Policy (.pdf)
Request for Medical Exemption Forms (.pdf)
Request for Religious Accommodation Forms (.pdf)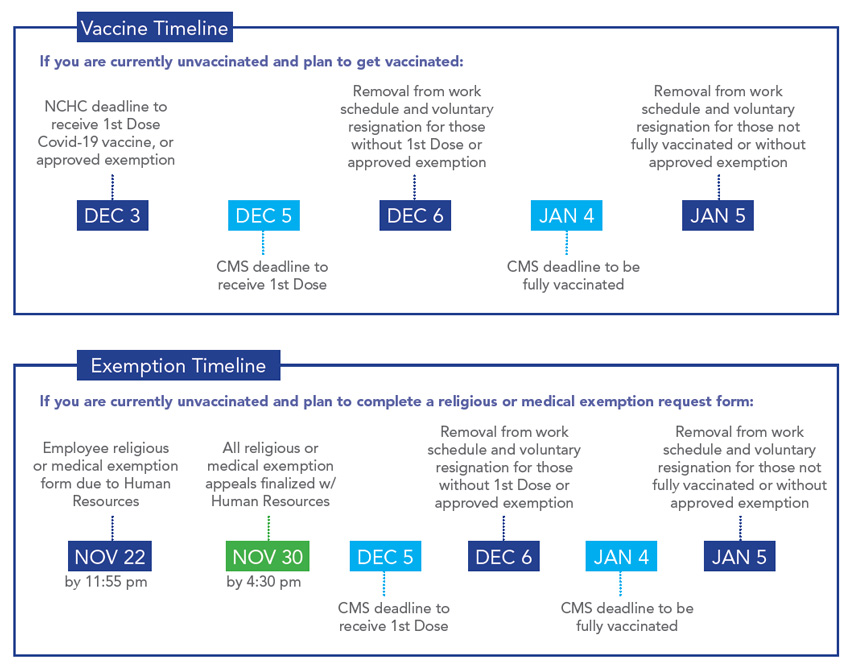 Exemptions
Medical and religious exemptions for COVID-19 vaccination must be submitted for review by the November 22, 2021 deadline (extended to November 30, 2021 as noted in blue area above) indicated in the timeline above to avoid any interruption in your employment and service to the organization. Once an exemption is submitted, there will be a thorough review of the submission on a case by case basis, including a review from Human Resources, legal and operations. The exemption review, approval and appeal process will be completed by Human Resources by November 30, 2021.
Requests submitted after the deadlines will be considered at NCHC's discretion and approvals may not be possible prior to the December 5 CMS compliance date.
Vaccination is required for anyone without an approved exemption by December 5 to continue working at NCHC.
Exemption forms must be turned in by the dates in timeline via email to NCHCVaccineExemptions@norcen.org or in-person to Human Resources.
How will the new Covid-19 vaccination mandate impact NCHC employees?
Dr. Gouthro, Chief Medical Officer, discusses the Federal emergency regulation released on November 4, 2021 requiring Covid-19 Vaccinations for all health care workers at facilities that participate in the Medicare/Medicaid programs, and how that may affect YOU as an employee. Watch this 3-minute video below and learn some key facts.
---
Covid-19 Vaccination Clinics for NCHC Employees

NCHC Staff may receive the Covid-19 Vaccine 1st or 2nd Dose or their Booster at the following Vaccination Clinics. Clinic are being held in all 3 counties in the Old MVCC 1st Floor Dining Room, Pine Crest, Merrill Outpatient Office and Antigo Outpatient Office. Please see below for dates and times and sign up online at
Covid-19 Vaccination Clinic Sign Up
The Covid-19 vaccine is a 2-dose vaccine. After you receive your first dose, please make sure to sign up for your second dose for the following month. For example, if you're signing up for your first vaccine in November – make sure to sign up for your second in December. You will also be given your return date for the 2nd vaccine on your COVID Vaccine Card when receiving your first dose.
If you have any questions please reach out to your manager, Infection Prevention, or Employee Health 715.848.4396.
---
Current Operational Status and Employee Case Reports
For current general program operational status, please visit the Covid-19 Resources & Information Page created for the public.
For more specific information regarding precautions, employees case reports and guidelines, please check your NCHC Weekly Covid-19 Status Report sent to employee emails and on the NCHC Employee Communications Group on Facebook.
---
Quick Links to Covid-19 Information:
Covid-19 Related Questions? SUBMIT A QUESTION
---
Employees: Face Masks and Face Covering Requirements
Surgical masks are required at all times, by all employees at all locations, during your work day or when providing services out in the community. ALL employees will are required to wear a face covering or face mask while you enter/exit the building, await screening or are walking to or from your program or work areas within the building. A cloth face covering OR surgical mask is acceptable during this time.
Per our Chief Medical Officer, Dr. Robert Gouthro, it is also acceptable to wear a scarf, bandana or other similar garment as long as it completely covers your nose and mouth only while you enter/exit the building, await screening or are walking to your program or work areas within the building. These cloth face coverings do not replace the requirement for staff to wear surgical masks while at work, and will not be allowed by staff other than during the times referenced above.
We have previously asked you to keep your surgical masks in a paper bag marked with your name and store them at your work station or designated area within your program. This practice will continue and we ask you do not use your NCHC-assigned surgical mask or N95 respirator outside of NCHC-related activities.
---
Visitors: Face Masks and Face Coverings
What to Do if a Visitor Does Not Want to Comply
---
Frequently Asked Questions
---
Remote Work Tips and How-To's
UltiPro Learning Links: Log into UltiPro and navigate to UltiProLearning. Click on content and search for Remote. You can also navigate to the Category Menu on the right of the screen. Click Technology for easy how-to videos and pointers.
---
EAP Resources During Covid-19 Pandemic
Video Links and Mental Health Resources for NCHC Employees
---
Family Resources
Looking for Childcare?
Click here for a database of providers who are looking to assist essential healthcare workers. Employees are responsible to vetting and making all arrangements with childcare providers.
NCHC Employee Childcare Connection on Facebook
This is a private Facebook group for employees only for seeking and provide childcare. Have a babysitter at home, offer their babysitting services. Looking for childcare, post your needs! Visit the NCHC Employee Childcare Connection.
Back-to-School Toolkit for NCHC Employees & Families
www.norcen.org/Back2SchoolToolkit With the school year starting, many employees already know how their schools or daycares will be operating this fall and into the near future. While it is impossible to know exactly what will, or won't happen at your individual school or daycare, it IS possible to plan ahead for scenarios that may occur if Covid-19 impacts you. Start planning now.
Covid-19 Related Questions? SUBMIT A QUESTION