Covid-19 Resources for NCHC Employees
---
NCHC Employees: If you are experiencing any signs of illness, please DO NOT come to work. Contact your supervisor or manager immediately. You do not have to contact Employee Health as your supervisor/manager will complete all the necessary communication through SafetyZone. You will receive instructions on the course of action to take based on your individual circumstances as they align with our current policies.
Face masks ARE REQUIRED in ALL Nursing Homes and Hospitals. At all other NCHC locations, face masks are recommended, but not required.(Effective 3/29/22)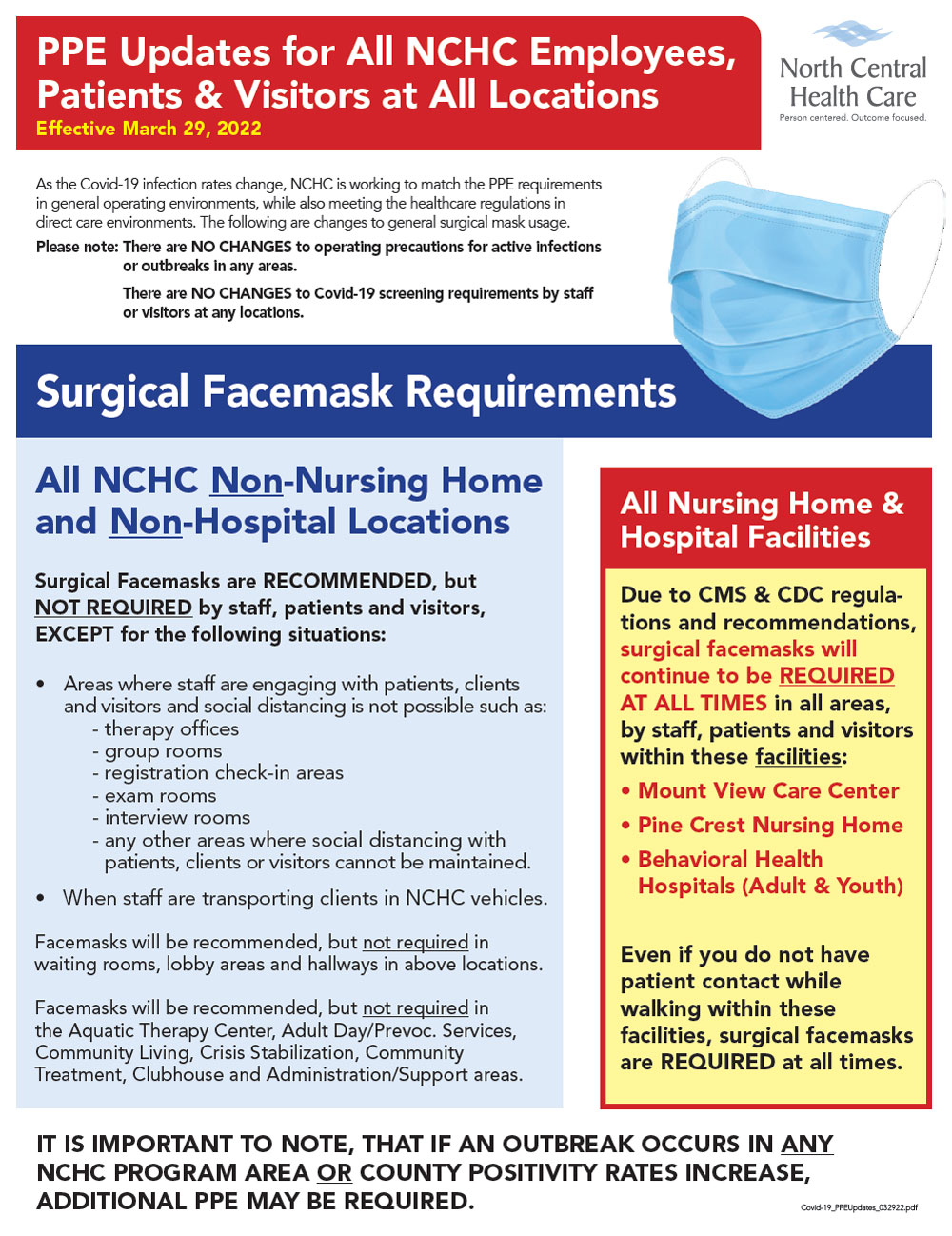 ​
---
Employee Covid-19 Vaccination Mandate Information
UPDATE: 01/31/22
Effective January 15, 2022:
On January 14, 2022, U.S. Federal Courts ruled to enforce the Federal emergency regulation requiring Covid-19 Vaccinations for all health care workers at facilities that participate in the Medicare/Medicaid programs.

All NCHC employees and contract staff members need to be vaccinated against COVID-19 by specific dates below or receive a valid medical or religious exemption.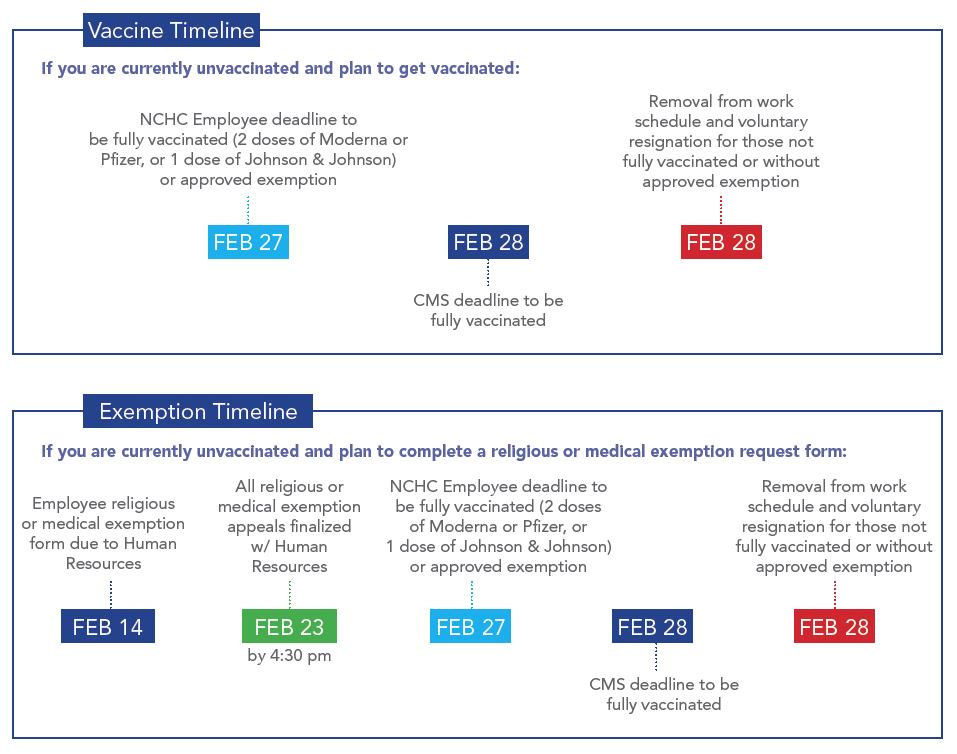 The Incident Command Team has established a policy specific to Covid-19 Vaccination Program that meets these federal requirements (Please see below). The COVID-19 vaccines are safe and effective at preventing infection and severe illness from COVID-19. Vaccination is encouraged as the best option for mandate compliance.

If you have any questions or would like further clarification on the ruling, please email NCHCVaccineExemptions@norcen.org and a member of the team will reach out.

Links to Vaccination Mandate Documents:
Full Notice to All Staff
Covid-19 Vaccination Policy
Medical Exemption Request Form
Religious Accommodation Request Form
Covid-19 Vaccination Clinics for NCHC Employees

​NCHC Staff may receive the Covid-19 Vaccine 1st or 2nd Dose or their Booster at vaccination locations and clinics in the the community. NCHC vaccination clinics are currently postponed due to availability in community.
If you have any questions please reach out to your manager, Infection Prevention, or Employee Health 715.848.4396.

FREE Community-based Clinics to Receive Your Covid-19 Vaccination
WAUSAU:
Center for Business & Industry Building
Northcentral Technical College - Wausau
1000 W Campus Drive, Wausau, WI 54401
Tuesdays through Fridays: 11am-7pm; Saturdays: 11am-3pm
The clinic has ALL approved vaccines and booster doses available (Pfizer, Moderna, and Janssen). Call 1-844-684-1064 or visit https://vaccinate.wi.gov to confirm availability.
MERRILL:
Lincoln County Health Department
Tuesdays – February 1, 8, 15 and 22 from 3 – 5 pm
T.B. Scott Free Library
Saturdays – February 5, 12, 19 and 26 from 10 am – 1 pm
The clinic has ALL approved vaccines and booster doses available (Pfizer, Moderna, and Janssen).
Vaccine Clinics Near Me:
https://www.dhs.wisconsin.gov/covid-19/vaccine-get.htm
---
Employee N95 Fit Testing
For staff in Community Living, Long Term Care, BHS Acute, Housekeeping, and Security programs at NCHC, you may be required to use a N95 mask. Proper use of N95 masks requires fit-testing to ensure the best possible fit for your face. Before wearing a N95 mask, you need to ensure you are fitted with the proper size.
If you have not been fit-tested for a N95 mask and it is required for your position, please contact Learning & Development:
Cagney Martin CMartin@norcen.org 715.848.4482 or Andrea Hebert AHebert@norcen.org 715.848.5136
---
New PPE Updates Effective 2/11/22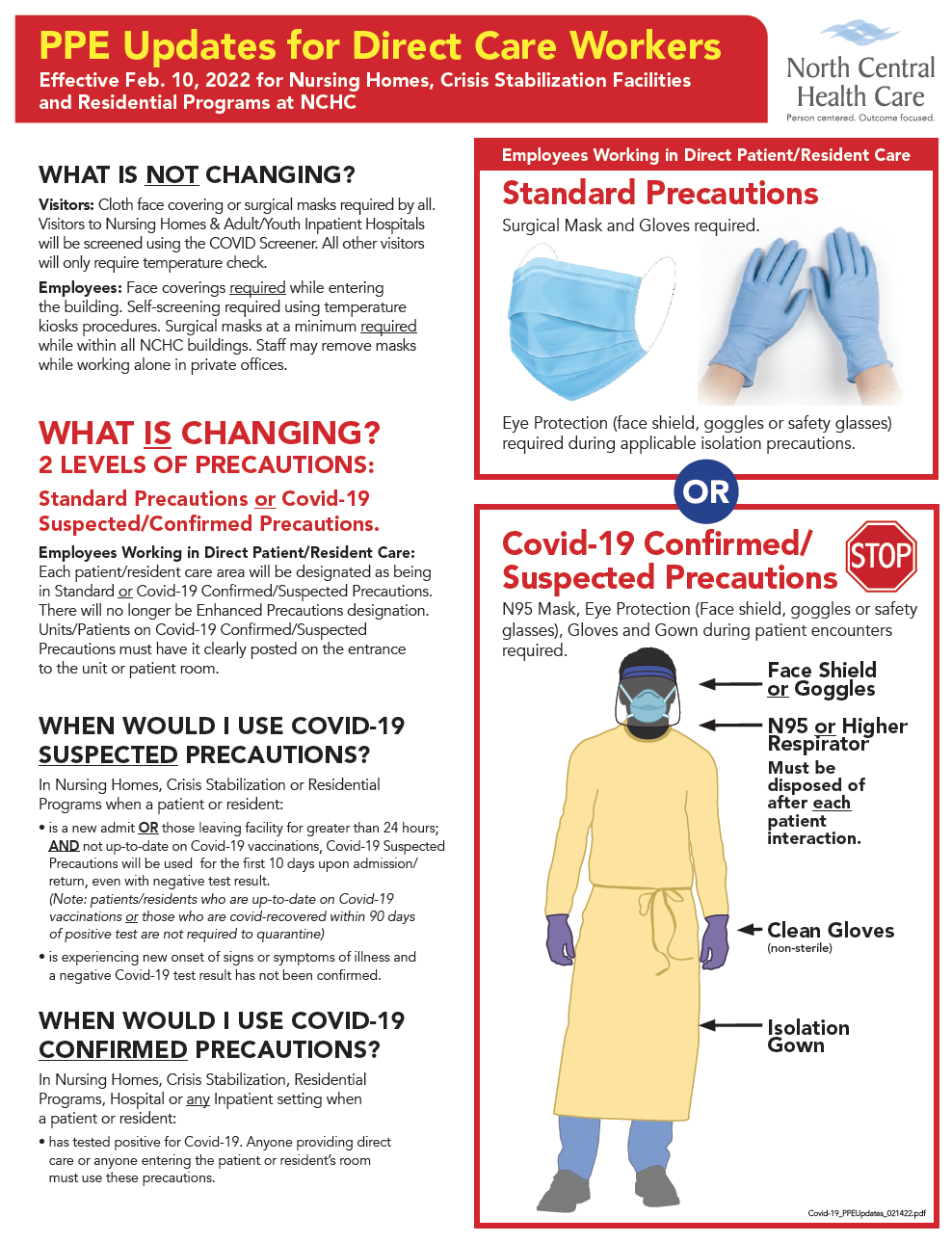 ​
---
Is It Covid-19?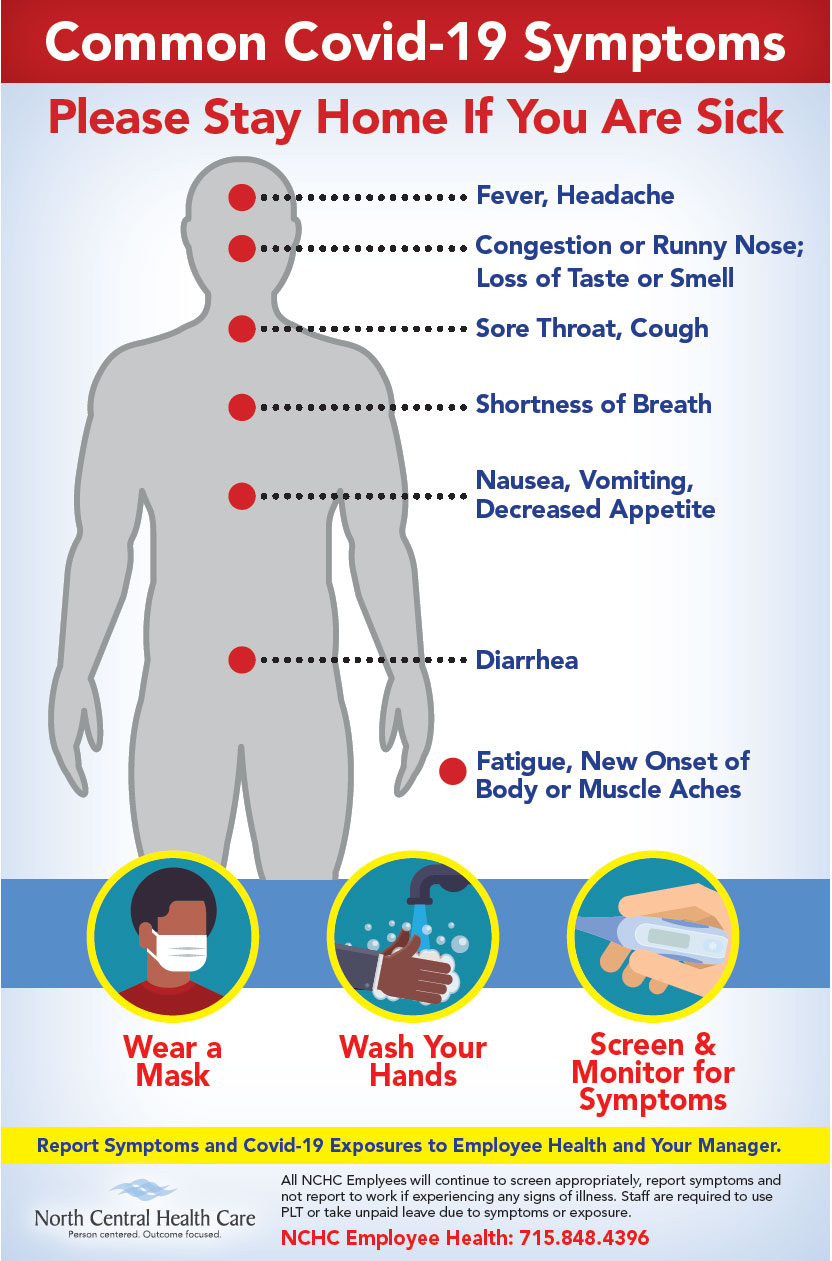 ​
​​Know the symptoms of Covid-19. The only way to know is to get tested. If you are experiencing symptoms of Covid-19, contact your supervisor or manager. Managers will complete a SafetyZone employee submission and Employee Health will follow up with you as needed. (Click the image to view the poster larger)
Employee Drive-thru Testing for Nursing Home & Direct Care Employees Who Are Experiencing Symptoms*
Monday – Friday Employee Testing Locations
Mount View Staff
MV Main Entrance. Remain in Vehicle. Call Connie 715.432.4257 for appt. M-F.
Pine Crest Staff
9 am or by appt. at Pine Crest Main Entrance. Remain in Vehicle. Call Destiny 715.539.2552 for appt. M-F.
BHS and Non-Nursing Home Employees in Direct Care
10 am Youth Hospital Garage. M-F.
*Please note, the above testing schedule is not for routine testing required for nursing home employees.
---
Current Operational Status and Employee Case Reports
For current general program operational status, please visit the Covid-19 Resources & Information Page created for the public.
For more specific information regarding precautions, employees case reports and guidelines, please check your NCHC Weekly Covid-19 Status Report sent to employee emails and on the NCHC Employee Communications Group on Facebook.
---
Covid-19 At-Home Test Kits for Employees
The information below is being shared with you and your family so that you have access to the latest information regarding availability and coverage of at-home test kits should you choose to use them.
Please note: the use of Covid-19 at-home test kits is not required and does not replace/cannot be used to meet any routine employee testing or PCR testing required by employees for work purposes.
1. Free At-Home Test Kits Are Now Being Offered by U.S. Government
It was announced recently that every home in the U.S. can start ordering up to four free at-home COVID tests. This started on January 19, 2022. The tests are completely free, with no shipping costs. To order your free testing kits, go to www.covidtests.gov/ and enter your address information.
2. NCHC Health Plan Now Covers Over the Counter At-Home Test Kits
On January 10, 2022, new guidance was announced that require group health insurance plans and insurers to cover the cost of over the counter (OTC), at home COVID‐19 tests beginning on January 15, 2022. So if you are covered under the NCHC Health Plan, these at-home test kits will be covered by your insurance. Please review Aspirus documentation and Navitus documentation that outlines limits and reimbursement for at-home test kits that you may have purchased after January 15, 2022.
---
Quick Links to Covid-19 Information:
Covid-19 Related Questions? SUBMIT A QUESTION
---
Employees: Face Masks and Face Covering Requirements
Surgical masks are required at all times, by all employees at all locations, during your work day or when providing services out in the community. ALL employees will are required to wear a face covering or face mask while you enter/exit the building, await screening or are walking to or from your program or work areas within the building. A cloth face covering OR surgical mask is acceptable during this time.
Per our Chief Medical Officer, Dr. Robert Gouthro, it is also acceptable to wear a scarf, bandana or other similar garment as long as it completely covers your nose and mouth only while you enter/exit the building, await screening or are walking to your program or work areas within the building. These cloth face coverings do not replace the requirement for staff to wear surgical masks while at work, and will not be allowed by staff other than during the times referenced above.
We have previously asked you to keep your surgical masks in a paper bag marked with your name and store them at your work station or designated area within your program. This practice will continue and we ask you do not use your NCHC-assigned surgical mask or N95 respirator outside of NCHC-related activities.
---
Visitors: Face Masks and Face Coverings
What to Do if a Visitor Does Not Want to Comply
---
Frequently Asked Questions
---
Remote Work Tips and How-To's
UltiPro Learning Links: Log into UltiPro and navigate to UltiProLearning. Click on content and search for Remote. You can also navigate to the Category Menu on the right of the screen. Click Technology for easy how-to videos and pointers.
---
EAP Resources During Covid-19 Pandemic
Video Links and Mental Health Resources for NCHC Employees
---
Family Resources
Looking for Childcare?
Click here for a database of providers who are looking to assist essential healthcare workers. Employees are responsible to vetting and making all arrangements with childcare providers.
NCHC Employee Childcare Connection on Facebook
This is a private Facebook group for employees only for seeking and provide childcare. Have a babysitter at home, offer their babysitting services. Looking for childcare, post your needs! Visit the NCHC Employee Childcare Connection.
Back-to-School Toolkit for NCHC Employees & Families
www.norcen.org/Back2SchoolToolkit With the school year starting, many employees already know how their schools or daycares will be operating this fall and into the near future. While it is impossible to know exactly what will, or won't happen at your individual school or daycare, it IS possible to plan ahead for scenarios that may occur if Covid-19 impacts you. Start planning now.
Covid-19 Related Questions? SUBMIT A QUESTION