Employee Recognition Program
Can't get to a Shout Out Board or Working Remote?
Give an employee an e-Shout Out!
Download and submit your e-Shout Outs to recognition@norcen.org.
North Central Health Care is committed to recognizing and rewarding employees who exhibit outstanding performance, service excellence and demonstration of our Core Values. The success of our mission depends on each and every employee and their day-to-day actions. These actions are rooted in our Core Values and Person-Centered Service approach to every situation.
Multi-faceted Approach to Recognition
Several recognitions programs for all NCHC employees are conducted throughout the year including:
Shout Outs!
Quarterly Employee Recognition Program
Employee Celebration Week
Employee Holiday Chili Dinner
Physician Recognition Program
L.E.A.F. Award
Night Angels
Onboarding Recognition
Employee Service and Retirement Celebrations
---
Quarterly Recognition Awards
Employees demonstrate each and every day why they are amazing. You can recognize their hard work and dedication to Person-Centered Service by nominating an employee or a team for a Quarterly Recognition Award. There are four to choose from!
Outstanding Person-Centered Service Award
Recognizes an employee who provides direct care, exceeds standards and works effectively to ensure the optimal patient experience and uncompromising Person-Centered Service. NCHC Directors, Managers and Supervisors are not eligible for this award. Read Selection Criteria
Outstanding Service Excellence Award
Recognizes an employee who does not provide direct care, has consistently achieved exemplary performance within their program and has excelled in supporting the programs and services of NCHC. NCHC Directors, Managers and Supervisors are not eligible for this award. Read Selection Criteria
Outstanding Team Partnership Award
Recognizes any work team, committee or department who has made significant contributions to advance the position and reputation of the department or organization. 15 employees or less per group. Read Selection Criteria
Outstanding Leadership Award
Recognizes a director, manager or supervisor who inspires, influences and conducts themselves in a professional manner, acting as a role model for others to follow in the workplace and our community. Read Selection Criteria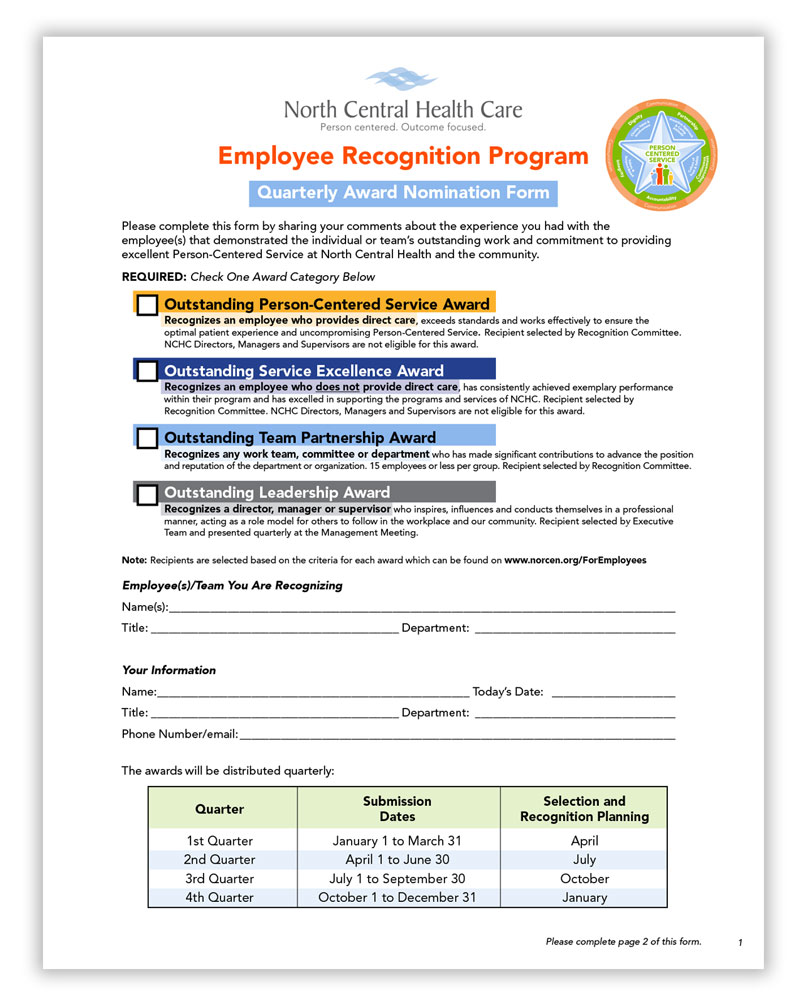 Email your completed for to Recognition@norcen.org or Interoffice Mail to Human Resources - Recognition.
Awards are distributed quarterly and announced after the quarterly nomination period:
Nomination Periods
1st Quarter: January 1 to March 31
2nd Quarter: April 1 to June 30
3rd Quarter: July 1 to September 30
4th Quarter: October 1 to December 31
---
The L.E.A.F. Award
The L.E.A.F. Award recognizes an employee who has been previously awarded by the Recognition Committee during the designated year (in one of the quarterly awards above) and embodies the Vision of NCHC - Lives Enriched and Fulfilled. This individual has sustained their actions throughout the course of the year and is a positive example of Person-Centered Service at NCHC. This award is selected by the Executive Leadership Team and is award annually at the Annual Employee Recognition Banquet during Employee Celebration Week. Read Selection Criteria
Questions? Email Recognition@norcen.org