Mount View Care Center Visitation Map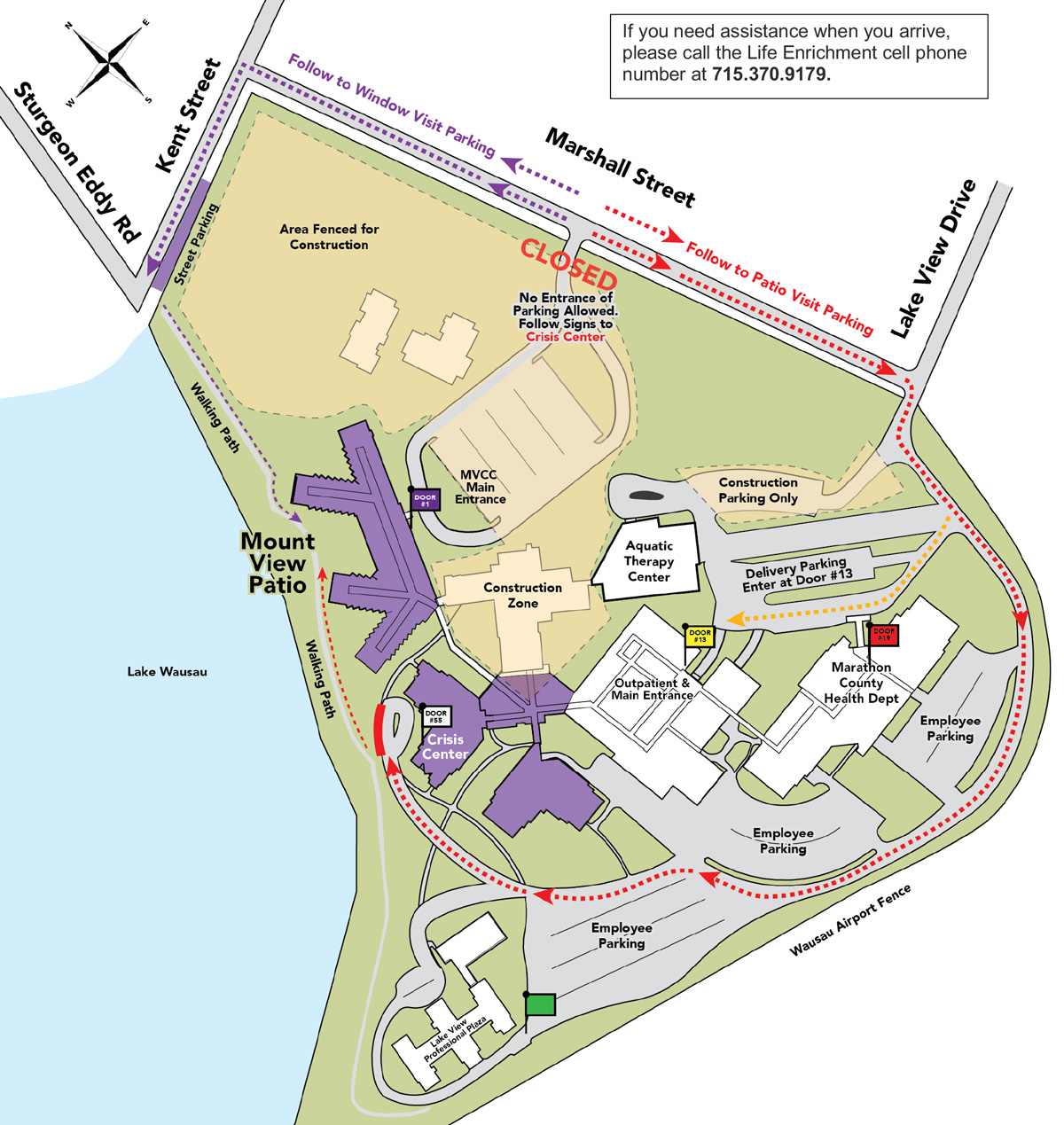 We are excited to have scheduled outdoor visitation available for our Mount View Care Center residents and loved ones again. The timing of our return to scheduled outdoor visits has unfortunately aligned with parking lot closures on our Wausau Campus. This page includes the temporary parking and patio access changes, effective immediately.
Due to construction on the Wausau Campus, we expect to operate under these changes until early October and will keep families updated on our website with any changes to these plans. The changes are outlined below:
Marshall Street Entrance and Parking Lot
There will be no access to any parking, walking paths or deliveries for residents from our main Marshall Street entrance. Please do not use this entrance for any reason. It will be closed, except for emergency vehicles.
Scheduled Outdoor Patio Visits
For all scheduled outdoor patio visits, follow all signage to the Crisis Center, labeled in RED on Campus signage. This will take you around along the airport fence and to the far back of the building. There will be designated nursing home visitor parking spots down the Crisis Center driveway. Watch for signs marked "Reserved for Mount View Patio Visitation Parking". Those with scheduled patio visits will access the Mount View patio by following the walking path along the lake to the patio. Do not enter the Crisis Center building. There will be signs to assist you with directions to the walking path and patio.
Compassionate Care Visits
Those arriving for compassionate care visits will also park in the Crisis Center designated parking spots, however on the evenings and weekends you will be allowed to access the building through the Crisis Center to complete screening and access to your compassionate care visit.
Window Visits
Those arriving for window visits will park at the street on the north side of the field and construction on the corner of Sturgeon Eddy Road and Kent Street. Take the sidewalk to the NCHC walking path that follows the large pine trees to the back side of Mount View. The unit social worker will assist you with which window will work best to visit residents who live on the 2nd floor.
Deliveries for Residents
For families dropping off items or non-perishable food for residents, please drop these items off from 8am to 6pm, Monday through Friday only at the Yellow Flag Entrance labeled Door #13. This is the main entrance where Outpatient Services is located at the front of the Campus. The receptionist make arrangement to have items delivered to your loved one at 11am and 3pm, Monday – Friday. Please do not bring hot or cold food items and no money exchanges will be accepted during this time.
Do You Need Assistance When You Arrive?
We know our Wausau Campus can be confusing, especially during construction. If you need assistance when you arrive, please call the Life Enrichment cell phone number at 715.370.9179, and we will be happy to help you. Our Life Enrichment Team will also provide directions to you when you schedule your visit. You can call your loved one's unit after hours for assistance also.
If you have any questions, please contact the Mount View social work team or the life enrichment cell phone.
---
Mount View Care Center Social Services
Social Services Coord 715.848.4373
Southshore 715.848.4412
Northwinds Vent 715.848.4578 or 715.848.4412
Northern Reflections 715.848.4578
Legacies by the Lake 715.848.4593
Life Enrichment 715.370.9179