May is Mental Health Month
May is Mental Health Month
Tools to Help Develop and Employ Resiliency and Take Us to Brighter Days
During the past year there has been an increase in the numbers of people experiencing mental health problems across the United States. In November 2020, the CDC reported that 44 percent of us were dealing with either depression or anxiety. While historically data shows us that 1 in 5 adults will experience a mental health problem, these days it certainly feels like it's 5 in 5.
Nearly 3 million people have taken an Mental Health America mental health screening during the past twelve months. A million were experiencing depression and hundreds of thousands more were experiencing either anxiety or psychosis. Young people are bearing the brunt of the pandemic, but these mental health impacts cross all generations.
But let us not only focus on dark facts. Let's shine a little light in the darkness.
This year's Mental Health Month toolkit – based once more on the theme of Tools 2 Thrive (especially during a pandemic) – will help us do just that.
Six topics comprise the toolkit – Adapting After Trauma and Stress, Processing Big Changes, Getting Out of Thinking Traps, Radical Acceptance, Taking Time for Yourself, and Dealing with Anger and Frustration. Together, these tools help us develop and employ the resiliency that will take us to brighter days.
When Mental Health America started Mental Health Month in 1949, they did so to communicate the importance of mental health to overall health. Their insights about the factors that lead to mental health for all – including embracing diversity, equity, and inclusion in all we do – have grown since then. There are things we must do to change the world around us. And there are things we can do for ourselves along the way.
This year, thousands will celebrate this month by using this toolkit. Thank you for joining the effort. Thank you for doing your part to promote mental health for all. And thank you for taking care of your own mental health needs, too.
Together, we live and thrive.
---
Mental Health Month Toolkit
This year's #MentalHealthMonth explores practical tools that everyone can use to improve their #mentalhealth and increase resiliency regardless of the situations they are dealing with.
Download the FULL 2021 TOOLKIT here or read, download and share the individual fact sheets below!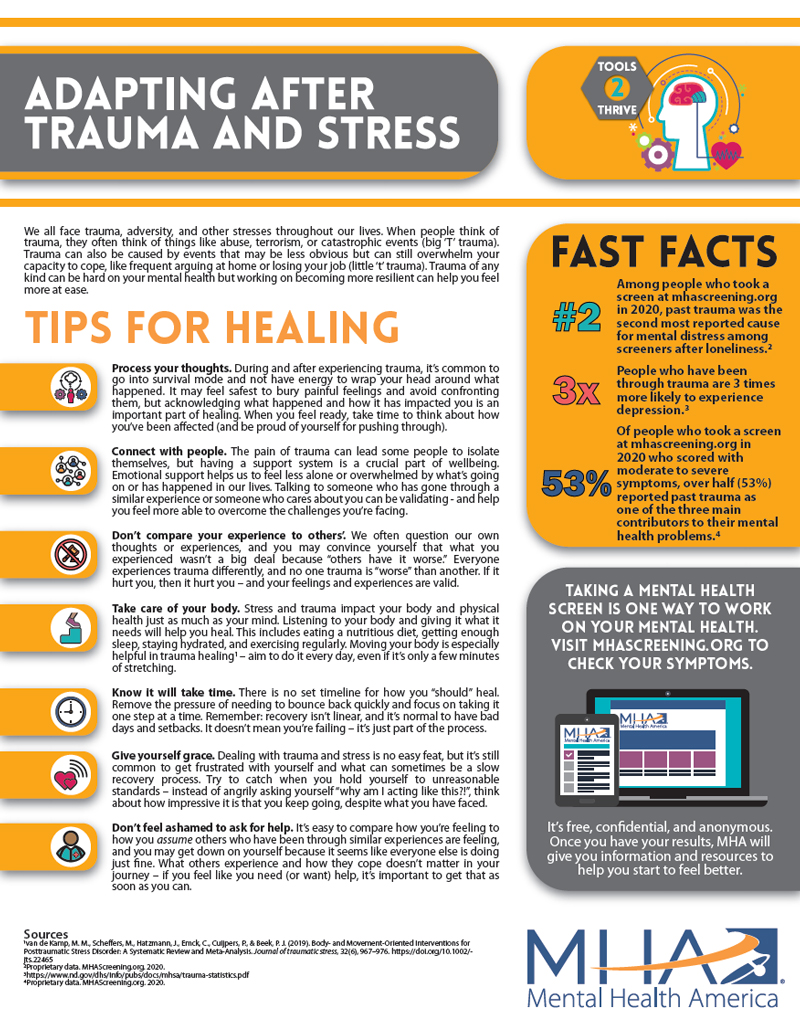 Adapting After Trauma and Stress We all face trauma, adversity, and other stresses throughout our lives. When people think of trauma, they often think of things like abuse, terrorism, or catastrophic events (big 'T' trauma). Trauma can also be caused by events that may be less obvious but can still overwhelm your capacity to cope, like frequent arguing at home or losing your job (little 't' trauma). Trauma of any kind can be hard on your mental health but working on becoming more resilient can help you feel more at ease.
---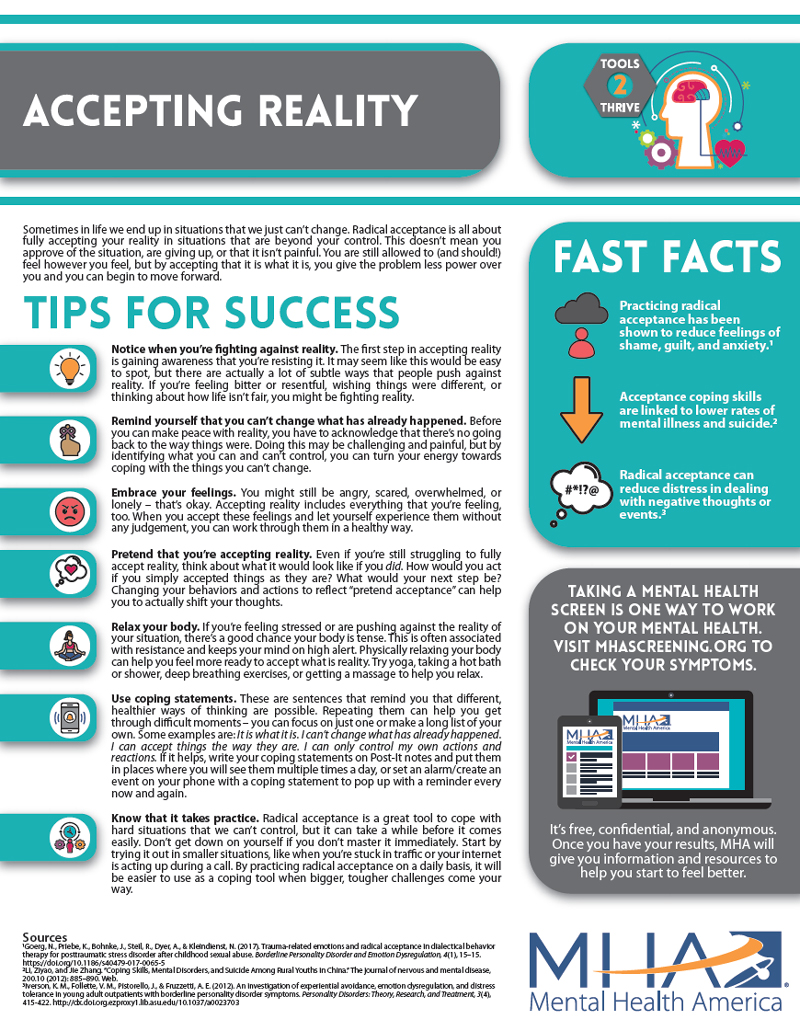 Accepting Reality Sometimes in life we end up in situations that we just can't change. Radical acceptance is all about fully accepting your reality in situations that are beyond your control. This doesn't mean you approve of the situation, are giving up, or that it isn't painful. You are still allowed to (and should!) feel however you feel, but by accepting that it is what it is, you give the problem less power over you and you can begin to move forward.
---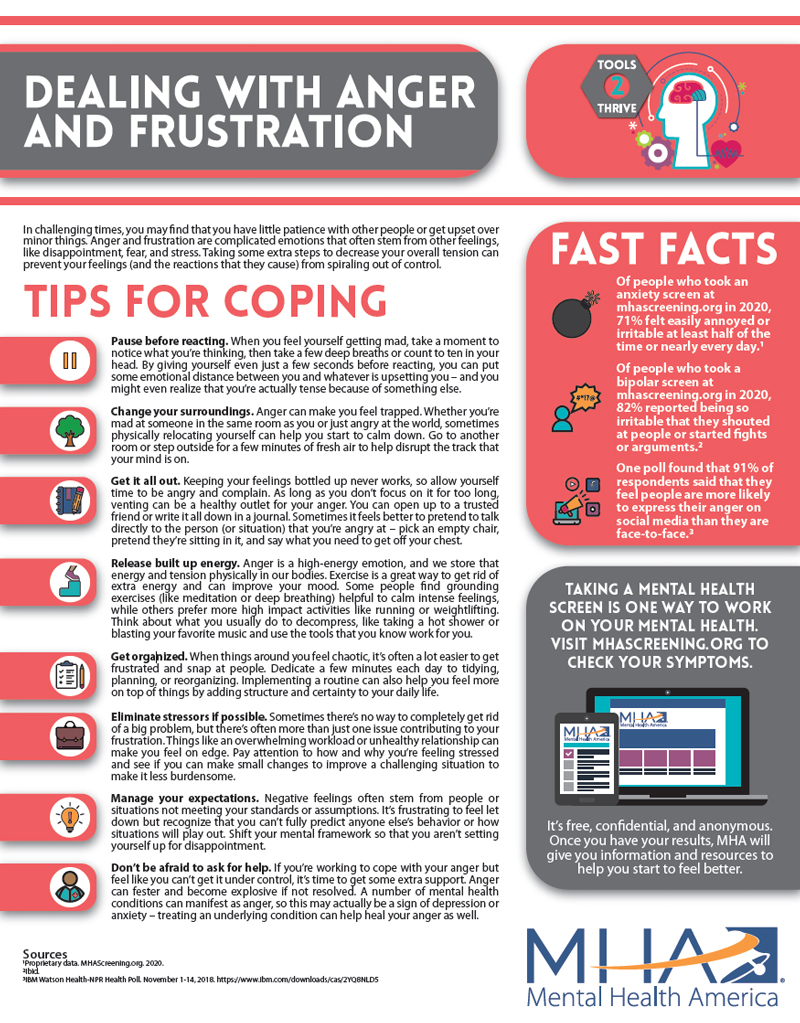 Dealing with Anger and Frustration In challenging times, you may find that you have little patience with other people or get upset over minor things. Anger and frustration are complicated emotions that often stem from other feelings, like disappointment, fear, and stress. Taking some extra steps to decrease your overall tension can prevent your feelings (and the reactions that they cause) from spiraling out of control.
---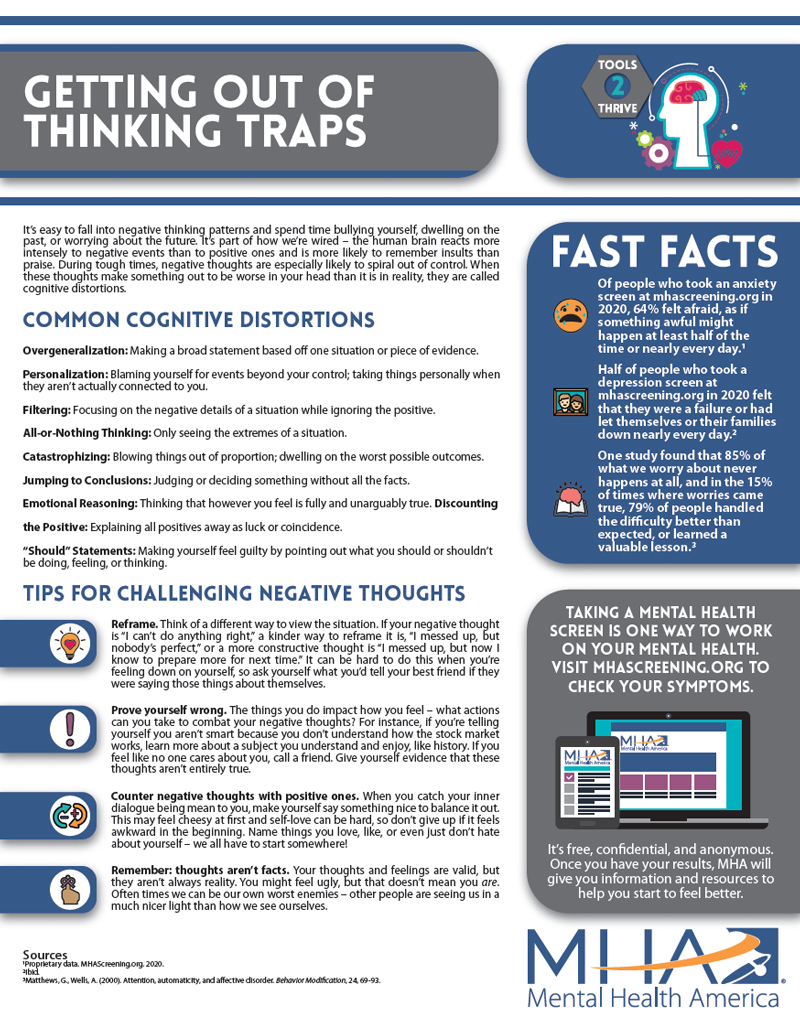 Getting Out of Thinking Traps It's easy to fall into negative thinking patterns and spend time bullying yourself, dwelling on the past, or worrying about the future. It's part of how we're wired – the human brain reacts more intensely to negative events than to positive ones and is more likely to remember insults than praise. During tough times, negative thoughts are especially likely to spiral out of control. When these thoughts make something out to be worse in your head than it is in reality, they are called cognitive distortions.
---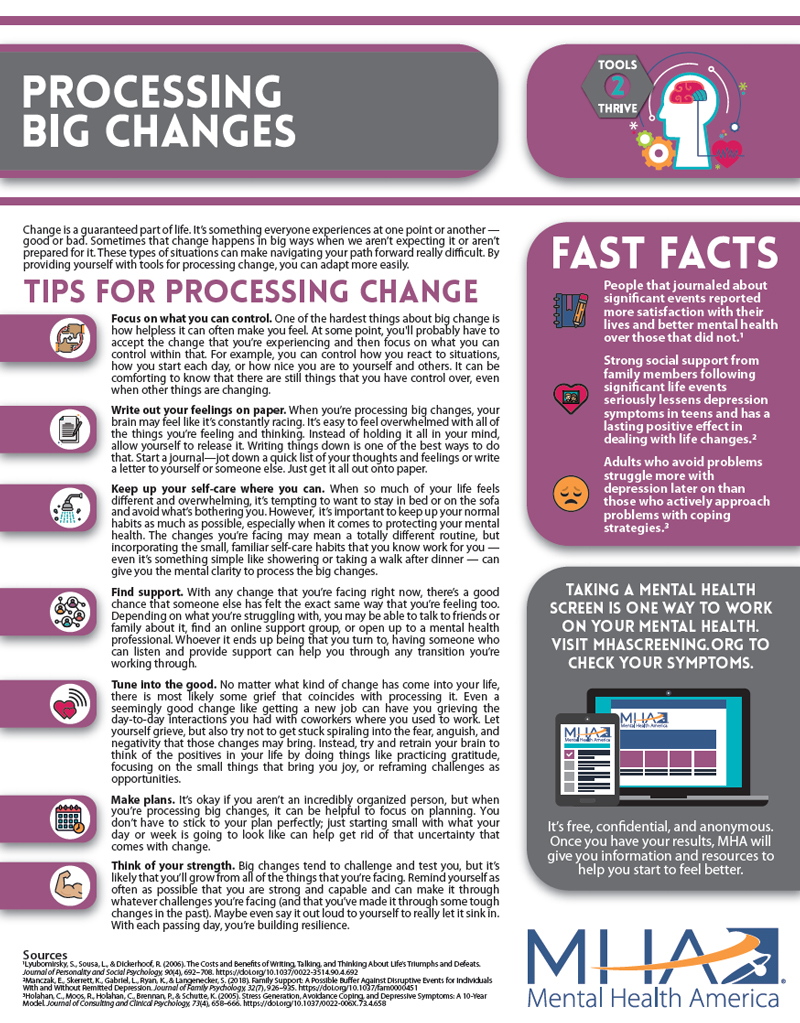 Processing Big Changes Change is a guaranteed part of life. It's something everyone experiences at one point or another — good or bad. Sometimes that change happens in big ways when we aren't expecting it or aren't prepared for it. These types of situations can make navigating your path forward really difficult. By providing yourself with tools for processing change, you can adapt more easily.
---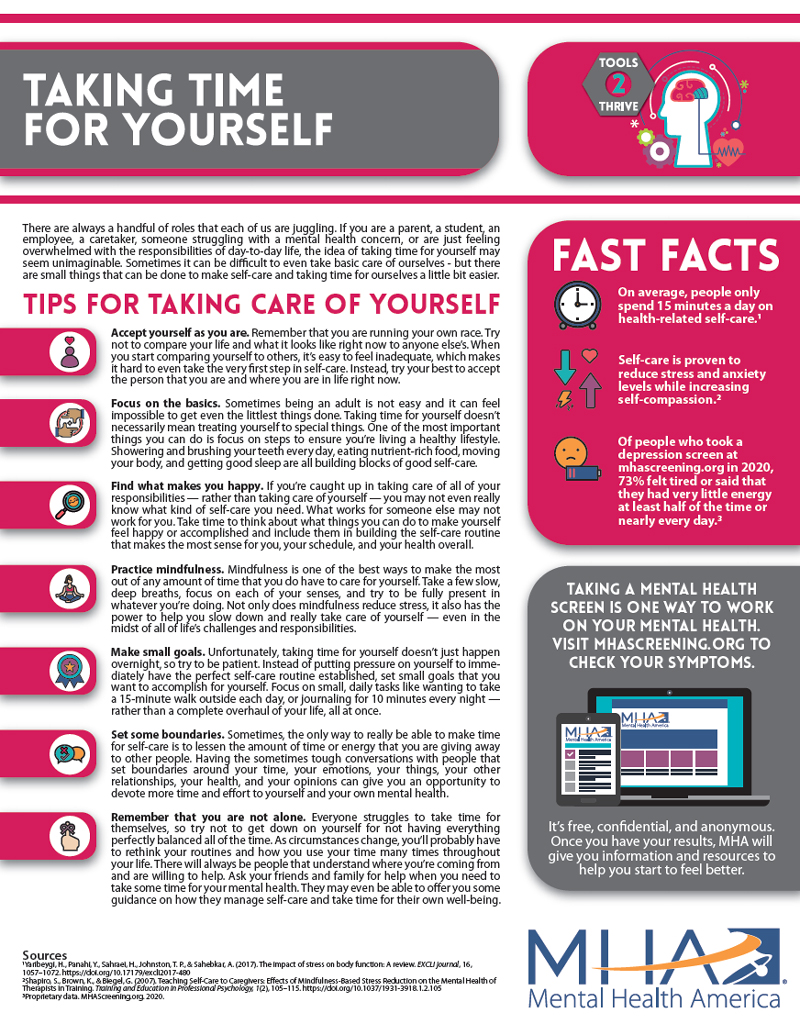 Taking Time for Yourself There are always a handful of roles that each of us are juggling. If you are a parent, a student, an employee, a caretaker, someone struggling with a mental health concern, or are just feeling overwhelmed with the responsibilities of day-to-day life, the idea of taking time for yourself may seem unimaginable. Sometimes it can be dicult to even take basic care of ourselves - but there are small things that can be done to make self-care and taking time for ourselves a little bit easier.
If you, or someone you care about, are feeling overwhelmed with emotions like sadness, depression, or anxiety, or feel like you want to harm yourself or others call:
- 911
- For residents in Marathon, Lincoln and Langlade Counties in WI, call the North Central Health Care Crisis Hotline 715.845.4326 or 800.799.0122
- Substance Abuse and Mental Health Services Administration's (SAMHSA's) Disaster Distress Helpline: 1-800-985-5990 or text TalkWithUs to 66746. (TTY 1-800-846-8517).
For more Covid-19 related mental health information and resources, please visit our Mental Health & Covid-19.
Looking for more resources?
Download the 2020 TOOLKITalso or read the individual topics below.
Owning Your Feelings It can be easy to get caught up in your emotions as you're feeling them. Most people don't think about what emotions they are dealing with, but taking the time to really identify what you're feeling can help you to better cope with challenging situations. Learn some great tips for success.
Finding the Positive After Loss At some point in our lives we will all experience loss. It may be the end of a relationship, being let go from a job, losing a home, or the death of a loved one. It is natural to go through a grieving process. By looking for opportunity in adversity or finding ways to remember the good things about who or what we've lost, we can help ourselves to recover mentally and emotionally. Learn more about tips for getting by.
Connecting with Others It's possible to be surrounded by people and still feel alone. It's the connections we make with other people that help enrich our lives and get us through tough times, but sometimes it's hard to know how to make those connections. Learn some useful tips for connecting.
Eliminating Toxic Influences Certain people and situations in life can trigger us to feel badly about ourselves or engage in destructive behaviors. Identifying the toxic influences in our lives and taking steps to create boundaries or a new life without them can improve mental and physical health over time. Learn about Traits of toxic people.
Creating Healthy Routines Work, paying bills, cleaning, cooking, shopping, exercising, getting enough sleep, and taking care of children are just some of the things millions of Americans do each day and it is easy to be overwhelmed. It can feel impossible to get everything done, let alone take care of yourself – especially if you're already struggling with a mental health concern like depression or anxiety. By creating routines, we organize our days in such a way that taking care of tasks and ourselves becomes a pattern that makes it easier to get things done without having to think hard about them. Learn abut tips for success.
Supporting Others While 1 in 5 people will experience a diagnosable mental health condition in their lives, 5 out of 5 people will go through a challenging time that aspects their mental health. There are simple things that every person can say or do to help the people in their life who are struggling to get through the tough times. Learn how you can be helpful.