Life as a teen can be complicated, even when we are not living amidst a pandemic. Along with new safety protocols and restrictions, you are probably dealing with changes to your body, routines, school, and socializing. It's normal for you to have some difficulty getting used to a "new normal." Loneliness and isolation are common things to feel and are often mentioned by young people as the main contributing factors to their struggles.
If you feel like you are struggling, there are a few things to consider. Sometimes our mental health is within our control, but sometimes it is not. If you feel that something more might be going on, we are here to help you.
Below you will find resources, tools, links and steps for how you can seek help and who to contact. These resources are meant for teens, parents, friends, and family to guide you on your journey toward a healthy life.
---
Youth Mental Health & Self-Care Booklet
Taking care of yourself is very important. In this creative booklet, you can think about things that are unique about you. Filled with activities and resources, you will learn about you by drawing emotions, learning about mental health stigma, anxiety and depression, and tips on how to help a friend.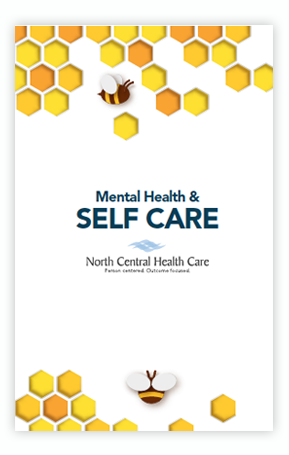 ---
Info for Teens
Info for Parents
Info for Everyone
Signs and Symptoms to Look Out For
Symptoms that happen across multiple conditions:
Problems with concentration, memory, or ability to think clearly
Changes in appetite
Feeling sad, empty, hopeless, or worthless
Loss of interest in things that you used to enjoy
Excessive worry
Irritability or restlessness
Changes in sleep
Angry outbursts
Not wanting to be around people or take part in activities
Other things to look out for:
Hearing or seeing things that other people don't
Extreme panic
Onset of new behaviors or rituals that are repeated
Mood swings or frequent shifts in energy
Where Can You Get More Help?
If you notice these symptoms, you may want to consider talking to a trusted adult to set up an appointment with a mental health expert. You can also take an online mental health screening. Screening is a free, anonymous, and confidential way to see if you are showing signs of a mental health condition. Trusted screening tools for youth are available at MHAScreening.org. Once completed, you'll be given information about the next steps to take based on results. Screening results can be a helpful tool for starting a conversation with your doctor, school counselor or other trusted adult.
Seeking Mental Health Care
You can also contact North Central Health Care Outpatient Services at 715.848.4356 to speak with a referral coordinator. Outpatient mental health care helps people of all ages, both children and adults, providing care and treatment in a manner that is most appropriate for each person's individual situation.
---
Mental Health Emergency and Crisis Services
If you are having thoughts of death, self harm, or harming others call 911 right away
If you feel you are in immediate danger of taking suicidal action, please contact the North Central Health Care Crisis Center at 1.800.799.0122
Our NCHC Crisis Team is available 24/7/365 for youth in crisis living in Lincoln, Langlade, and Marathon Counties. We also provide a Youth Crisis Care that provides short-term, in-house monitoring and support.
Contact NCHC Emergency/Crisis:
800.273.TALK (8255): National Hotline will link you with Crisis Care in any area in the United States.
800.799.0122: Toll-Free Call connecting you to Crisis Support in the Marathon, Langlade and Lincoln Counties.
715.845.4326: Connecting you to Crisis Support in Marathon, Langlade and Lincoln Counties.
TDD 715.845.4928: For those with hearing or speech difficulties.
Additional Resources for Teens
KidsHealth: We all have feelings and sometimes they can be hard to deal with. This site can help you figure out how to make it through tricky situations like fighting with your parents, not liking school, or feeling really sad.
Teen Mental Health: This site will help you learn more about mental health, the challenges that many teenagers face, and how to get through them. You can also find resources to help you help a friend if someone close to you is struggling.
Self-Care in Middle School: We all face tough situations like schoolwork or arguing with friends. It's important to take care of yourself so that you can deal with the stress. In this video, middle schoolers share their tips for self-care and overcoming challenges.
Guide of Things To Do at Home to Combat Loneliness & Boredom: If you're feeling trapped at home and missing your friends, check out this list for ideas of ways to add something fun to each day.
MHA Screening – Youth Test: This questionnaire can help you determine if you're having emotional, attentional, or behavioral difficulties.
Helpful vs. Harmful: Ways to Manage Emotions
Ideas for Building a Healthy Self-Image and Improving Self-Esteem
Time to Talk: Tips for Talking About Your Mental Health