The United Way workplace giving campaign at North Central Health Care unites our employees behind a common goal, and gives them an opportunity to donate, volunteer and speak out for causes that matter to them. The workforce campaign is about more than raising money for worthy causes; it also strengthens connections between employees and their community. The results can be seen in our own backyard, even as we are part of a larger mission to affect change worldwide.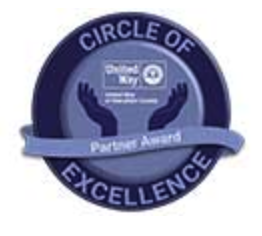 NCHC employees donate
more than $20,000 every year
to support local United Way efforts!
---
In addition to the workplace giving campaign, members of the NCHC United Way Campaign Committee meet regularly and organize participation in several service projects that are supported by employee volunteers and employee contributions collected during fundraising events at NCHC.
Ways You Can Support United Way Efforts
Wear Jeans to Work on Fridays to Support the United Way!
Each Friday, employees at all locations can support the United Way by donating money to wear jeans. To wear jeans you can donate $3 per Friday OR pay for a whole year in advance for $25. Here's how you can submit your payment:
Stop in NCHC Wausau Campus Volunteer Office - cash or check
Interoffice mail your payment via check to Volunteer Services (no cash via interoffice mail please)
Use the payroll deduction form and have the entire year paid for! Jeans Day Payroll Deduction Form
It's easy, fun and a comfortable Friday-way to support United Way efforts at NCHC.
United Way Fundraising Projects at NCHC
Workplace Giving Campaign – NCHC encourages employees to commit a yearly pledge to the United Way that is deducted from each paycheck. If you are interested in giving you can download the pledge form and return to Human Resources.
Basket Raffle – Baskets with gifts and prizes are contributed by departments and then raffled off. Proceeds are used to purchase food for local United Way sponsored food pantries.
Jeans Sale – on Fridays employees can wear jeans with a yearly donation of $25 or on individual contribution of $3. If employees wish to make their donation through an annual payroll deduction, they must fill out the Employee Deduction Authorization Form and return it via interoffice mail to Payroll. Otherwise payments are due to Volunteer Services.
Fundraising Sales – including Monster Cookie Dough Sale, Pizza Sale, Brat & Nachos Sale, Popcorn $ Peanuts Sale. Stay tuned for new fundraisers coming up!
Previous NCHC Service Projects
United We Can – Businesses compete in food sculpture exhibits that are donated to local food pantries
Fill A Backpack, Fill A Need – Backpacks and school supplies are collected and distributed to qualifying youth in Marathon County
Birthday Bash – These birthday bags contain party supplies for distribution in shelters and food pantries
Honor Flight Mail – Volunteers make cards for veterans mail call on local Honor Flights
Senior Care Kits – Kits bring "little luxuries" and a pleasant surprise into the life of a homebound senior
Snack Attack – Packaged snacks are provided for qualifying families with children​
Ready to Read Bookshelf Drive – Collected gently used books are distributed to local children
Make a Difference Day Leaf Raking – Volunteers donate their time to help rake leaves for those who are unable to attend their lawns
Adopt a Classroom – Volunteer groups visit class rooms and conduct a project with the kids after reading a book
Smack Hunger – Volunteers work with others to package 48,000 individual servings of trail mix for use by the Hunger Coalition
Any employee at NCHC can participate in the United Way planning committee meetings with manager approval. Contact Alex Eichten by email at aeichten@norcen.org or phone at 715.848.4358 for more information.
---
2022 Give & Win Sweepstakes
Grand Prize $7,000 CASH!
The 2022 United Way Workplace Giving Campaign took place at the end of 2022. Whether you live in Marathon, Lincoln or Langlade County, or another county, your gift will be delivered to the United Way of your choice, in your community. We encourage you to watch this video and learn about all the ways United Way helps 1 in 4 people in our communities.
Even though the campaign ended, you can still donate through payroll deduction. Talk with HR or download this form. Thank you for your consideration and your contribution to United Way!
Aren't comfortable with an online pledge?
Download and Print a Pledge Form and return to Human Resources. Pledge forms can be turned in at any time throughout the year!
What Would You Do With $5,000?
Any employee at NCHC can participate in the United Way planning committee meetings with manager approval. Contact Alex Eichten by email at aeichten@norcen.org or phone at 715.848.4358 for more information.